UITS-developed app sends just-in-time assignment notifications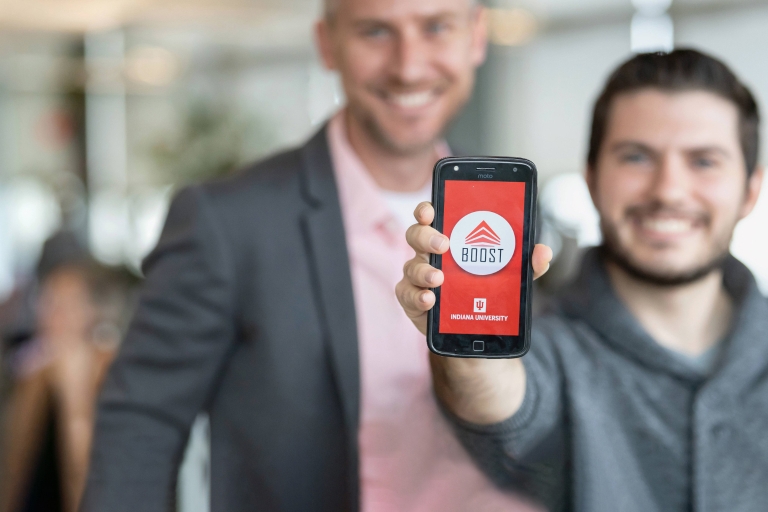 Not surprisingly, the No. 1 predictor of student success is getting assignments turned in on time. Sounds simple, but today's college students have an average of 70 assignments to complete per course, per semester, not including exams or group projects.
But before you start grumbling about the good old days when you kept track of your class assignments in your day planner and it was just fine, remember that in the era of smartphones, you'd be hard-pressed to find a paper calendar in any student backpack.
Enter Boost, a mobile app for providing assignment notifications. The app was created by Matt Mallon, online instructional developer in eLearning Design and Services, and Ben Motz, research scientist with the Department of Brain and Psychological Sciences and faculty fellow for academic analytics at UITS.
Boost is in its second semester as a pilot program at IU, meaning instructors have to opt in to the program for their courses, and students then consent to take part in the research project. There are 1,600 courses participating in the project this semester, but student participation is completely voluntary. Once students sign up, it's up to them to determine what their preferences are for receiving assignment notifications.
The Quarry has launched to provide resources for IU faculty, staff entrepreneurs
IU faculty and staff at all campuses and regional academic centers who are interested in launching startups can now receive assistance and support through The Quarry, an entrepreneurial support mechanism launched by the IU Research and Technology Corp.
IURTC launched The Quarry to improve upon the services previously offered through the Spin Up program. It is managed by Jason Whitney, IURTC's manager of strategic partnerships.
The Quarry will leverage university assets, including the IU Philanthropic Venture Fund and the Innovate Indiana Fund, to assist entrepreneurs. It will also identify mentors, commercialization partners and customers at partner sites like Dimension Mill in Bloomington, the IoT Lab in Fishers, Union 525 in Indianapolis and WestGate@Crane Technology Park in Odon.
IU South Bend music students featured on Grammy-winning recording
Two students from the IU South Bend Ernestine Raclin School of the Arts are featured on a recording for an album that won three Grammy awards.
Juan-Carlos Alarcon, a senior majoring in music education, and Salvador Perez Lopez, a 2018 graduate with a Bachelor of Music in Clarinet and current graduate student at IU Bloomington's Jacob School of Music, contributed spoken-word pieces and played instruments on the studio album "American Dreamers: Voices of Hope Music of Freedom" by John Daversa Big Band. It swept all three categories in which it was nominated: Best Large Jazz Ensemble Album category, as well as Best Improvised Jazz Solo and the Best Arrangement, Instrumental or A Cappella categories.
The project was started to raise awareness of and offer support to Deferred Action for Childhood Arrivals recipients, undocumented immigrants who came to the United States as children. It features more than 50 DACA performers playing iconic American songs, such as "Stars and Stripes Forever" and "America the Beautiful," interspersed with spoken monologues where they tell their personal stories.
Alarcon, who was born in Mexico and grew up in Elkhart, also played percussion, piano and pipe organ on the album, and Lopez, who came from Mexico and grew up in Bremen, played clarinet and percussion.
IU recognizes faculty and graduate students for outstanding teaching and service
IU will honor six faculty members and two graduate students this spring for excellence in teaching and service at the Celebration of Teaching and Service at 6 p.m. March 29 in Alumni Hall of the Indiana Memorial Union.
Teaching Awards will go to the following:
Mary A. Cooksey, senior lecturer in the School of Humanities and Fine Arts at IU East.
Marjorie Hershey, professor and associate chair of political science and director of undergraduate studies in the College of Arts and Sciences at IU Bloomington.
Tin-Chun Lin, professor of economics in the School of Business and Economics at IU Northwest.
Marla C. Doehring, assistant professor of clinical emergency medicine in the IU School of Medicine.
Michael Karlin, doctoral student in the School of Education, and Elizabeth Maffetone, doctoral student in the Department of English.
Service Awards will go to the following:
Terrence Mason, professor and dean emeritus of IU Bloomington's School of Education.
Cathrine Reck, director of undergraduate studies and professor of chemistry in the Department of Chemistry in the College of Arts and Sciences at IU Bloomington.
IU hosts delegation from Sorbonne, strengthens partnership with global research university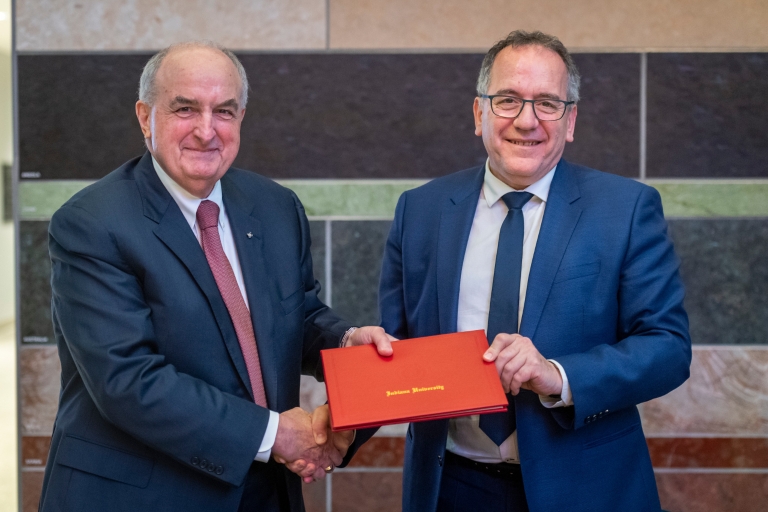 Indiana University recently signed two important new partnership agreements with Sorbonne University, one of France's top-ranked research universities. The agreements were signed during a visit to the IU Bloomington campus by a 16-member delegation led by Sorbonne President Jean Chambaz.
The agreements, signed last week by IU President Michael A. McRobbie and Chambaz, will develop new areas of faculty research collaborations and enable student exchanges between both institutions.
In addition to the Sorbonne University delegation, French Consul General in Chicago Guillaume Lacroix and a number of his colleagues attended the formal signing of the agreements.
Indiana University to manage cross-campus graduate enrollment with Liaison's UniCAS
Indiana University will partner with Liaison International, the leading provider of higher education admissions and enrollment marketing solutions, to implement Liaison's UniCAS as the university's admissions platform for graduate and professional school applications. In choosing UniCAS, IU will join over 7,000 programs on more than 800 campuses that use Liaison's Centralized Application Services, or CASs. IU's rollout of UniCAS will begin in the fall.
UniCAS will bring greater simplicity and efficiency to IU's application processes, reducing administrative costs and creating a streamlined process for students applying to colleges and campuses across the university. In providing a centralized place for students of all academic interests to apply to IU, UniCAS will also provide the university valuable analytics tools to understand trends in enrollment and better tailor application processes to the needs of its students.
IUPUI researcher co-authors Indiana Climate Change Impacts Assessment energy report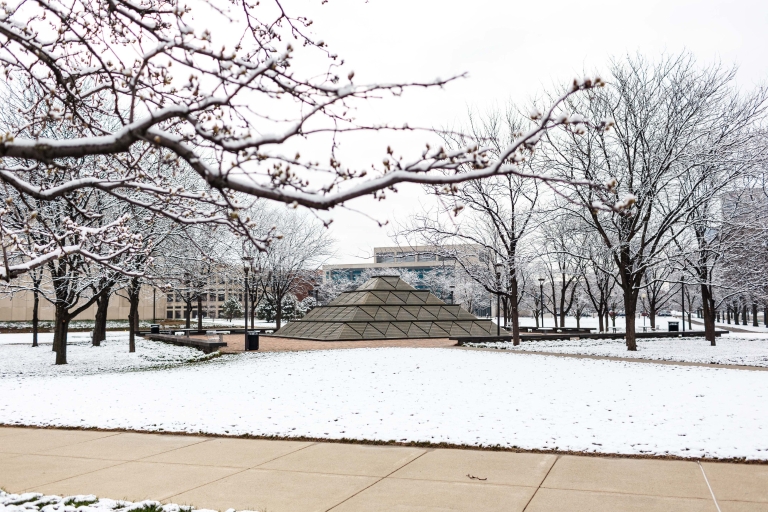 IUPUI's Peter Schubert co-authored the latest Indiana Climate Change Impacts Assessment report, "Climate Change and Indiana's Energy Sector," which was released Tuesday.
Schubert, professor of electrical and computer engineering and director of the Richard G. Lugar Center for Renewable Energy at IUPUI, also serves on the urban research group of the IU Prepared for Environmental Change Grand Challenge initiative. He joins researchers from IUPUI, Indiana University Bloomington, and the Indiana Geological and Water Survey on the Indiana Climate Change Impacts Assessment project.
This latest report, which focuses on residential and commercial energy use, finds that Hoosiers will heat homes and businesses less but rely more on air conditioning as Indiana's climate warms. They will also get more of their energy from natural gas and renewable sources as those become more cost-effective throughout the rest of the century.