BLOOMINGTON, Ind. – Indiana University has been selected for the fourth consecutive year as an Institute Partner to host the 2019 Mandela Washington Fellowship for Young African Leaders. Beginning in mid-June, IU will host 25 of Africa's exceptional, emerging civic engagement leaders for a six-week leadership institute sponsored by the U.S. Department of State.
The Mandela Washington Fellowship, the flagship program of the Young African Leaders Initiative, empowers young African leaders through academic coursework, leadership training, mentoring, networking, professional opportunities and local community engagement. Since 2014, the U.S. Department of State has supported nearly 3,700 young leaders from 49 countries across sub-Saharan Africa to develop their leadership skills and foster connections and collaborations with U.S. professionals.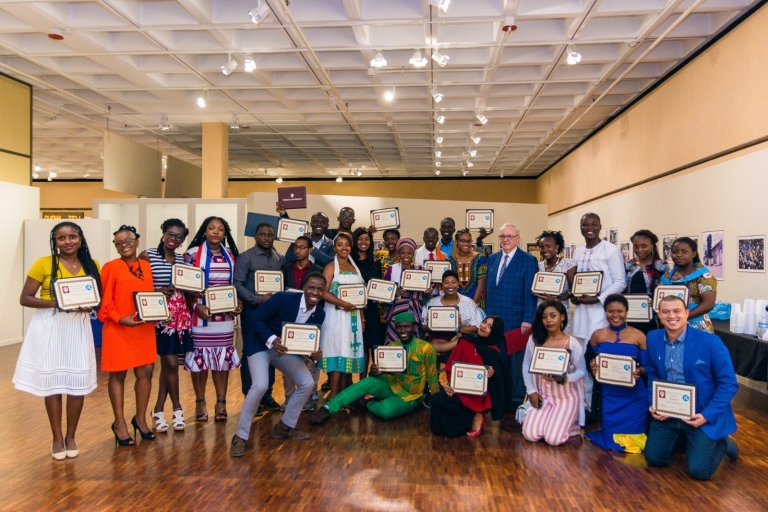 Led by the Office of International Development, IU hosted the civic leadership track in 2016, 2017 and 2018. The cohort of fellows hosted will be part of a larger group of 700 Mandela Washington fellows hosted at 27 institutions across the United States this summer.
At the conclusion of their leadership institutes, these exceptional young leaders will convene in Washington, D.C., for the sixth annual Mandela Washington Fellowship Summit, where they will take part in networking and panel discussions with each other and with U.S. leaders from the public, private and nonprofit sectors.
Following the summit, 70 competitively selected fellows will participate in four weeks of professional development at U.S. nongovernmental organizations, private companies and government agencies.
"Indiana University is honored to partner with the Department of State in implementing this program for young African leaders," IU Vice President for International Affairs Hannah Buxbaum said. "Indiana community leaders report over and over that they learn as much from the program participants as they may learn from us."
Funded by the U.S. Department of State's Bureau of Educational and Cultural Affairs and working closely with its implementing partner, IREX, host institutions will offer leadership programs that will challenge, motivate and empower these inspiring young leaders from Africa.
"We are excited to welcome another cohort of Africa's accomplished young leaders with incredible experiences and success stories to Indiana," said Teshome Alemneh, IU associate vice president for international research and development, who is directing the IU Mandela Washington Fellowship program. "Bloomington and Indianapolis communities will gain a great deal by interacting with these young African leaders, including better understanding about their countries, their cultures and the incredible work they do toward changing lives in their respective communities."
The program creates several opportunities for community members to connect with the fellows, including during fellows' showcasing of their cultures and traditions at the Bloomington Farmers Market, the Fourth of July celebration parade, and a meet-mingle-listen session. Faculty and community members also meet and network with fellows during peer collaboration sessions, community service activities and American family dinners, as well as academic and leadership training sessions.
"Hosting the Mandela Washington Fellowship program is one mechanism by which IU enhances international engagements and global visibility and expands opportunities for mutual understanding between the peoples of the U.S. and African countries," Alemneh said. "IU will now have 100 young and dynamic champions in more than 20 countries in Africa."
The Office of International Development and the Office of International Affairs at IUPUI have partnered with the Lilly Family School of Philanthropy, the Kelley School of Business, the School of Public and Environmental Affairs, the Hamilton Lugar School of Global and International Studies, and the Institute for Advanced Study; the cities of Bloomington and Indianapolis; Ivy Tech Community College; Cook Medical Inc.; Eli Lilly and Company; Bradford Woods; Lutheran Child and Family Services; My Sister's Closet; Hoosier Hills Food Bank; Mother Hubbard's Cupboard; and Second Helpings.
At the end of the institutes, all of the fellows will gather in Washington, D.C., for a summit; select fellows will also spend six weeks in professional development training with U.S. nongovernmental organizations, private companies and government agencies.
The Mandela Washington Fellowship for Young African Leaders is sponsored by the U.S. Department of State with funding provided by the U.S. Government and administered by IREX. Find more information online about the Mandela Washington Fellowship and join the conversation at #YALI2019.