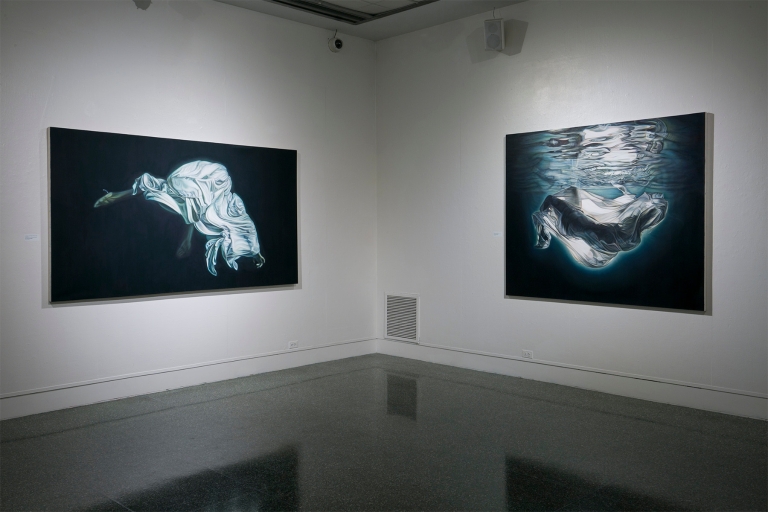 Master of Fine Arts students are used to having their work critiqued. But this time it wasn't a professor but a visiting artist giving them feedback.
Artist Ana Teresa Fernández was visiting the Indiana University Bloomington campus on Feb. 8 to give a public lecture about her "Of Bodies and Borders" exhibition on display in the Grunwald Gallery of Art as part of the Arts and Humanities Council's Mexico Remixed program. But she also made time for MFA students in the IU School of Art, Architecture + Design.
"Ana's perspective stood out among the critiques I have had," said Tiffany Hokanson, an MFA candidate in printmaking. "Ana looked deeply at my work and was able to offer guidance through a very unique lens. I am so grateful."
Broken down into 30-minute time slots, the critiques took place in the MFA students' private studio spaces. There, Fernández provided critical feedback, analyzing the students' work and the meaning behind it.
"She asked me questions about my work, what led me to make certain images and then provided feedback on how to improve and strive," said Liliana Guzman, an MFA student in photography. "Ana was genuine and receptive. She reminded me about the importance of experimentation and not being afraid to delve into new creative spaces."
Throughout her own work, Mexico-born Fernández focuses on ideas and issues of immigration and gender across a variety of media, including video, stills, drawings and paintings.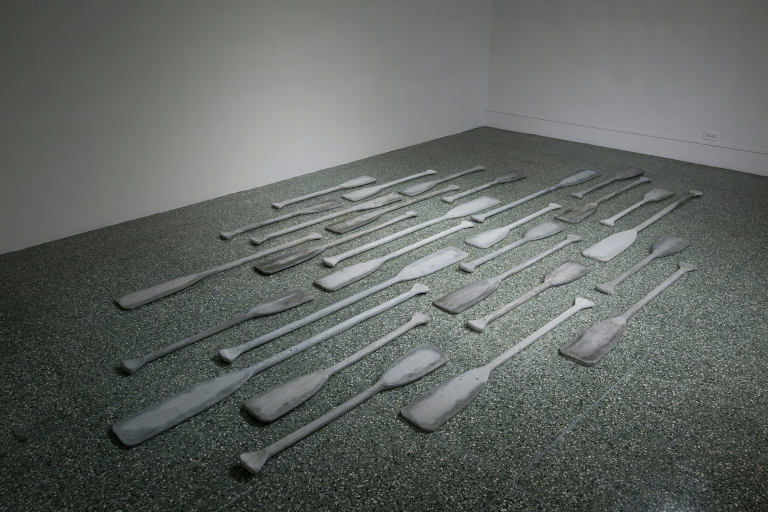 "Her work is particularly interesting to me because of the issues that she deals with: border crossing, immigration and herself being an immigrant," said Betsy Stirratt, Grunwald Gallery director. "She can speak from a particular perspective that other artists can't. But her work is very beautiful. I feel very strongly that work that deals with social issues still needs to have some sort of aesthetic quality."
Fernández's "Of Bodies and Borders" demonstrates a push and pull dynamic between beauty and pain. In a video on display, she is immersed in a burial shroud underwater and wearing a pair of stilettos, emphasizing the role of gender in immigration.
"She deals with a lot of feminist issues and talks about the suffering that women have gone through for aesthetic purposes to address ideas of equality," Stirratt said. "This is why she wears the clothes she wears in her performances."
The element of water and its connection to immigration also play a significant part in the weight of the exhibition.
"She's not only dealing with immigration from the perspective of Mexico and the United States but also the Mediterranean. It's worldwide," Stirratt said. "Put yourself in the place of immigrants and realize that they're crossing this large body of water. Water has so many symbolic meanings. It can be a barrier. It can be life affirming. You can drown or you can swim."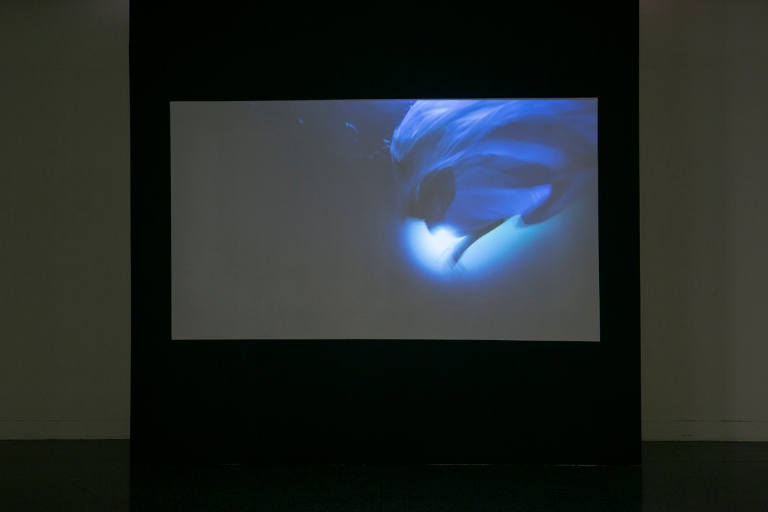 The "Of Bodies and Borders" exhibition is made possible through the IU Arts and Humanities Council's Mexico Remixed program, which provides the IU Bloomington community with cultural festivals, exhibits and experiences focused on Mexico.
"We love partnering with the Arts and Humanities Council on a lot of things; Mexico Remixed is just one of them," Stirratt said. "We are very fortunate to get support from the council to do these projects with these international artists and have them interact with our students and faculty."
The impact of Mexico Remixed extends through "Of Bodies and Borders" as IU students get to explore a different culture or, in Guzman's case, celebrate her own.
"As a Latina woman, it was that much more meaningful meeting with a Latina artist who strives to empower other Latina women and the Latinx community as a whole," Guzman said.
Fernández's "Of Bodies and Borders" will be at the Grunwald Gallery until March 2.