BLOOMINGTON, Ind. – Indiana University Bloomington is among a dozen universities to receive a "mini-grant" from the Association of American Universities – $20,000 over two years – to help improve undergraduate education outcomes in science, technology, engineering and mathematics disciplines.
IU's project, "Advancing a Data-Informed STEM Culture: The Mitigating Grade Surprise Collaborative," expands upon existing campus efforts to transform teaching and learning cultures in STEM departments using learning analytics and big data. With support from the grant, IU faculty from five different STEM programs will develop, implement and assess teaching strategies and active learning interventions designed to address the impact of "grade surprise" – the difference between a student's expected grade and their actual grade in a course.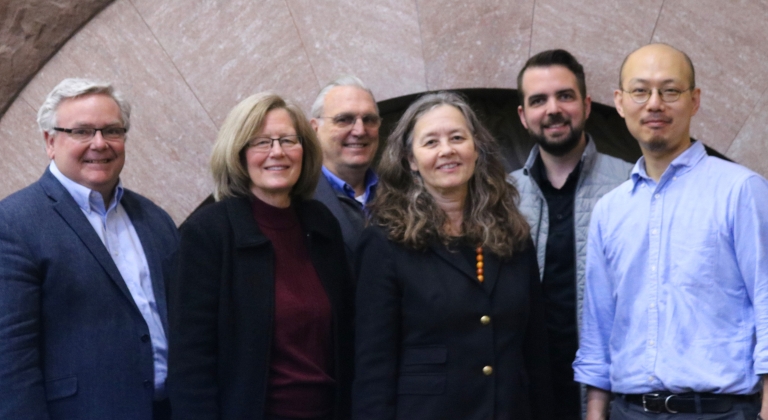 Grade surprise often occurs during freshman year of college, when high-achieving high school students are adjusting to a new learning environment and enrolled in large introductory courses. Ultimately, eliminating or mitigating grade surprise supports student performance, persistence and retention in their courses and programs.
Members of the administrative leadership team for the project are Dennis Groth, vice provost for undergraduate education, George Rehrey, director of the Center for Learning Analytics and Student Success, and Linda Shepard, assistant vice provost and director of Bloomington Assessment and Research.
The project is an expansion of research conducted by faculty participating in IU's Learning Analytics Fellows Program in the Center for Learning Analytics and Student Success. Now entering its fifth year, the fellows program has demonstrated that faculty from a wide range of disciplines can use learning analytics to better understand students in their courses and programs.
"The fellows program was designed to empower faculty by providing access to student data and technical expertise," Groth said. "Through these efforts, our faculty investigate both common and uncommon predictors of student success or failure in a way that helps eliminate barriers to achievement."
Jennifer Meta Robinson, professor of practice in the IU Bloomington College of Arts and Sciences' Department of Anthropology, will lead the faculty research team as the project evaluator.
"Our preliminary study shows that IU students in their first year are likely to experience grade surprise that could derail their plans for a major and their progress to graduation," Robinson said. "We plan to develop strategies for both teaching and learning that will lessen the detrimental impact that can come with grade surprise."
Other participating learning analytics faculty researchers include Jill Robinson (chemistry), Logan Paul (informatics) and Chung-chieh "Ken" Shan (computer science), plus faculty from two more STEM departments.
"None of this work would be possible without the data expertise and research support provided by the staff at Bloomington Assessment and Research," Rehrey said. "Not only do they provide the fellows with this support, but they are also instrumental in advancing a data-informed culture at IU Bloomington, which is one of the goals of the fellows program."
To date, more than 40 faculty from 22 disciplines have used learning analytics to investigate teaching, learning and student success, looking at more than 3.8 million course enrollment records to study the behaviors of 110,000 students. Common factors that predict student success include academic preparation of students upon admission, academic progression such as course performance and enrollment sequences, changes in majors, demographic information and details about retention and graduation.
In addition to Indiana University, grants will go to Brandeis University, Case Western Reserve University, Emory University, Georgia Institute of Technology, New York University, Stony Brook University, The University of Arizona, University of Maryland-College Park, University of Oregon, University of Toronto and Washington University in St. Louis.
About the AAU
Founded in 1900, the Association of American Universities is composed of America's leading research universities. AAU's 62 research universities transform lives through education, research and innovation. Its member universities earn the majority of competitively awarded federal funding for research that improves public health, seeks to address national challenges and contributes significantly to our economic strength, while educating and training tomorrow's visionary leaders and innovators. AAU member universities collectively help shape policy for higher education, science and innovation; promote best practices in undergraduate and graduate education; and strengthen the contributions of leading research universities to American society.