This year's annual Energy Challenge at Indiana University Bloomington, hosted by Sustain IU, produced a savings of nearly 900,000 gallons of water and more than 750,000 kilowatt-hours of energy, and removed nearly 600 metric tons of carbon from the university's footprint.
These stellar results from the four-week challenge in October are thanks in large part to an all-star team of sustainably focused staff at the Service Building. These employees in Capital Planning and Facilities are members of their division's Green Team, an informal group supported by Sustain IU that works collectively to promote environmentally, socially and economically friendly practices.
This Green Team, which is co-chaired by associate university landscape architect Joel Stevens and IU Space Information employee Dave Everton, catalyzed resources and corralled support from colleagues to make huge strides in energy savings at the Service Building. Their efforts propelled their building to a second-place finish in the Academic and Administrative Building category.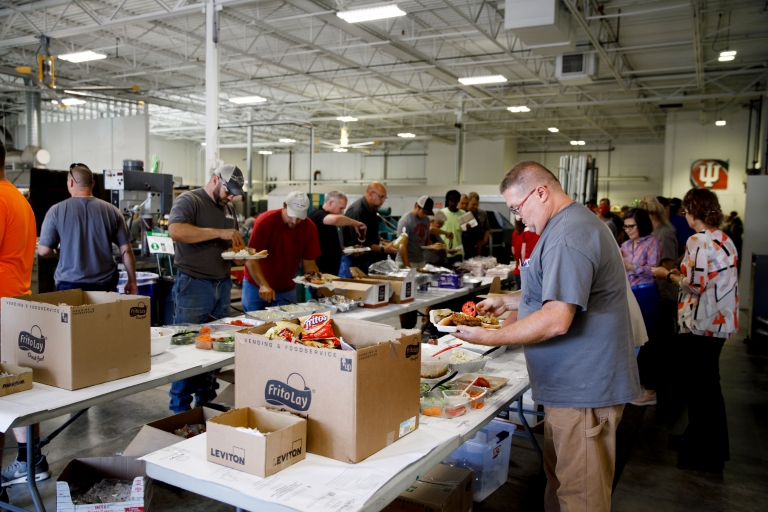 For the Energy Challenge, campus buildings are grouped by similar use, such as athletic buildings, administrative offices and dorms. Before the competition begins, a baseline of water and electricity is measured. Progress is tracked throughout the competition, and the winning building is determined by percent reduction against its own baseline.
Stevens said the Service Building is fairly efficient, so finding ways to reduce water and electricity use meant that — in addition to their routine recycling — staff had to come up with creative solutions, like keeping lights off and utilizing daylight. It also meant Stevens had to brainstorm solutions with leadership and spend more time meeting one-on-one with staff in an attempt to remove barriers and encourage behavior change.
Everton, with the help of director of human resources services Jamie Gayer, distributed information to Service Building colleagues via emails, signs and fliers. He ensured that messaging had an inclusive and encouraging tone.
"It can be hard to have the conservation conversation without coming across as accusatory," Everton said. "I'm constantly thinking of ways we can improve messaging to be more effective, simple and nonthreatening."
While the Energy Challenge is a large priority for the Green Team, its overarching goal is to instill long-term habit changes in colleagues. Ideally, all Service Building employees would switch off lights, computers and televisions when leaving the building, pick up stray trash and recycle without thinking twice about it. Gayer said this goal is not unattainable, because sustainability is already baked into the culture of Capital Planning and Facilities.
"Part of our culture out here is that we look at our campus and our buildings from an ownership perspective," Gayer said. "This place is our home, and we take pride in it. We want our children's children to find this to be the amazingly special place we know it to be in 2019. If we don't take care of it now, where will it be for that generation?"
In addition to inspiring staff to change everyday behaviors and encouraging participation in the Energy Challenge, Gayer said the Green Team plays a key role in the annual employee appreciation picnic hosted by Capital Planning and Facilities. The event is nearly zero waste and uses all compostable serviceware.
Interested in joining or starting a Green Team? A list of active teams across campus is available on the Sustain IU website. Staff and faculty in all positions from all levels of management and operations can be a part of a Green Team. Additionally, having members with a knowledge of building operations, departmental finance and departmental management, or ties to departmental student organizations, will help teams achieves realistic and meaningful goals.
"It can be really fun to get together with a group of colleagues and feel like you've had an impact," Stevens said. "It helps you build a community with people outside of your normal workflow who you may not interact otherwise."
"If you care about what you do here, you should take pride in this campus," Everton said. "Faculty and staff should join Green Teams because, simply put, it's the right thing to do."
About Sustain IU: In 2008, the IU Task Force on Campus Sustainability completed comprehensive sustainability planning for the Bloomington campus and established the IU Office of Sustainability. The office's mission continues with Sustain IU: to identify and promote sustainable solutions that reduce environmental impacts while supporting an equitable and prosperous IU, now and into the future.