The uniforms worn by the winners of the first Little 500. A Marching Hundred cape from the 1940s. A custom, red evening gown designed by Vera Wang.
These garments – plus more cream-and-crimson, Little 500 and IU-themed garb – served as inspiration to fashion design students in Indiana University Bloomington's School of Art, Architecture + Design during a recent trip to IU Libraries' University Archives and a presentation of items from the university's Sage Fashion Collection.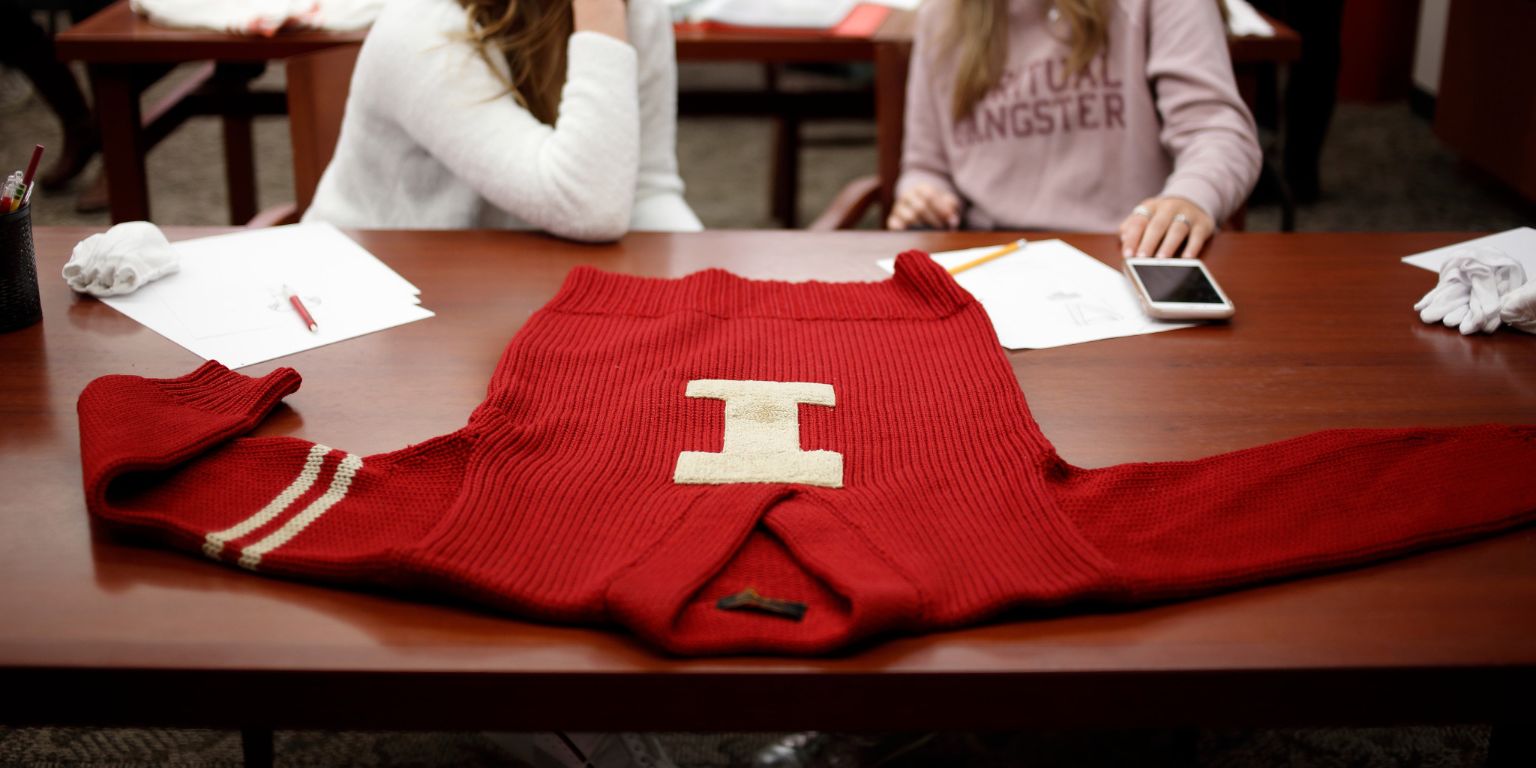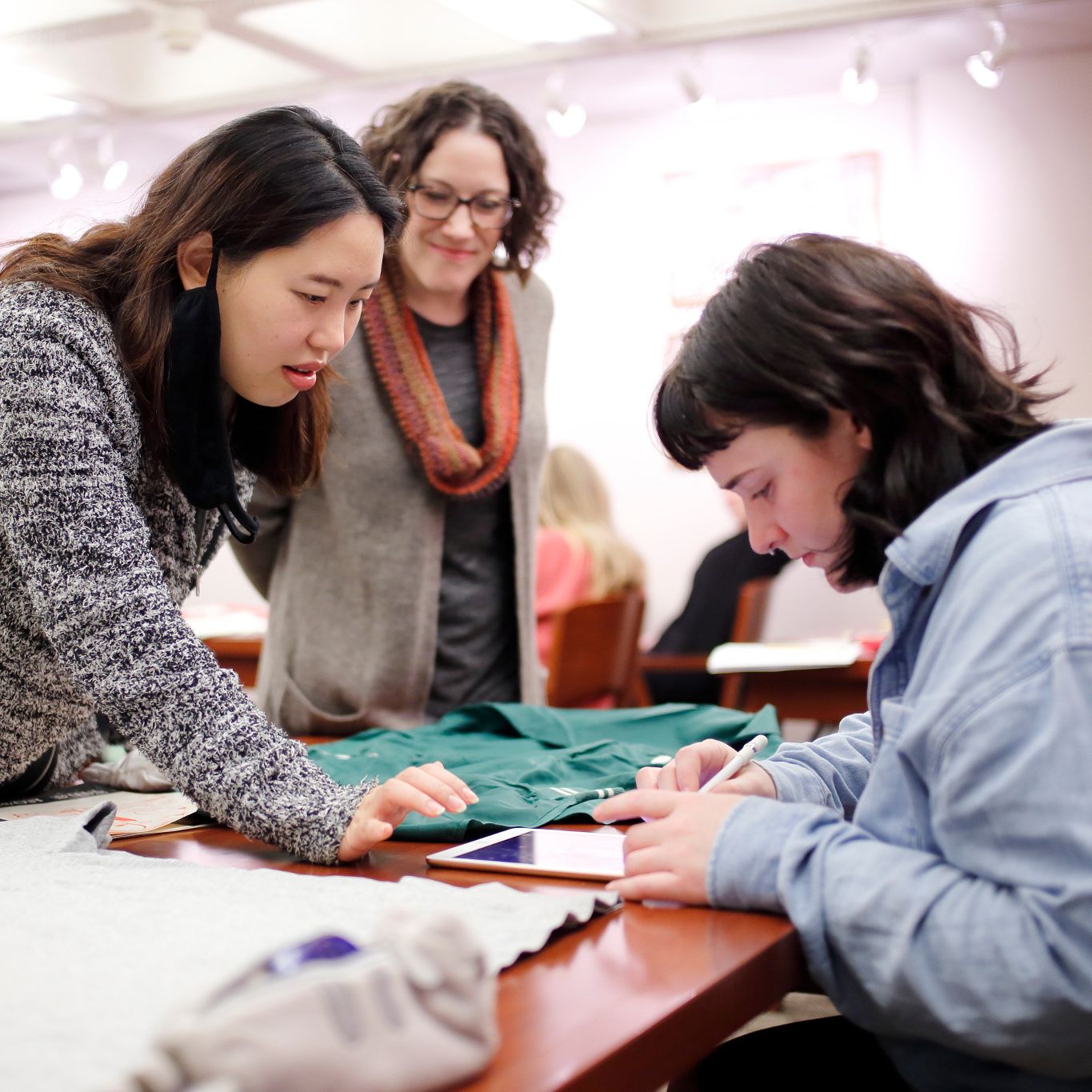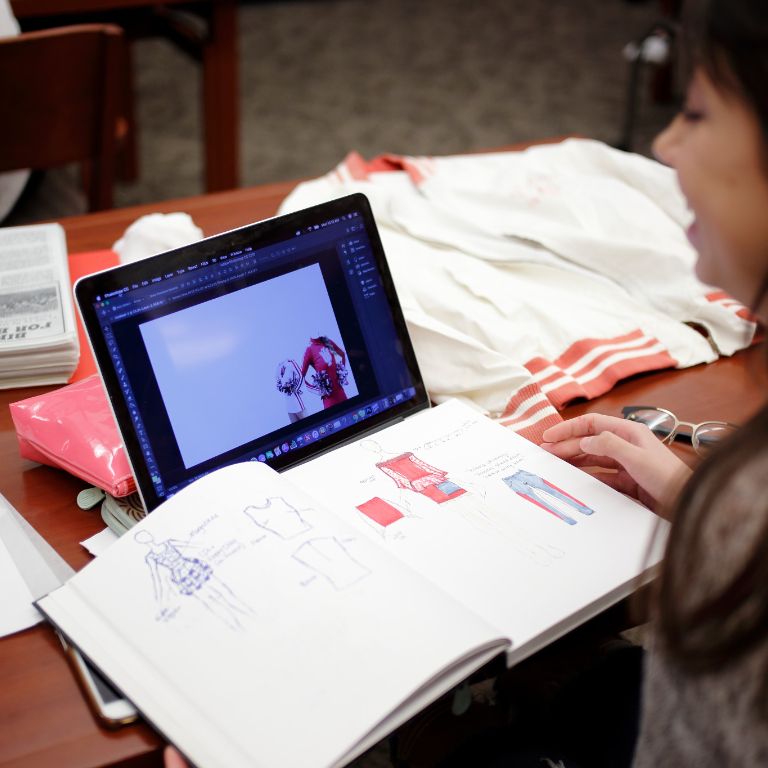 Photos by Eric Rudd, Indiana University
Faculty members Bo Choi and Lori Frye joined forces to create a collaborative project, funded by a grant from the Office of the Bicentennial. The goal was to challenge their students to research, design and construct new IU-themed fashions inspired by the university's rich history and culture and using recycled garments and materials. Students researched and sketched projects in Choi's design class, then constructed those designs in Frye's studio.
A deep dive into two of IU's richest historical collections served as a starting point for the project in early January. The class began their research day at IU Archives, hearing fun facts and historical tidbits about several items from director Dina Kellams. The students examined vintage IU spirit wear, photographs from sporting events of the past, and a crop of historical Little 500 paraphernalia collected by the IU Student Foundation in a foregone attempt to establish a Little 500 museum.
Choi and Frye encouraged students to think about how these garments could translate to their own designs. Would students employ screen-printing techniques like some pieces, or use embroidery like others? How could they replicate similar designs out of repurposed material and where could they put the seams? How could the students use the vintage clothing to create a fresh and creative collection?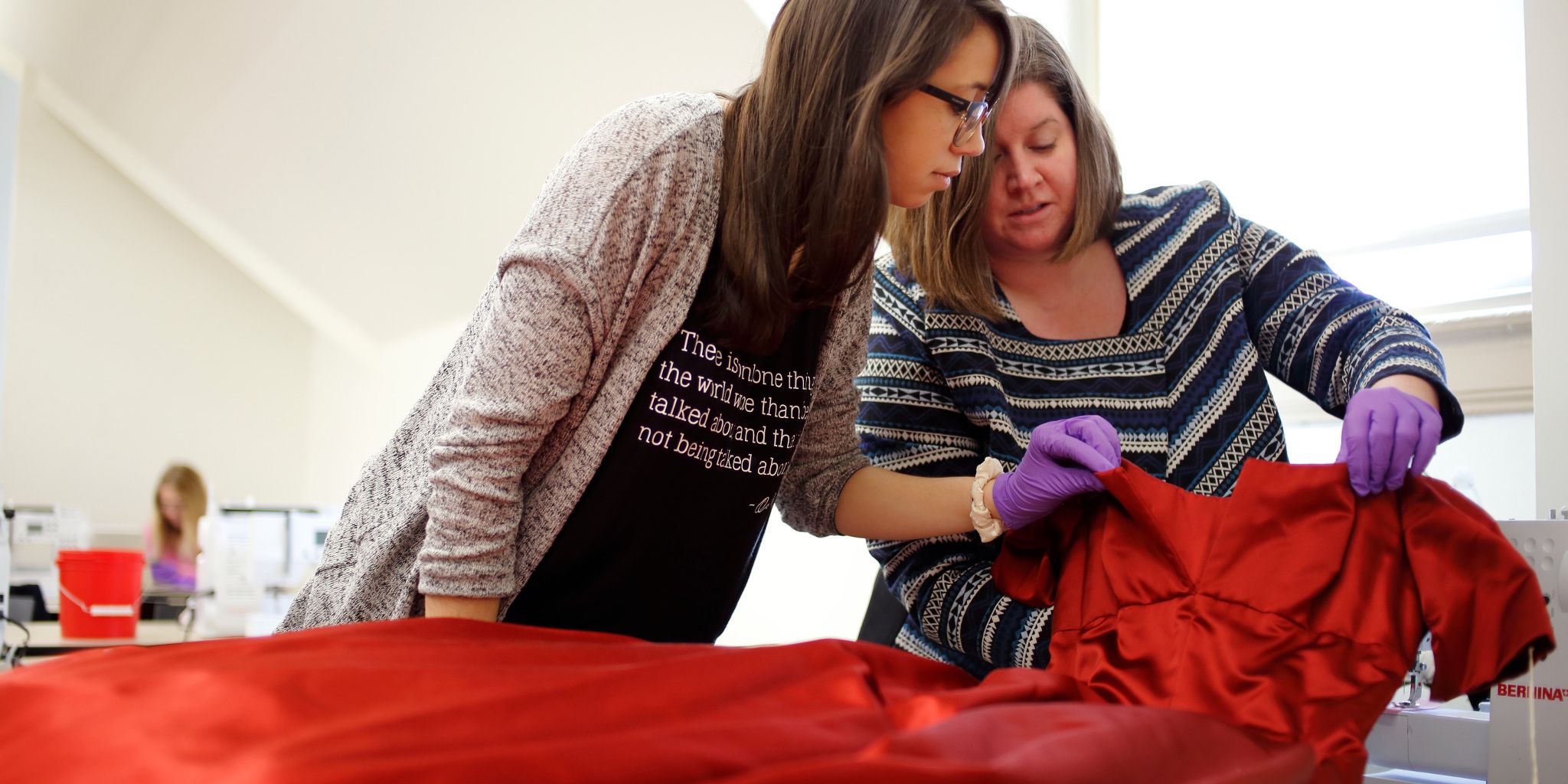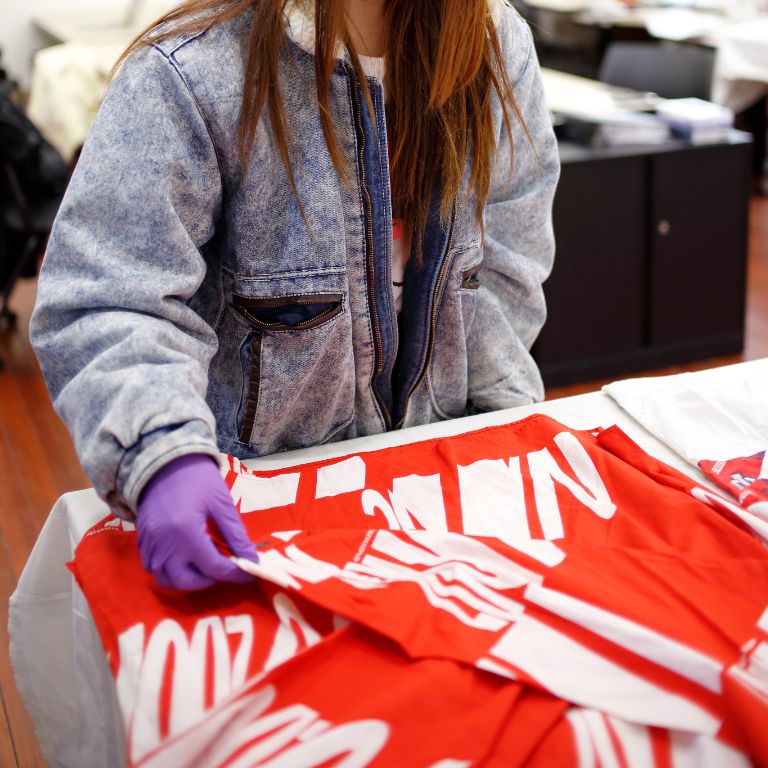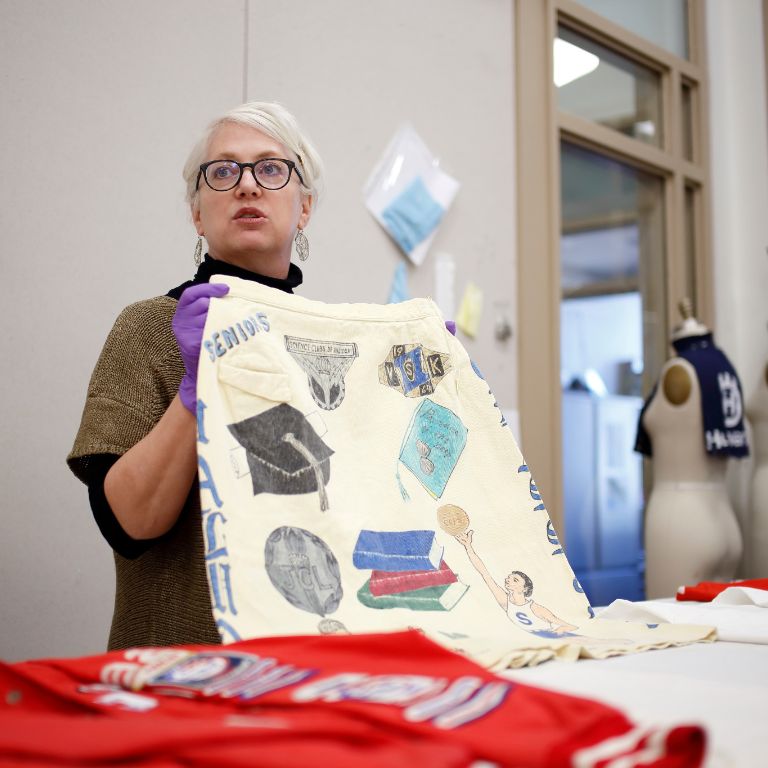 Photos by Eric Rudd, Indiana University
The students then spent time sketching their ideas, some in notebooks and others on tablets. Several designs were Little 500-themed and incorporated racing checks, while others were simple cream-and-crimson patterns. One student sketched a dress made from men's collared shirts featuring an embroidered portrait of Herman B Wells.
Sophomores Sophia Katz and Rebecca Fiske were particularly inspired by an I Man letterman sweater from a member of the 1922 IU baseball team, which traveled by boat to Japan for a game against Waseda University in Tokyo. Asymmetrical stripes on one sleeve of the sweater and the quality of the material appealed to the two designers.
"It's really interesting to see how styles aren't that different today than they were almost a hundred years ago," Katz said. " Anyone with an interest in clothing, new and old, should come see the archives."
After spending time at the archives, the class made its way to Kirkwood Hall. Kelly Richardson, curator for IU's Sage Fashion Collection, had select IU spirit wear and red-and-white items from the collection on display. The Sage Fashion Collection, named for IU's first professor of clothing and textiles Elizabeth Sage, boasts more than 25,000 objects preserving the social history of fashion.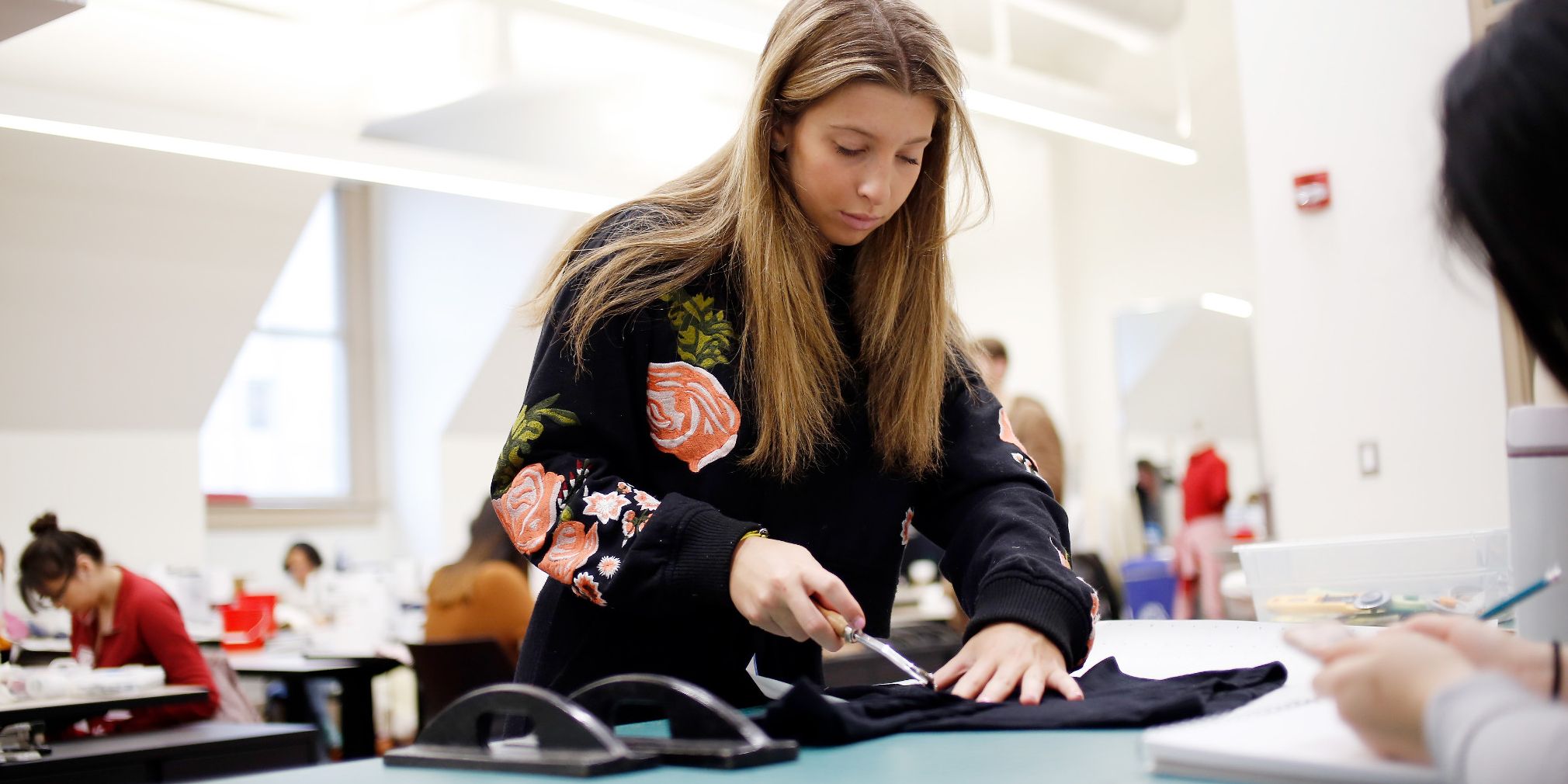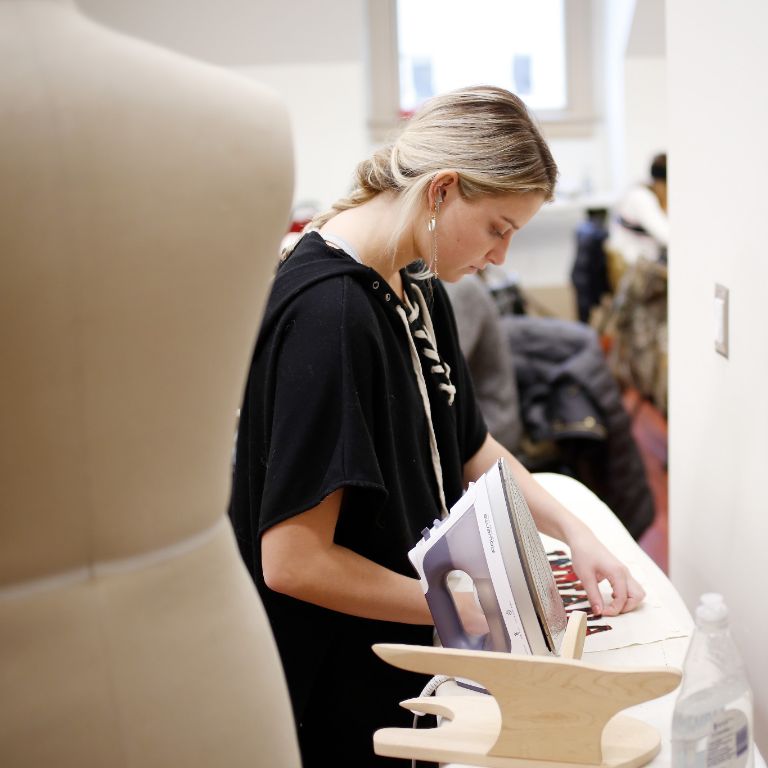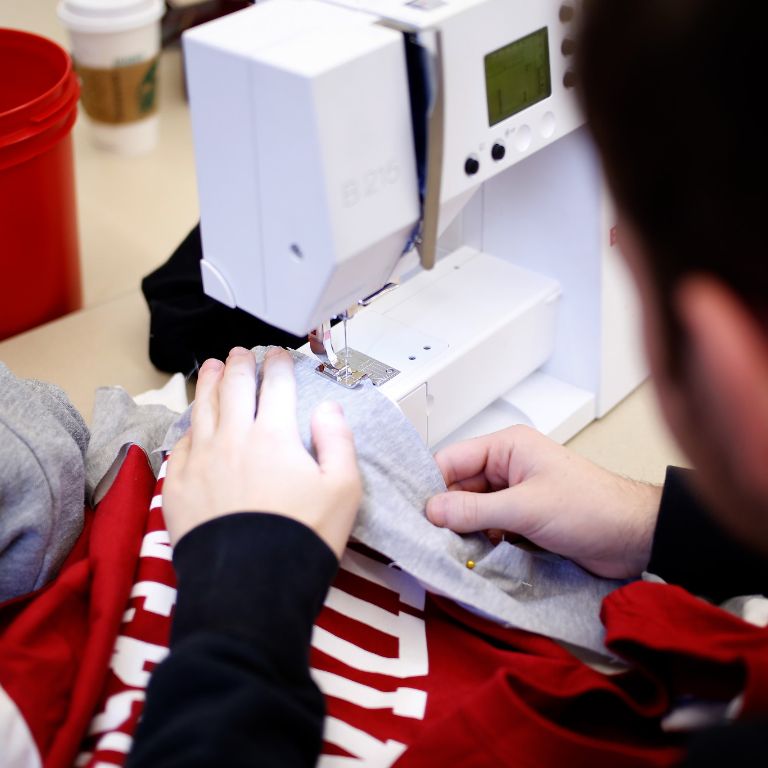 Photos by Eric Rudd, Indiana University
Like the collection itself, the selection of items on display ranged from haute couture to T-shirts and jeans. Among the items were a red, belted Halston dress; a dress featuring an apple pattern and a Peter Pan collar by acclaimed Fort Wayne designer Bill Blass; and a children's dress sewn in one of Sage's classes.
Students updated sketches and shared their excitement about their designs. The following day, the class went shopping, with funds from the bicentennial grant, at local thrift shops for materials to use to construct their garments. They also heard a presentation from a Goodwill administrator about waste management. Sophomore Daisy May said the sustainable mission of the class is what appealed to her the most.
"If we are all learning and thinking about sustainability now as students and continue to do so as we go into the fashion industry, then that'll hopefully create a more sustainable Earth," May said.
An exhibition, "For the Love of IU: History, Sustainability and Design," will be on display Feb. 11 to 15 in Kirkwood Hall Gallery Room 112. The exhibition – featuring student designs as well as select artifacts and inspiration sources from IU Archives and the Sage Fashion Collection – is free and open to the public from noon to 5 p.m. daily. An opening reception will take place from 5 to 7 p.m. Feb. 12 in the gallery.