Car won't start late at night on campus? Work in a building that is a long haul to your parking spot? Worried about walking alone, but don't have money for Uber and Lyft's surging prices? Using IU Fleet Services' Safety Escort could be the solution to your problem.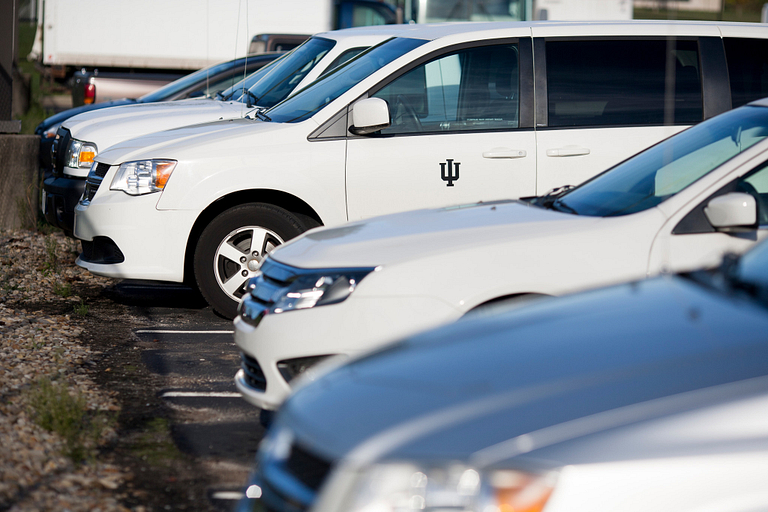 The free ride service is offered to IU students, faculty and staff between 8 p.m. and 1:45 a.m. seven days per week as a backup ride option. Drivers will pick up and drop off passengers anywhere within the city limits of Bloomington, with a few exceptions: Safety Escort will not drop riders off on Kirkwood or service athletic events.
Groups of three or more are considered safe enough for walking, and therefore won't be picked up by Safety Escort. Passengers have a 16-ride limit per semester to ensure more members of the IU community can use the service.
Up to four Safety Escort vans are in circulation during hours of operation, and each van holds two employees – a driver and a navigator – for an added sense of safety and comfort. Drivers complete about 60 rides per day on average, and Safety Escort transported nearly 30,000 passengers from July 2017 to June 2018.
The drivers, navigators, managers and all of the other 40 or so employees are students, and the organization operates with counsel from Fleet Services manager Amanda Wilson on issues like budget and university policy compliance.
How does it work
"Beyond the service being free, IU faculty and staff may feel more comfortable using Safety Escort than other ride-sharing services because they know drivers are vetted, have had IU background checks and will be held accountable for their actions as university employees," Wilson said. "Plus, knowing drivers are IU students provides the comfort of a university family atmosphere."
Other perks of riding with Safety Escort include the fact that students are more familiar with campus and can get you to your destination more quickly. Riders can also rest assured that the vehicles themselves are up to IU standards and insured by the university.
In 2015, Safety Escort switched its service to an app-based system powered by TapRide – an update that enabled drivers to double the amount of rides they were able to provide. Wilson said the organization is always tweaking technology and updating systems to be more efficient and keep wait times under 20 minutes.
Visit the Safety Escort website to learn more about requesting a ride through the TapRide app, email iusase@indiana.edu with non-urgent questions or call 812-855-SAFE to request a ride now.