'The Price Is Right Live' seeking contestants at IU Auditorium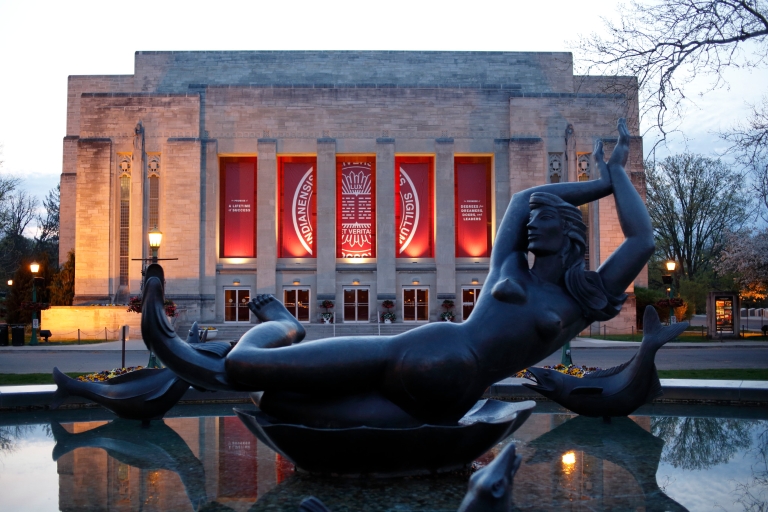 Come on down! You could be a contestant on "The Price Is Right Live" when the hit interactive show takes the stage at 7:30 p.m. Feb. 21 at Indiana University Auditorium.
The non-televised show is open to legal residents of the U.S. and Canada who are 18 or older. To register for the chance to be a contestant, enter the main doors at IU Auditorium between 4:30 and 7:15 p.m. You don't need to purchase a ticket to register to be a contestant, but you do need one to watch the show.
Additional details about how to participate in the game are available from "The Price Is Right Live" website. The show is being presented on campus by The Roberts Group.
Grant Thornton to help create risk assessment and management institute at IU
IU has announced a $3 million gift from Grant Thornton LLP, a leading consulting and accounting firm. The gift will establish the Grant Thornton Institute for Data Exploration for Risk Assessment and Management, or GT-IDEA, an interdisciplinary institute that will span IU Bloomington's Kelley School of Business, School of Public and Environmental Affairs and School of Informatics, Computing and Engineering.
GT-IDEA is aligned with the core mission of Grant Thornton's Advisory Services' consulting practice, which helps businesses create value and innovate, solve problems and strategic challenges, and manage risks, governance demands, and policy and regulatory obligations. GT-IDEA students will gain experience working on real industry issues, engage in case studies and competitions, and benefit from interactions with established risk assessment and management practitioners from Grant Thornton.
This innovative approach to learning is designed to prepare students to become the next generation of even more effective industry leaders. It will deepen Grant Thornton's relationship with IU, allowing the professional services firm to recruit deserving students who are well versed in risk assessment and management.
New book outlines challenges, solutions for women of color in legal academia
Confrontational students and biases in course evaluations have devastating effects on the tenure and promotion process and outcomes for women of color. That's according to a new book, "Unequal Profession: Race and Gender in Legal Academia" by Meera E. Deo, director of the Law School Survey of Student Engagement, one of the projects housed at the Center for Postsecondary Research at the School of Education.
Published this month by Stanford University Press, Deo's findings are grim: Colleagues who "mansplain" and silence marginalized faculty contribute to a higher rate of attrition. The data also reveal interesting parallels between hiring and leadership for women of color faculty, as many do not pursue faculty or administrative positions primarily because they are told (directly or indirectly) that they do not belong.
Alumni of IU School of Education in Bloomington gift $4 million to IU
The Indiana University Foundation has announced a $4 million gift from alumni Nycha Schlegel and Dallas "Bill" Loos. The bequest will benefit countless students, faculty and staff in the School of Education in Bloomington, IU Libraries, the Kelley School of Business and the Wells Scholars Program.
The bequest from Schlegel and Loos honors areas of the university that were meaningful to them during their time at IU and beyond, such as the Herman B Wells Library, Lilly Library and School of Education. And it also supports today's hard-working Wells Scholars.
Schlegel earned her Bachelor of Science in education in 1970 and her Master of Science in Education in counseling and guidance in 1971 from the School of Education. Loos received a Master of Science in college student personnel administration from the School of Education in 1970 and an MBA from the Kelley School of Business in 1971.