They could hear the children coming before they pushed through the double doors.
It was Wednesday night at The Rise and time for Reading Group, a weekly program hosted by members of the Alpha Phi Alpha fraternity. As the kids excitedly gathered around the table to see what this week's book and activity would be, three members of the fraternity divvied up what parts of "If I Ran for President" they would read.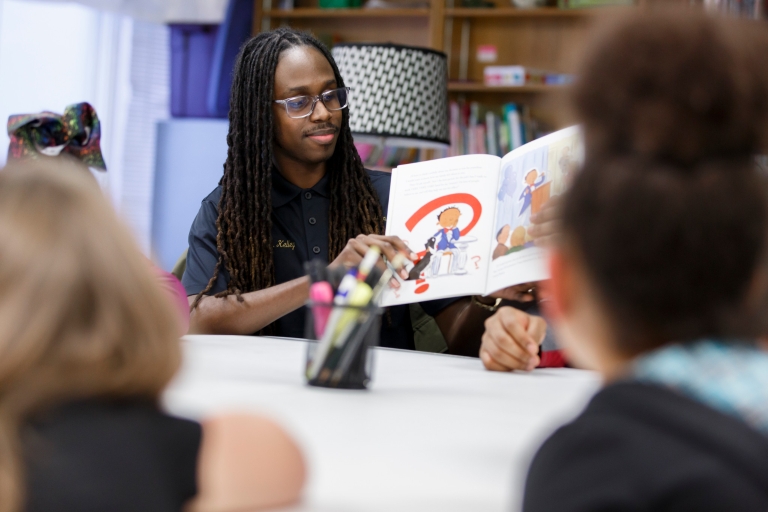 "I remember you," one of the children told Tyler Kelley, leader of the Reading Group.
"I remember you too," he said. "How was your day at school?"
Started by Kelley, associate director of admissions and stewardship for the undergraduate program at the Kelley School of Business and alumni member of Alpha Phi Alpha Fraternity Inc., Reading Group consists of Alpha Phi Alpha members who spend every Wednesday reading to young residents at The Rise, a program through Middle Way House that provides transitional housing and services to survivors of violence.
After graduating from IU Bloomington in 2014, Kelley began working at The Rise and continued volunteering with the organization after taking a job at IU the following year. His fraternity became part of the city's Read for 200 program and organized a similar program they could do on their own.
"It is important to me to give back because I had mentors and support around me growing up," Kelley said. "I was raised in a single-parent home with my mother, so having black men present to show me another way was important. I wasn't a troubled kid, but I do not think I would be as confident or poised if I didn't have people who took the time out of their days to teach me."
Reading Group is one of many programs hosted for young residents at The Rise, and volunteers like the Alpha Phi Alpha members are essential to the organization, said Priscilla Cuevas, youth programs coordinator at Middle Way House. The Reading Group not only provides an educational activity for the young residents of Middle Way but gives them someone they can look up to.
"It is really special to be able to provide more male representation and positive male role models in this program, especially for the children we serve," Cuevas said.
She said many of the volunteers who work at The Rise are affiliated with IU, either as a student, faculty member or staff member. Having such a close partnership with the university provides the organization with much-needed manpower and resources and demonstrates the importance of an education.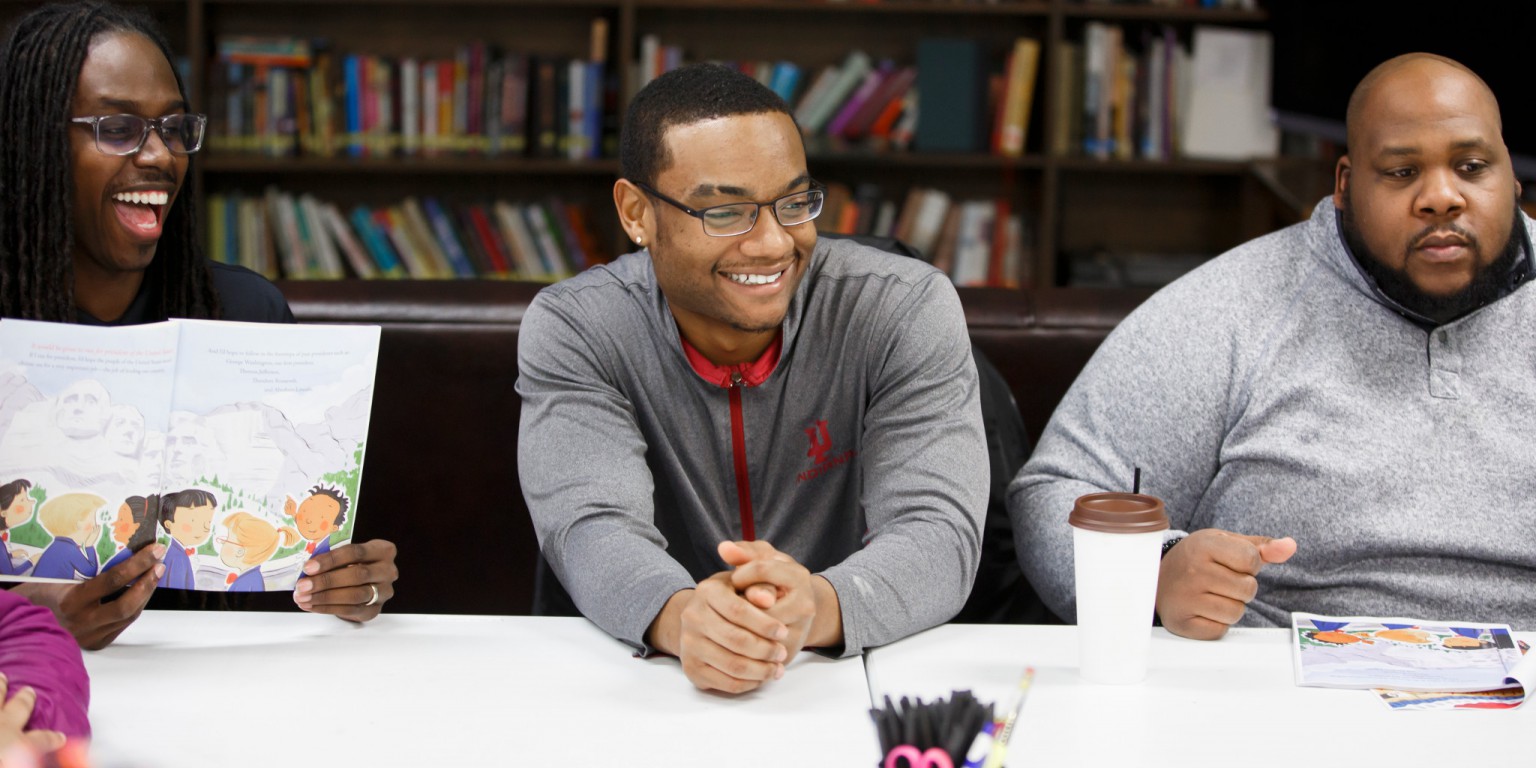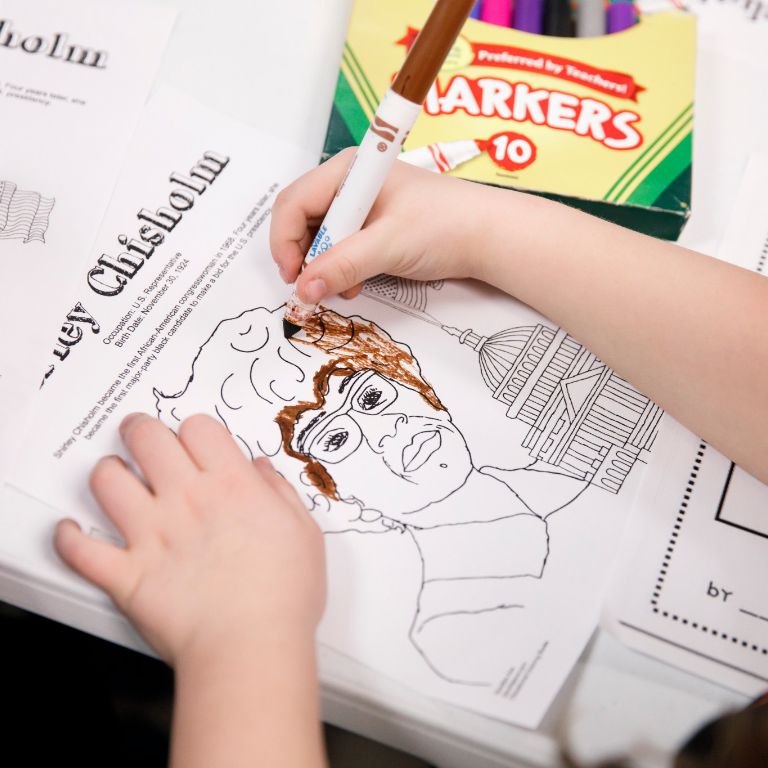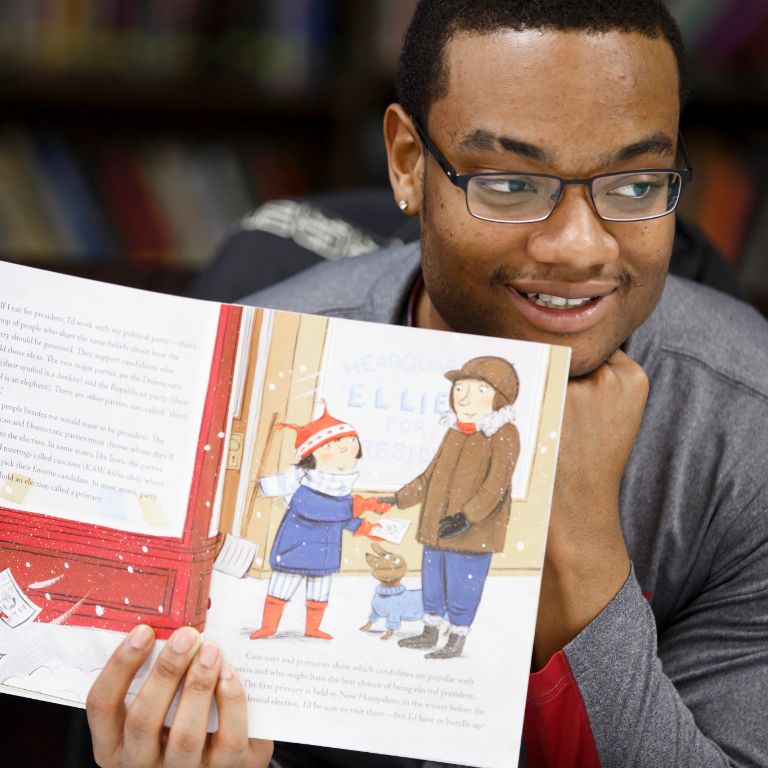 Photos by James Brosher, Indiana University
"We have kids in the program who want to be a vet and a paleontologist," Cuevas said. "So to be able to have them be more confident in sharing what they want to and having IU students sharing what college is like is great. We had a child who never thought about becoming a doctor until she worked with a tutor who told her she was going to school to become a doctor. It's those little moments that can make such an impact."
James Sanders, an alumni member of Alpha Phi Alpha, became involved with the Reading Group after moving to Indiana to take a job as an engineer at Naval Surface Warfare Center Crane Division.
Growing up in an impoverished neighborhood in Memphis, under the guidance of a single mother, Sanders knows the importance of community programs, which benefited him throughout his life.
Thanks to his mom, reading also holds a special place in Sanders' heart. When he heard about a reading program for young children whose families are facing adverse circumstances, he knew he had to be a part of it.
"I always remembered, my mother used to read to me and she taught me how to read," Sanders said. "And she wouldn't just read in a monotone voice, she would do all of the voices and play the different parts. She still reads to students today in Memphis. So reading is something that always resonated with me. I like to see the reactions of the children as they listen to us read."
Alpha Phi Alpha member Jesse Jones, a senior studying health care management and policies, had the opposite experience growing up. With two parents who were busy working, there wasn't much time for evening readings.
"Growing up, I didn't have someone who read to me," Jones said. "You can tell in the classroom the kids who have parents who read to them or have books at home. I remember I used to want that as a kid, to have someone who read to me, spent that time with me."
Jones has used his college experience to give back to the community, taking part in numerous volunteer opportunities, many that involve mentoring and inspiring young children. He said it's a thrill to see the excitement on the kids' faces when they see him week after week and really dig into the stories the group reads aloud.
"I like the energy kids bring," Jones said. "It lets me know they appreciate us being here and look forward to seeing us. Being a part of a program like this feels like it pushes me closer to my purpose. This is what am I here to do."
For Sanders, reading to the children every week not only helps the kids but also brings him some unexpected rewards.
"We all need this type of interaction," he said. "It makes our lives a little lighter. My job can be hectic, but here you get to unwind; you're not talking about anything heavy. The kids tell you their favorite color and what they like to do, and they ask you questions. They come in with open hearts and want to know about us. It's cool."