Kosali Simon, a nationally known health economist, has spent the past several years researching the impact of health insurance reform on health care and labor market outcomes, and the causes and consequences of the opioid crisis. She is a Herman B Wells Endowed Professor at the Indiana University Bloomington School of Public and Environmental Affairs, an adjunct professor in the economics department and in the Kelley School of Business, affiliated faculty in the Data Science program and affiliated scientist at the Regenstrief Institute.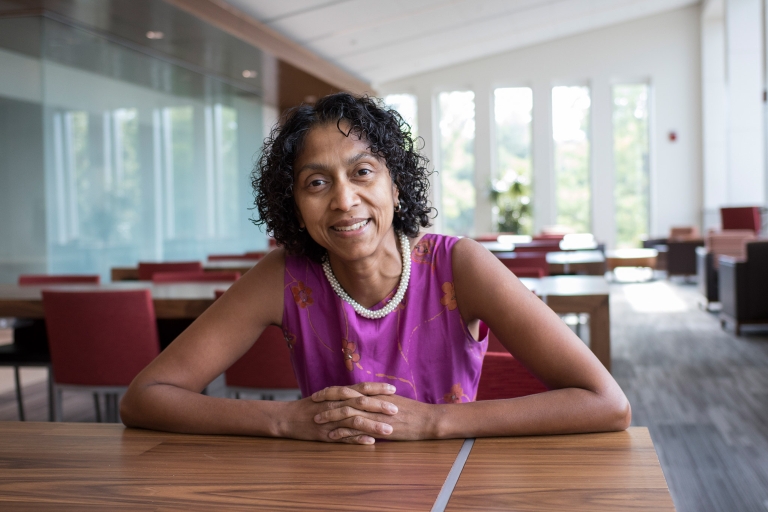 Recently, Simon took on an additional, newly created role as associate vice provost for health sciences, working with David Daleke, vice provost for graduate education and health sciences and associate dean of the University Graduate School. In this position, she will encourage and foster health sciences and health services research at IU Bloomington, leveraging campus strengths in the social sciences and big data research.
"Since I arrived here almost nine years ago, I've thought of IU Bloomington as a campus that has a lot of exciting potential in health research and education," Simon said. She said that with so much important related research and outreach happening on campus, there's lots of room for further connection between researchers and units to enhance service and teaching at the same time.
Simon joined the IU faculty as a full professor in 2010, after nine years at Cornell University. Among many career highlights, she was elected to a four-year term as one of two academic representatives on the Association for Public Policy Analysis and Management Policy Council in 2016. With her co-authors, she won the 2013 Frasier Institute's Addington Prize in Measurement and the 2012 National Tax Association's Musgrave Prize. When she was named a Herman B Wells Endowed Professor in 2016, Simon was just the third person to ever receive the honor.
She is also active in national leadership roles in her profession, serving on several boards and in editorial positions, and recently starting a role as editor for the Journal of Health Economics. A summary of her recent research appears in the 2018 National Bureau of Economic Research Reporter.
This is a particularly good time to further connections between IU faculty engaged in similar or complementary research, Simon said, because of a number of exciting developments, including:
"I have found everyone in IU Bloomington health sciences to be extremely collaborative researchers at heart, so I think it's simply a matter of providing more conduits and venues to get people together. I don't see my job as one that will be difficult," she said. "I'm also very excited about further fostering stronger connections with health research in Indianapolis and other campuses, as well as our surrounding communities."
Jennifer Piurek is director of communications and special projects in the Office of the Provost.