Chefs, registered dietitians, educators, farmers and students are all playing a role in the developing movement toward a more sustainable food system at Indiana University known as the Real Food Challenge. But do students purchasing cartons of milk on the IU Bloomington campus realize they're supporting Indiana family-owned dairy farms?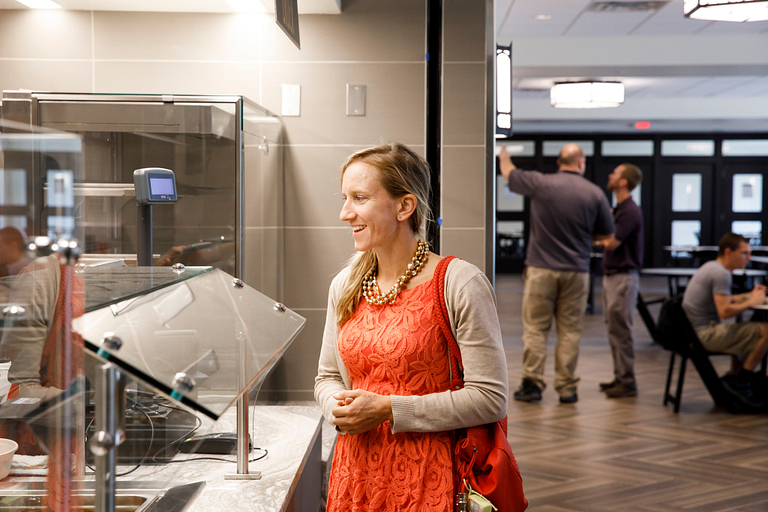 During the 2017-18 fiscal year, about 6.81 percent of IU's food purchases qualified as "real." Real food is defined as originating from fair-trade, humane food sources within a 250-mile radius. Foods that are certified organic qualify, whereas highly processed foods, including those containing high fructose corn syrup, artificial sweeteners, preservatives, dyes and trans fats/partially hydrogenated oils, do not qualify.
In alignment with IU's Bicentennial Strategic Plan, which highlights a commitment to sustainability, Sustain IU and IU Dining have set a goal to increase the percentage of real food procured by IU to 25 percent by 2025.
The leadership of IU Ph.D. candidate Angela Babb and her interests in food justice have played an integral role in the commitment toward this change, and students can sign a petition to show their support. Forty-three colleges and universities across the U.S. have signed the Real Food Campus Commitment, including Northwestern University as the first Big Ten school to sign. Since 2013, students at IU have analyzed the food purchased for the campus. This project became an official IU course during the spring semester of 2014 and has continued every spring.
Rahul Shrivastav, director of IU Dining, supports student involvement and challenges IU's food vendors to offer items that fit "real food" standards. But students remain the driving force of this grassroots initiative, and the campus food system is shaped by student demand.
To promote purchasing, consumption and education on real foods at IU, events have been planned this semester in dining locations where real food items are featured. Items such as Endangered Species brand fair-trade chocolate, kale salad with local apples and Suja organic kombucha tea are among items sampled at the events. Other items IU Dining has sourced are local blueberries used in homemade granola and yogurt parfaits and local apples when available.
'Real Food' sampling dates
Indianapolis' Piazza Produce, as IU Dining's prime produce vendor, has also supported local sourcing. The new Union Market at the Indiana Memorial Union also features a depth of local retail food options. IMU guests can find Bloomington, Indiana's Dillman Farm jam as well as yogurt made from grass-fed dairy from Trader's Point Creamery in Zionsville, Indiana.
Fischer Farms, a family-owned farm in Jasper, Indiana, has become IU Dining's prime supplier of beef served within the past year. To connect with students about where their food comes from and interact about his farm practices, Dave Fischer of Fischer Farms has visited campus regularly, attending Real Food Challenge tabling events.
IU undergrads who serve on this year's meal plan committee have even been invited to visit and take a tour of Fischer Farms this spring. IU's sales representative from Prairie Farms also attended a sampling event to communicate the story behind the locally produced yogurt, milk and sour cream consumed by students each day.
With the availability of a campus farm, IU Dining's real food percentage is increasing. The farm made the first harvest of kale available recently. It will be used by chef David Tallent and his culinary staff on menus within the IMU. The nutrient profile from this and other farm items are at their peak, as the food travels less than a mile to its destination. The gap is narrowing between Indiana growers and the hands of chefs who create the plates served to students and IU guests each day.
To achieve real food goals and beyond, IU Dining will strive to engage the student population that is not involved in the campus food system and promote the cause to all students, as their buy-in to will make big waves.
Rachel Noirot is a registered dietitian with IU Dining.