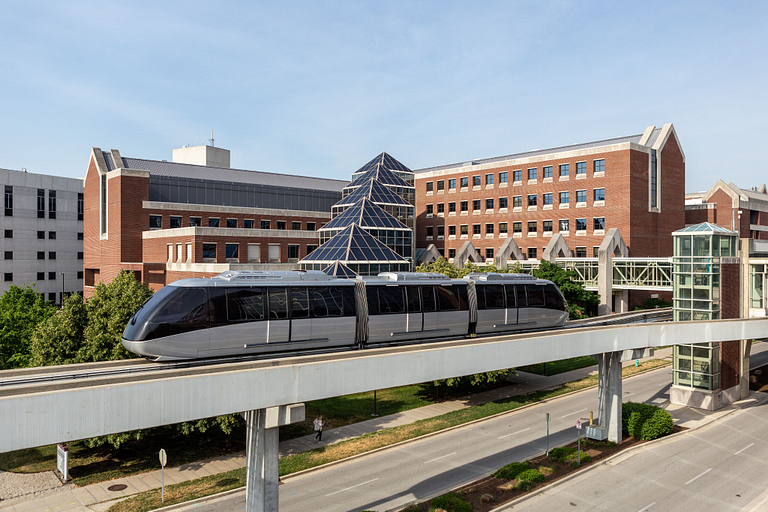 Indiana University Health's People Mover moved its last people Wednesday night. The iconic downtown Indianapolis elevated tram has been suspended and replaced by a free shuttle system, which debuted this morning.
The downtown route rolls from 6 a.m. to 10 p.m. Monday through Friday and 8 a.m. to 5 p.m. Saturdays. It stops at the Senate Boulevard entrance to IU Health Methodist Hospital, the IU Health Pathology Lab, Walther Hall on Walnut Street, IU Health University Hospital Adult Outpatient Center and IU Health Riley Hospital for Children's Simon Family Tower. Shuttles are expected at each stop every 12 to 15 minutes.
The new Express Route features three stops from 8 a.m. to 6 p.m. Monday through Friday: Methodist Hospital, Walther Hall, and Riley's staff entrance at Barnhill Drive and Wishard Boulevard.
Riders can track the progress of the shuttles via an online tracker and the DoubleMap app, available from the app store on mobile phones. In DoubleMap, search or select "IU Health" to see the routes.
The shuttles are not designed for moving large equipment. People with large items or a large group of riders can make arrangements with shuttle dispatch by calling 317-948-0975.
The structures that held the People Mover will remain in place due to IU Health's pneumatic tube system and electronic cables connecting buildings across downtown. IU Health will continue to monitor and maintain the structure and tracks. Future plans could see the tracks incorporated into the design and plan of future construction projects on IU Health's downtown campus near IUPUI.
Administrators cited significant ongoing costs to operate the People Mover – exceeding $3 million per year – as a root cause for the change. The People Mover would also require an additional financial investment in the near future to keep it operational. By moving to the shuttle system now, IU Health will avoid incurring those additional expenses, projected to total $20 million over the next five years. IU Health will also save more than $1.5 million annually by switching to the shuttle service.