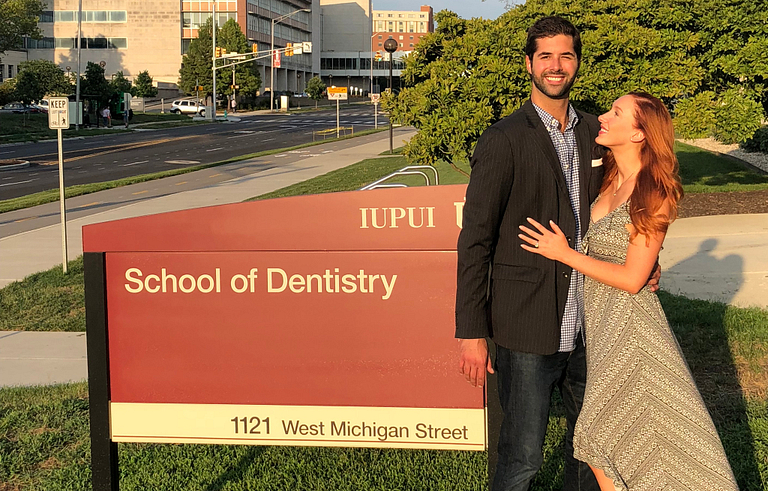 It's a love story that will make you smile this Valentine's Day – but those teeth had better be clean.
Dr. Evan Schmidt, a second-year resident orthodontist at the Indiana University School of Dentistry, remembers exactly when and where he first saw his future bride, Dr. Megan Daniels, who is a dentist in Indianapolis and an IU Dentistry alumna. It was five years ago, near lecture hall 116 in the Dentistry building. At the time, they were both dental students learning the fundamentals of the field.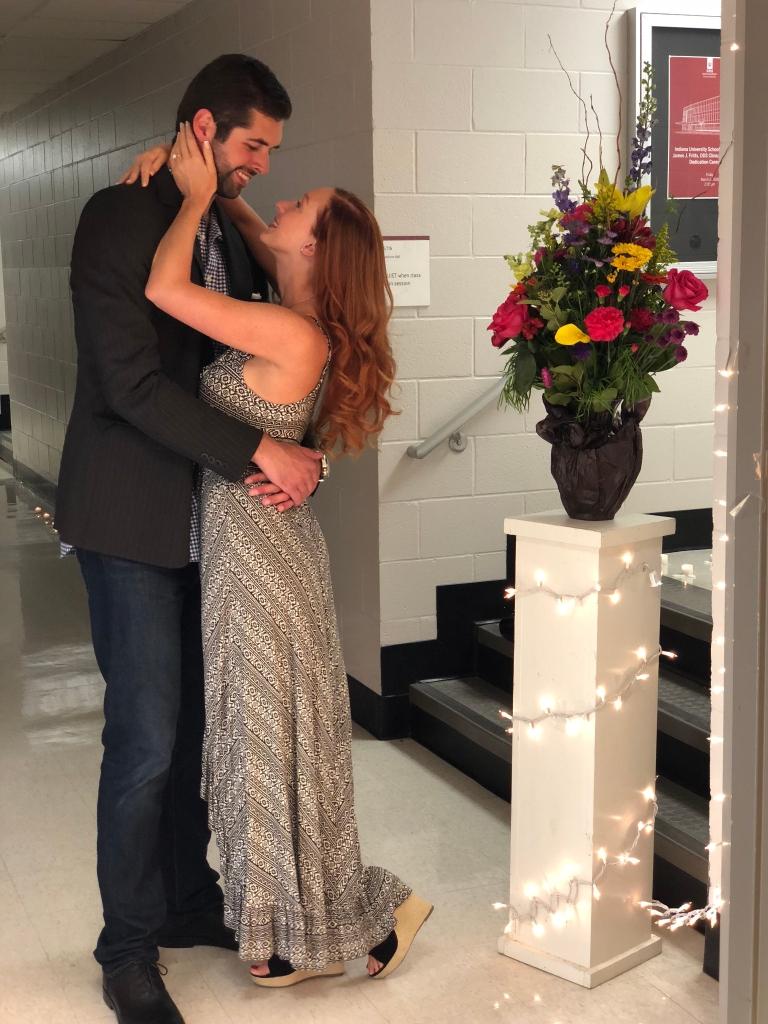 "I was coming around the corner during orientation of my first year," remembered Schmidt, as if his first meeting with Daniels happened an hour ago. "We locked eyes and smiled at each other."
On the five-year anniversary of that meeting, Schmidt adorned those heavily walked tiles in the dental school with rose petals. He lit up that hallway full of lockers, which have held the coats and instruments of generations of Indiana dentists, with candles and Christmas lights. Somehow, he made the cinder-block row of lecture hall walls romantic with soft music.
Schmidt was there waiting when Daniels arrived. He got down on one knee to propose. She was shocked, beginning when she first saw the rose petals on the School of Dentistry floor mat at the building's south entrance. What was supposed to be dinner with her sister while Schmidt was "back home in Valparaiso for the weekend" turned into an unforgettable moment rooted in the rigorous studies of the IU dentistry program.
Love at first sight
With striking red hair and bright green eyes, Daniels was hard to miss. It's like she was a cheerleader in dentist scrubs. Oh wait – she was a cheerleader for the Indianapolis Colts during the 2013 and 2015 seasons, while she was a dental student. Schmidt couldn't believe his new girlfriend's work ethic, amazed that she combined the long hours of rehearsing routines at Lucas Oil Stadium, workouts and the countless community appearances as a cheerleader with classes, labs and clinicals at the dental school.
Daniels said the Colts graciously worked around her schedule in terms of those appearances. Not every cheerleader is needed at every charity event. Still, both seasons were intense.
"There was a Sunday-evening Denver Broncos game, and I had to come do a practical in the lab the next morning," said Daniels, a native of Springfield, Illinois. "That's just how it went. You just prepare ahead of time and make it happen."
But the young couple wouldn't have had it any other way. They bonded over those long study hours.
"He was a great support system," Daniels said. "We did lab work together. Those hours get really long in the basement lab. It was nice to have company."
Schmidt agreed. Daniels helped him through years of study and practice as well. His advice to up-and-coming dental students: "Find some special people to add a little light to your life while you're working those long hours in the basement labs."
'Your next appointment is Oct. 26'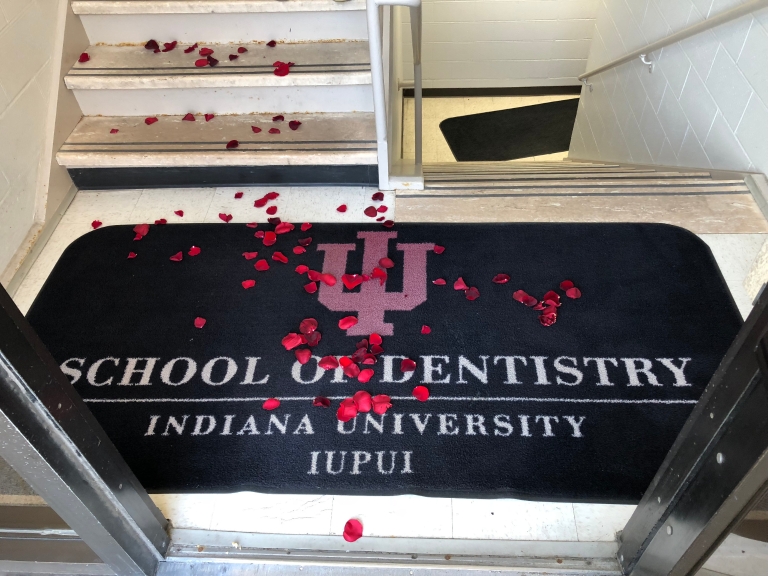 As the couple recently walked around the Dentistry buildings, including the shiny new Fritts Clinical Care Center, they couldn't help but reminisce about their time on the IUPUI campus. As their love grew, so did the intensity of their coursework and the hours practicing in labs and clinicals. They leaned on each other. They exited as orthodontist and dentist – and in love.
"It brings back a lot of memories – I made my best friends here, and I met him here," Daniels said. "It holds a really happy place for me."
The wedding date is set for Oct. 26 in Colorado Springs, Colorado. It will be an appointment that these Dentistry alumni will always cherish. No reminder call necessary.