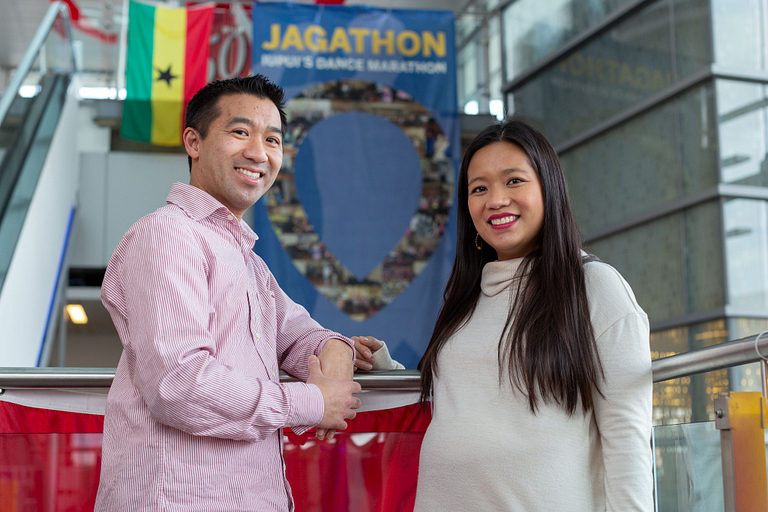 The 2018 Jagathon brought in a record $501,371.24 for the Herman B Wells Center for Pediatric Research. The event earned national recognition as well.
The 2019 edition is primed to raise even more money. Running for an epic 15 hours, the dance party starts at noon March 2 at the Campus Center and will end at 3 a.m. March 3. It's expected to draw more than 1,000 students for a night of music and dancing for a good cause. The 2018 event brought in 1,303 dancers.
But IUPUI's signature spring charity event didn't start at the Campus Center. The first edition wasn't even called Jagathon. It was the IUPUI Dance Marathon, held in spring 2002 in the now-demolished Student Union Building.
Dr. Sarah Reyes Delima was a sophomore studying biology when she joined the planning committee for what would become a popular IUPUI organization. That initial event raised about $400, drawing about 30 student participants.
"It's come a long way since then," Sarah Delima said with a laugh, acknowledging her understatement.
During that intimate event, she met Derrick Delima right before midnight. The two became friends but didn't start dating until after graduation in 2004.
"I found out about the event the day before," said Derrick Delima, then a sophomore majoring in accounting and computer information systems and now an accountant for Defense Finance and Accounting Service. He is an avid recruiter on the IUPUI campus for his company, popularly known as DFAS.
During Derrick Delima's senior year, he was director of the dance marathon, which by then had moved to The Jungle and the large hallway by the Natatorium. The event was growing – in just two years' time, it was expanding past the space IUPUI could offer. Thankfully, the Campus Center opened soon after, giving the event a proper dance floor.
Now married, the Delimas are thrilled to see how Jagathon has evolved, especially with Sarah Delima's current position as a general pediatric neurologist at Riley Hospital. She was accepted into the Indiana University School of Medicine after her graduation from IUPUI and has been in the pediatrics area ever since. She credits her early Jagathon experience as part of the IUPUI Student Foundation for helping her get started on her career path.
"It really helped me get to know the right people," Sarah Delima said. "We're still friends with other members of the steering committee from those early dance marathons."
Of course, the couple had no idea that Jagathon would grow into the philanthropic force it has become today, just like back in 2002, when they had no idea they would be raising five children together in 2019 – with No. 6 expected in late June.
"That's why I thought the dance marathon was awesome," Sarah Delima said. "I wanted to work for Riley Hospital, and the marathon was going to benefit children."
From 30 students to 1,300, the Jagathon has come a long way since the Delimas' days at IUPUI, and the year-round passion and dedication of the committee will make it even bigger another 17 years from now.