The book was closed last fall on University Library's $1.75 million renovation of the third and fourth floors, and library officials are writing a new chapter this spring on how new furniture and study spaces are being utilized.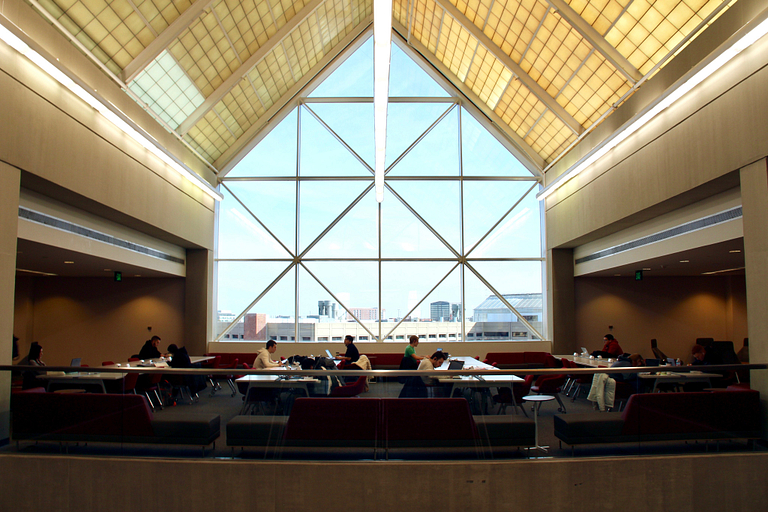 Almost immediately, students have flocked to new spaces designed for individual or group work. Cubicles intended for individual study, stylish rooms for large groups, and spaces featuring large flat-screen TVs and whiteboards for jotting down ideas or formulas are popular so far.
"I have a cell bio exam later today," said Fatima Hassan, a sophomore biology major, while utilizing a study room with classmates. "It's perfect. You can just walk in and I like the boards. We use the computer in here to work on slides and watch videos for classes. … I love all of these changes. They make it a lot easier to focus."
New signage and artwork for the walls are still on their way, but associate librarian Willie Miller said feedback on the renovations has been positive overall. The floors now meld new, Indiana University-branded designs with the building's original 1993 blueprints.
"The crimson matches really well with the wood. It's beautiful," said Miller, noting some wooden chairs that have been in the library for 25 years. "Nothing looks out of place. They did a great job blending the old with the new."
These new spaces in the library have certainly been page-turners.
Cubicle country
On the third floor, new cubicle spaces have been some of the most-used new areas. The end caps offer more room for a couple of students to collaborate, but most of the cubicles are geared for individual work.
"We have four sections of these," Miller said. "Even early in the morning, they get full."
New rooms
Two new study lounges flank the library's third-floor main stairwell. These are meant for quiet study, with new furniture and tables accommodating at least a dozen students at a time. The rooms offer plenty of outlets for fueling laptops and charging devices.
"The glass helps deflect noise from the second floor away from this floor," Miller said. "It creates space that's a little quieter than the rest of the floor. It feels private, but it's also really open and feels safe."
Café-style seating
The fourth floor features multiple living room-style seating arrangements. Modern yet comfortable seating encircles a small table in one section, while nearby enclosed spaces provide an intimate studying experience.
"When you go to a coffee shop," Miller explained, "you want to be around other people, but you don't want them to hear everything. This helps with that."
On a recent Tuesday morning, health science major Disha Patel was poring over notes for her anatomy class. The student is an avid user of the new study spaces. "I used to use the wooden cubbies to study on the other side of this floor," said Patel, a Monster energy drink handily nearby. "Then I came over here, and it's more comfortable."
Elevator action
Areas around the fourth-floor elevator were designed as "touchdown" spots – spaces where students can meet up for a quick study or gather and then move on to a quieter area. This area also features new tall bar tables equipped with built-in outlets.
What a view
More tables, seats and electrical outlets have been installed in the fourth floor's signature space, allowing more students to look out at Michigan Street and the downtown skyline through the huge pentagonal window.
"Everyone always loved studying under that iconic window," Miller said. "The area has been expanded to allow greater numbers of students to collaborate and study together on this floor than we had before."