"SAAS saved me from leaving IUPUI," Racheal Randle said. "This is my home away from home."
Randle is the corresponding secretary for the Student African American Sisterhood, a nonprofit organization dedicated to unifying African-American women through the development of a sisterhood distinction.
The first chapter of the SAAS student group launched in 2005 on the IUPUI campus to provide a safe place for women of color at a predominantly white institution. Members focus on promoting the platforms of educational excellence, social unity, leadership and support and recognize the importance of providing encouragement in developing these skills to both majority and minority groups.
Through the sisterhood, the women perform acts of community service, such as bringing flowers for hospital patients and volunteering at the Ronald McDonald House. They also host events aimed at promoting messages from the African-American community by conducting Q&As with the campus police and hosting events explaining what it's like to be a person of color on campus.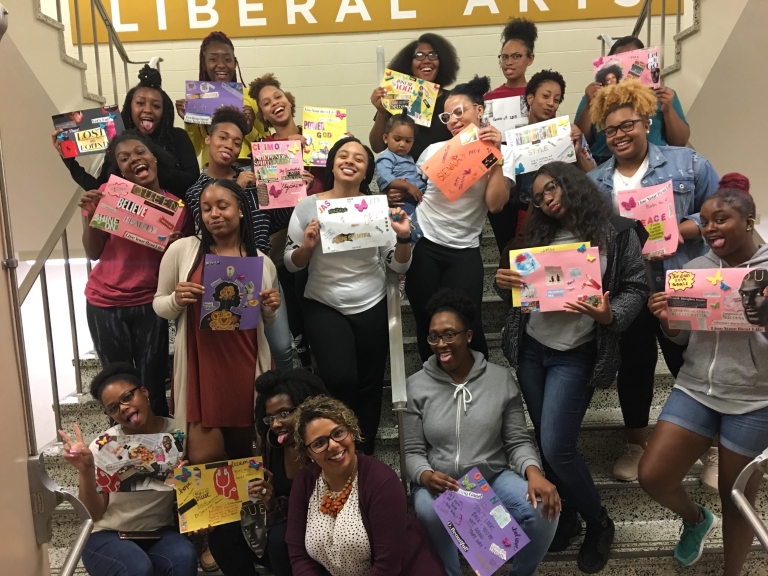 Although the group makes it a point to provide opportunities such as professional assistance and volunteer events for its members, the emotional support and social aspect of the group is the heart and soul for Randle and for the president of the sisterhood, Jasmine Lovelace.
Lovelace said she felt hidden on campus at first, and she still feels that the school has room to grow in order for everyone to feel welcome. She said SAAS has allowed her to really get connected and feel like she's fully a part of IUPUI.
Randle agreed, saying she didn't really know who to confide in or where to go for support when she first started classes here. But once she met the women of SAAS, it all changed for her.
SAAS is one of the many student organizations recognizing Black History Month on campus this year. Both women said the sisterhood is planning on celebrating the month by scheduling community service days and creating awareness on social media, including the group's Twitter feed. Individually, they plan on showing support in the African-American community by shopping at strictly black-owned businesses.
It's free to join the SAAS student group, which is always accepting new members of any background.