BLOOMINGTON, Ind. – The Indiana University community mourns the passing of former U.S. senator and IU alumnus Birch Bayh, who died this morning at the age of 91.
Bayh, who represented Indiana for 18 years in the U.S. Senate, from 1963 to 1980, was the author of two constitutional amendments – the only lawmaker since the Founding Fathers to do so. He also sponsored and co-authored the landmark 1972 Title IX legislation that gave women equal opportunities in both sports and academics at public institutions, and he was a candidate for the Democratic nomination for president in 1976.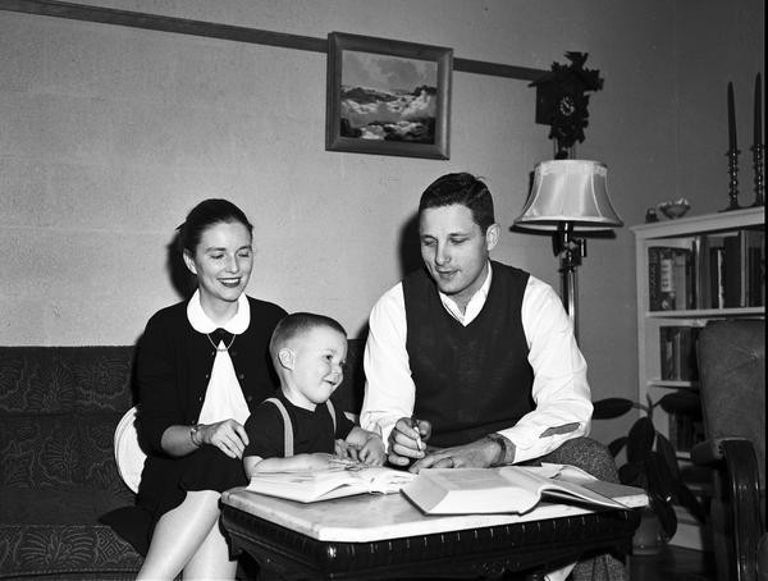 Bayh received his J.D. degree from the IU Maurer School of Law in 1960 and an honorary degree from IU in 1995. He was also a member of the Maurer School's Academy of Law Alumni Fellows, and his senatorial papers are included among those in IU's Modern Political Papers Collection, which is housed at the Herman B Wells Library on the Bloomington campus.
"Over his decades of extraordinary service to Indiana and the nation, Birch Bayh was a public servant in the truest sense of that term," IU President Michael A. McRobbie said. "He invariably put the needs of his Hoosier constituents and our nation at the forefront of his own interests and concerns, while exercising wise and deeply thoughtful judgment in his unremitting search for justice. He constantly worked to make America a better place for all of us, regardless of gender, race, class, nationality or religious background.
"His was a tenure that took place at an extremely tumultuous time in the life of our nation, of astounding productivity, and he was genuinely admired around the world for his integrity, bipartisanship and leadership. Indeed, he will forever be remembered as one of the finest and most accomplished legislators our nation has ever produced.
"The entire Indiana University community is deeply saddened by his passing, and our most heartfelt condolences go out to his family, friends, former colleagues and all of those individuals whose lives he touched during his remarkable life and career."
Born in 1928 in Terre Haute, Indiana, Bayh won election to the Indiana House of Representatives in 1954 and eventually became the youngest speaker of the House in Indiana history, a position he held while he worked on his law degree at IU Bloomington.
"Senator Bayh will leave a lasting legacy, not only as a distinguished senator and statesman, but also as a good friend of the Maurer School of Law and a member of our Academy of Law Alumni Fellows, the highest honor the school can bestow," said Austen Parrish, dean and James H. Rudy Professor of Law at the IU Maurer School of Law. "Each year, new law students at orientation are told about his work with Title IX and other historic legislation. All of us at the law school community are grateful to him for his many contributions to our state and our nation."
At age 34, Bayh was elected to the U.S. Senate during the 1962 midterm elections. During his three terms serving Indiana in the U.S. Senate, Bayh authored two amendments to the U.S. Constitution: the 25th Amendment on presidential succession and disability, and the 26th Amendment, which lowered the voting age from 21 to 18. He also was co-author of the Bayh-Dole Act, which revitalized the nation's patent system, and he was the chief architect of the Juvenile Justice Act, which established a separate judicial system for juvenile offenders.
Bayh sponsored and co-authored Title IX of the Higher Education Act. Title IX pertains to equal opportunity for women in all programs and activities, including sports, in educational institutions that receive federal funding. He said that he sponsored Title IX legislation in the Senate because he wanted to grant the same rights and protection to women that were guaranteed to ethnic minorities in the 1964 Civil Rights Act, after which Title IX was patterned.
Bayh ran for re-election to the Senate in 1980 but was defeated by the Republican candidate Dan Quayle. Following the election, he formed a law firm in Washington, D.C., served as chairman of the Institute Against Prejudice and Violence from 1984 through 1994, and was appointed to the Fulbright Foreign Scholarship Board by President Bill Clinton in 1995.
His son, Evan Bayh, a graduate of IU's Kelley School of Business, served as Indiana's 46th governor and held his father's former Senate seat from 1999 to 2011.