At 5:15 p.m. March 3, 1969, a signal sent from a broadcast tower on South Sare Road in Bloomington marked the first broadcast of WTIU, Indiana University's public television station. At the time, the station had a staff of three, and only one-third of its coverage was in color.
Now, as the station celebrates its 50th anniversary, WTIU has five channels as well as video streaming options. It has more than 60 employees and reaches an estimated 1.5 million viewers in south central Indiana.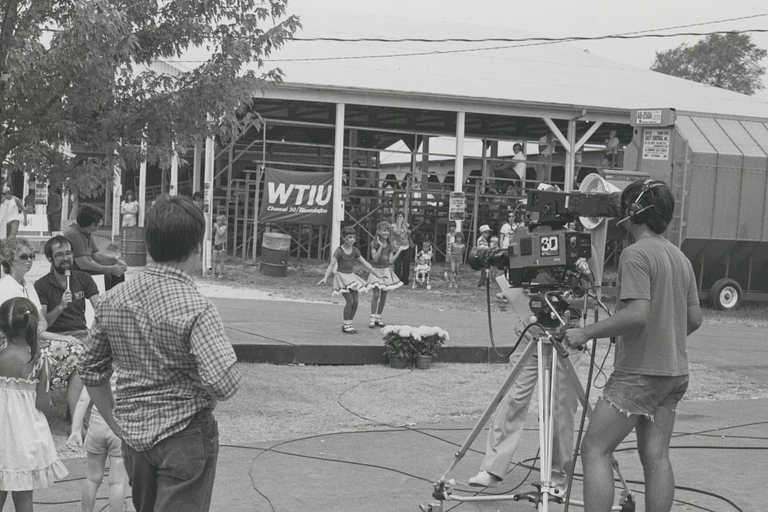 Though WTIU is now one of more than 170 Public Broadcasting Service member stations across the United States, its founding narrowly predates the debut of the PBS broadcast network in October of 1970. In its first year, though, the station primarily aired programming from the National Education Television network, the predecessor to PBS.
The station was built on the foundation of an established Radio-TV Services and Telecommunications academic department, which were founded in the early 1950s and operated out of a Quonset hut where the Jordan Avenue parking garage currently stands. During the summer of 1963, Radio-TV Services relocated to the newly constructed Radio and TV Center, which still houses WTIU today.
50 years of WTIU
This facility featured TV Studio 5, a theater-style production studio with audience area, stage area with theatrical fly-space, rope and pulley rigging and a proscenium curtain, and TV Studio 6, the main production studio that was claimed to be the largest television studio between the East and West coasts of the country at the time. A scene shop and lighting control room adjoined the two studios, and spaces for photo development, film editing and dressing rooms were scattered throughout.
A collaboration with two educational television stations that began in 1965 helped Radio-TV Services receive the upgraded video production equipment needed for the establishment of WTIU. In years since, the station has ushered in new technology; highlights include:
1974: WTIU acquired the ability to broadcast in color.
1980: WTIU acquired a mobile broadcasting truck that allowed live coverage of community events.
1996: The Radio-TV Building was completely renovated.
1997: WTIU began 24-hour broadcasting.
1998: The station published its first website.
2008: WTIU created a YouTube channel.
2009: High-definition broadcasting began.
2011: PBS Video streaming service launched, and WTIU launched an expansion local and regional news that continues today.
Regardless of how advanced the station's technology was, WTIU's reporting and programming have served the communities of south-central Indiana since its inception.
"Television has changed dramatically since we went on the air 50 years ago, but our mission to inform, educate and entertain has not," said Perry Metz, WTIU general manager. "WTIU works hard to bring a sense of community to southern Indiana through news, original programming and documentaries."
In January 1978, a blizzard buried much of the Midwest. Many people were unable to get their newspapers, so WTIU – though it had no local news department at the time – did its first live news broadcast. The success of this informal news format prompted the creation of the program "Question Air," a civil affairs show that allowed viewers to call in and submit questions to experts.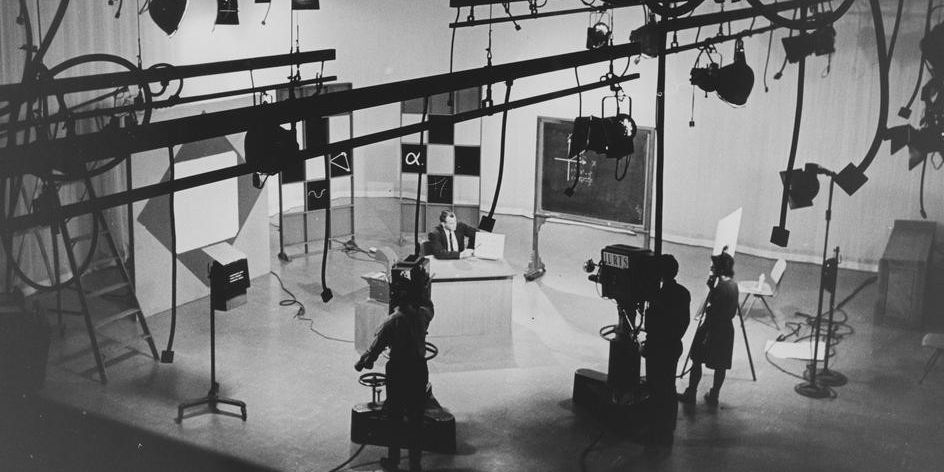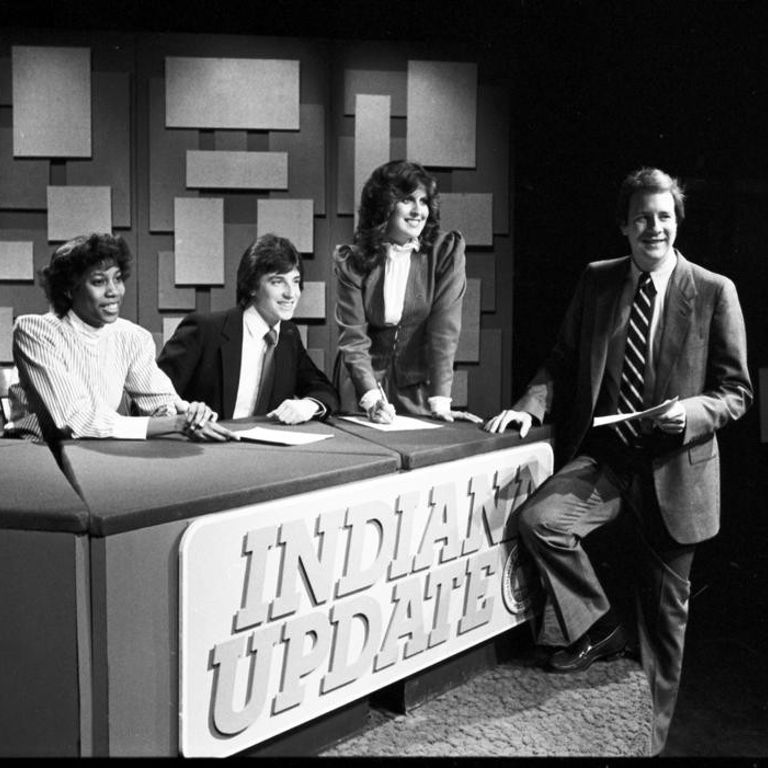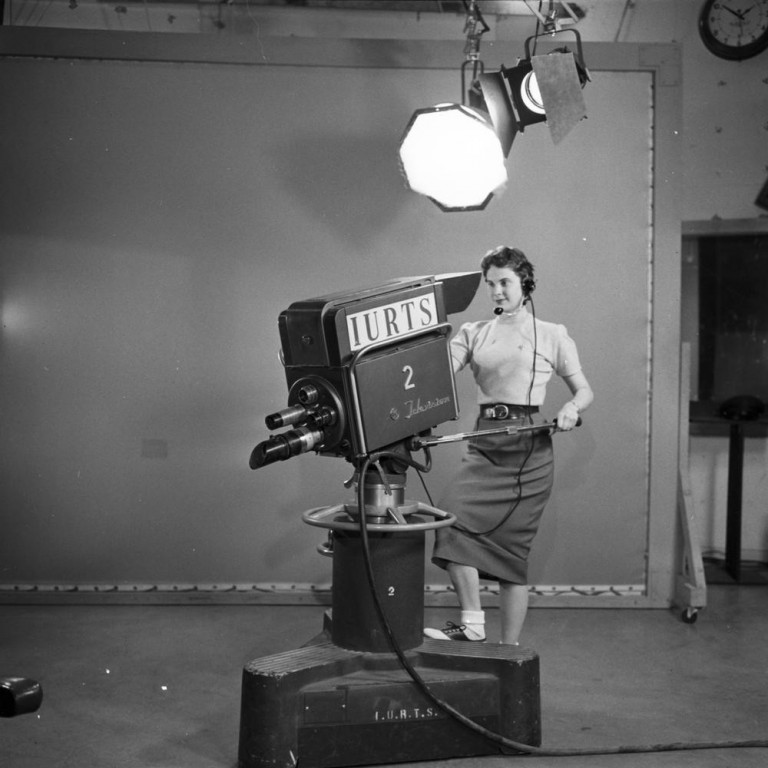 Photos courtesy of IU Archives
"Editors' Desk," a roundtable discussion with local newspaper editors, was the next iteration of WTIU news programming, before the station transitioned to more traditional news programs like "WTIU News Forum" and "WTIU Reports" in the 1990s. "The Weekly Special" launched in 2005, serving Indiana communities for the next 13 years. Now, "Indiana Newsdesk" shares local news updates at 6 p.m. every Friday.
Beyond sharing the news, WTIU programming has documented life in south central Indiana and has been recognized for its excellence in doing so. In 1973, WTIU earned a George Foster Peabody Award for its production of the opera "Myshkin." The program, which was produced in partnership with the IU Jacobs School of Music, the Corporation for Public Broadcasting and the Indiana Arts Commission, was WTIU's first opera telecast in color.
In 1978, the WTIU documentary "Oldest Man in the Sea" recorded legendary IU swim coach Doc Counsilman's swim across the English Channel at age 58; he was the oldest person to have completed that swim. "Sugarplum Dreams," which aired in 2001, chronicled the IU Jacobs School of Music's 43rd staging of "The Nutcracker." In June 2018, "Beautiful by Design: The IU Bloomington Campus" gave audiences a closer look at the careful planning of IU, one of the most beautiful campuses in the country.
Throughout 2019, WTIU will commemorate 50 years of serving south-central Indiana by hosting events, sharing station history and memories on-air and online, and more. The station recently premiered a new documentary, "Bob Hammel and Bloomington: A 50-Year Love Affair," in honor of the anniversary. The film will air again at 1 p.m. March 14 and 17.
WTIU's signature anniversary event will be an evening with Judy Woodruff of "PBS NewsHour" on Sept. 21 at the Buskirk-Chumley Theater in Bloomington. Tickets will go on sale later this year.