Policy reminder: Dogs brought to campus must be on leash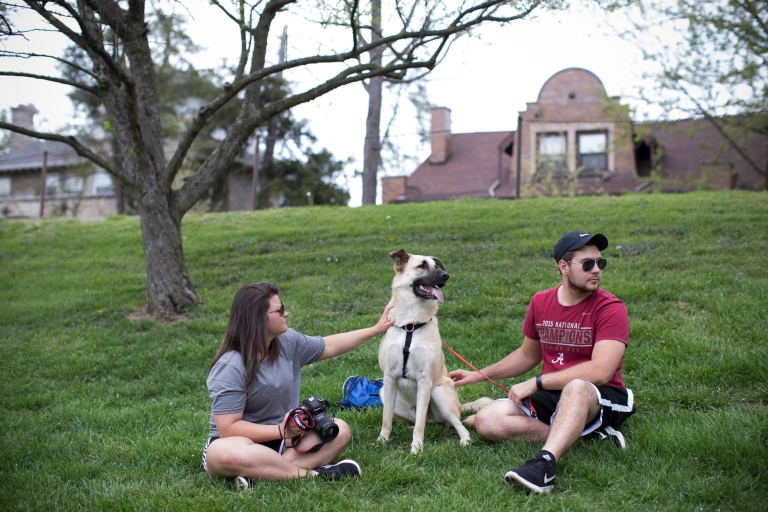 As the weather warms up, staff, faculty, students and guests are reminded that any animal brought to the IU Bloomington campus must be on a leash, or otherwise under active restraint, at all times while on property that is owned, leased or rented by IU. Passive restraint, such as voice command, is not sufficient.
Per the "Animals on University Property" policy, animals should not be left unattended on campus, and the owner is responsible for all damages and injuries caused by the animal. In addition to any monetary consequences, failure to follow the guidelines may subject the animal's owner to corrective action procedures listed in the university's staff, academic or student policies. Service animals are exempt from this requirement if the leash interferes with the work or task the animal has been trained to perform. Additional details are available from University Policies.
"IU Bloomington is very proud of our woodland campus, which is a legacy resource, and keeping dogs on a leash while walking on campus will support the campus's efforts to create and maintain both the woodlands and the wildlife populations for the enjoyment of all who use the campus," said Mia Williams, university landscape architect. "IU Bloomington wants all members of the university community, including our guests, to use and enjoy the natural beauty of the campus in a safe and environmentally conscious way. Keeping canine companions on a leash will support this goal."
Mumps safety advisory issued
The IU Bloomington campus has issued a public safety advisory following confirmation of a third case of mumps. Three total cases have been confirmed since Feb. 21. The Centers for Disease Control and Prevention considers three cases or more to be an outbreak. All of the confirmed cases are students who live in off-campus housing.
The university is working with the Monroe County Health Department and the Indiana State Department of Health to identify and directly notify anyone who may have been in close contact with the students and is implementing measures to help prevent the additional transmission of mumps. Additionally, IU advises that the campus and surrounding community educate themselves about the symptoms, transmission and prevention of mumps.
Faculty and staff should contact their medical provider if they have any symptoms of mumps, or if they were born after 1957 and have not received a second MMR vaccination for measles, mumps and rubella.
More details are available from Protect IU.
Free Hilltop Garden plots available for faculty, staff, students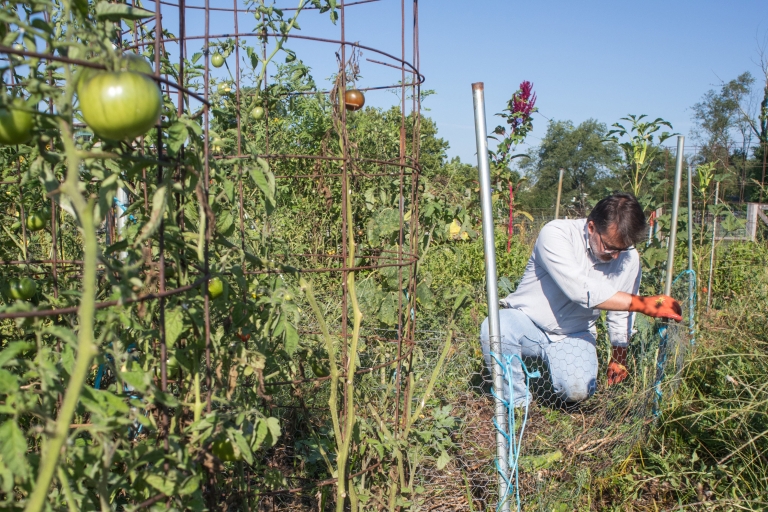 The Campus Garden at the Hilltop Garden and Nature Center is again offering free plots to IU students, faculty and staff.
Plots may be maintained by an individual or by multiple people, such as a student group. While the primary purpose of the garden plots is to grow edible plants, flowers are also permitted. Garden plots are filled on a first-come, first-served basis.
For more information, contact adiersin@iu.edu.
Hungry? Buy plant-based, sustainable baked goods on campus
The Humane Society of the United States and IU Dining will partner the week of March 25 on the "Forward Food Culinary Experience."
Wanda White, executive chef with the Humane Society of the United States' Forward Food program, will educate chefs, cooks, dietitians and food-service staff about plant-based, cost-effective, sustainable baked goods during the two-day training.
Students, faculty, staff and members of the general public will then have a limited opportunity to buy the food items being prepared in the training. Those items will be available for sale on the following days:
Wednesday, March 27: At Coffee Bean and Tea Leaf at the Bookmark[et] Eatery, from 7:30 a.m. while supplies last. Items expected include apple strudel, carrot cake cupcakes, chocolate thumbprints, aquafaba meringue, focaccia, morning glory muffins, spanakopita, white cake and zucchini bread
Thursday, March 28: At Sugar and Spice in the IMU, from 8 a.m. while supplies last, and at The Tudor Room in the IMU, from 11:30 a.m. to 1:30 p.m. or while supplies last. Items expected include aquafaba meringue, blueberry muffins, carrot cupcakes, focaccia, no-bake chocolate oat cookies, palmiers, peanut butter chocolate chip cookies, raspberry bars and zucchini bread.
Former Herald-Times Editor Bob Zaltsberg awarded IU Thomas Hart Benton Medallion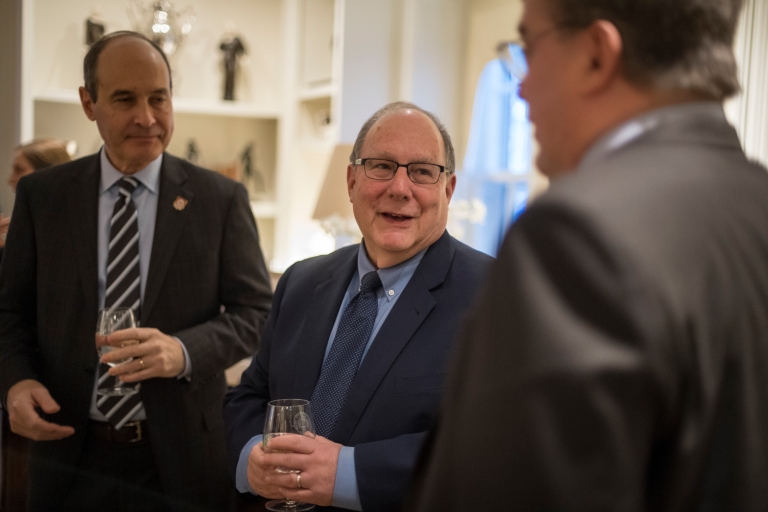 Bob Zaltsberg, who recently retired after more than 30 years as editor of the Herald-Times newspaper in Bloomington, has been awarded IU's Thomas Hart Benton Mural Medallion.
Before retiring in January, Zaltsberg worked at the H-T since 1975 as reporter, city editor and managing editor. He became editor in 1985. Under his leadership, the paper has won the Blue Ribbon Daily Award as the best daily newspaper in Indiana multiple times.
IU to host International Women's Day Conference
The Office of International Services will host its International Women's Day Conference from 1 to 6 p.m. March 23 at the Hamilton Lugar School of Global and International Studies on the Bloomington campus.
The free half-day conference creates an opportunity for undergraduates, graduates, faculty and staff to connect and create networks of support and action that aim to empower women through a lens of education, leadership development and social justice. There will be opportunities to network with other attendees and local nonprofits, and to receive a free professional headshot.
Details about how to register are available from the Office of International Services.
Reminder: Sexual assault climate survey being conducted among students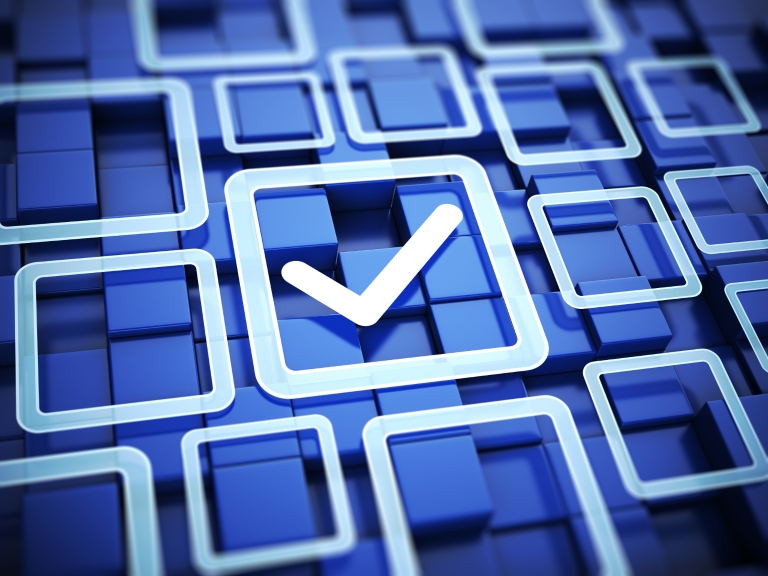 Beginning March 20, students on the IU Bloomington campus will receive email messages inviting them to participate in an anonymous survey about sexual misconduct.
This year's survey is the second time that all IU campuses will have administered climate surveys on sexual misconduct.
Results of the 2019 survey will be shared with the IU community later this year.
IU Ph.D. student earns graduate award for bacterial research
IU Ph.D. student Courtney Ellison has been named a 2019 recipient of the Harold M. Weintraub Graduate Student Award from the Fred Hutchinson Cancer Research Center.
The award recognizes outstanding achievement in graduate studies in the biological sciences. Ellison is a member of the lab of Yves Brun, IU Distinguished Professor in the IU Bloomington College of Arts and Sciences' Department of Biology.
Ellison's research focuses on the role of appendages called pili in different types of bacteria, and how their activity contributes to various processes, including surface sensing, attachment and DNA uptake. In 2018, her work on these topics resulted in her becoming the first person to witness a bacterium use its pilus to capture and reel in DNA from its environment.
The award is supported by the Fred Hutch Weintraub and Groudine Fund, which was established to foster intellectual exchange through the promotion of programs for graduate students, fellows and visiting scholars. Nominations for the award are solicited internationally. This year's recipients include 12 other Ph.D. students from institutions across the U.S.
Ellison will accept the award and present her research findings during a scientific symposium at the Hutchinson Cancer Research Center in Seattle on May 3.
IU faculty paper awarded 2018 Cozzarelli Prize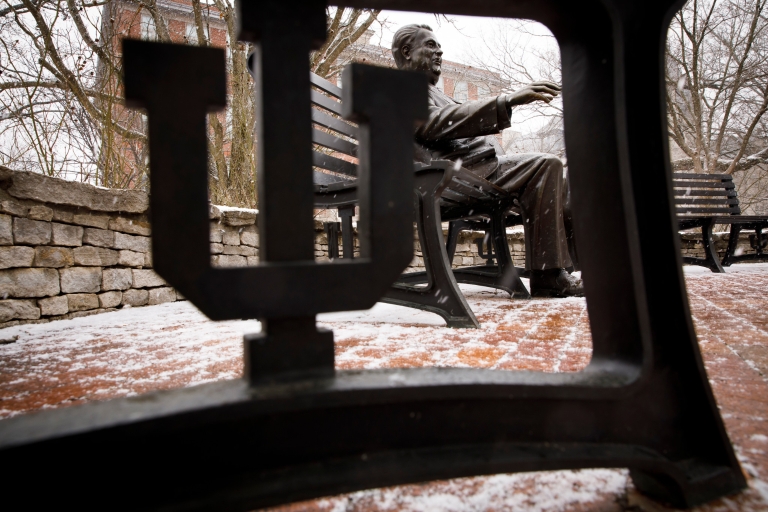 A paper published by several IU authors in the Proceedings of the National Academy of Sciences has received a 2018 Cozzarelli Prize.
The paper – which used data-mining and information theory techniques to analyze the structure of debate in the Revolutionary French National Assembly – was written by School of Informatics, Computing and Engineering doctoral student Alexander T.J. Barron; IU alumnus and 2019 Rhodes Scholar Jenny Huang; and history professor Rebecca Spang. Former IU assistant professor Sim DeDeo, who has since gone on to Carnegie Mellon, was also an author.
Conference on contemporary antisemitism to be hosted on campus
A 2019 Nobel Peace Prize nominee, the first European Commission coordinator on combating antisemitism and the United States' newly appointed special envoy to monitor and combat antisemitism are among the nearly 60 scholars from 15 countries who will convene at IU Bloomington during a conference on contemporary antisemitism.
"Contending with Antisemitism in a Rapidly Changing Political Climate," which will take place March 23 to 27 at the Indiana Memorial Union, is the fourth conference of its kind hosted by IU's Institute for the Study of Contemporary Antisemitism.
Journalist, foreign affairs expert named Poynter Chair
Carol Giacomo, an award-winning journalist and expert in foreign affairs and defense issues, has been named the second Indiana University Poynter Chair.
Roger Cohen, international affairs columnist for The New York Times, was named the inaugural IU Poynter Chair in September 2016. Each year, one or two new public intellectuals are asked to serve as chair and visit the Bloomington campus throughout the year for public lectures, seminar and discussions.
Among other things on campus, Giacomo will participate in the America's Role in the World Conference, lead a newswriting workshop for members of IU student media and meet with IU Bloomington faculty.