A love for swimming – and all things cream and crimson – has been passed down from one Indiana University alumna to her son.
More than three decades after his mother swam for IU, freshman Michael Brinegar is swimming for the same team that his mother trained on. She went on to win seven Big Ten Championships on the team.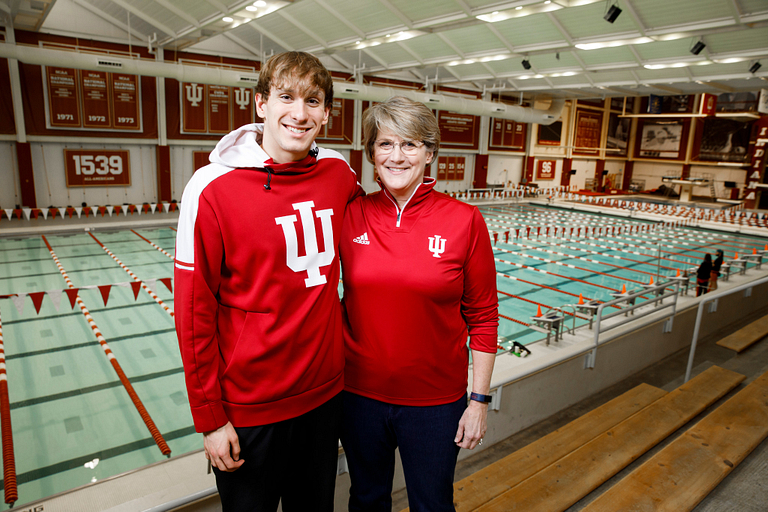 Jennifer Brinegar graduated from IU Bloomington in 1984 with more than just a business degree under her belt; she'd also spent years in the pool, breaking records and even winning a gold medal at the 1976 Olympics.
Michael, who started swimming at age 5, was immediately hooked on the sport.
"I realized how I wanted to jump right into swimming when I saw how much fun my brother was having on the Bloomington club team," Michael said.
Michael and Jennifer have had parallel careers in the pool. When Michael started to excel in the water as he approached high school age, Jennifer turned to the same coach who trained her until she became a student-athlete at IU.
She knew coach Mark Schubert could give Michael the same strong swimming foundation she'd gained years before when she spent her high school years training with him in Mission Viejo, California. She decided to move there to ramp up her training.
"Mark would send workouts for Michael to train with," Jennifer said. "When Michael started his junior year in high school, he decided he needed more. He moved out to Mission Viejo so he could train in person with Mark. There was no question it would be a perfect fit."
Jennifer grew up in Bloomington and watched the IU swim team practice when she was younger. She called herself a "pool rat" and immediately jumped right into the sport. That same team that she watched growing up became her family after she joined the IU women's swim team in 1980.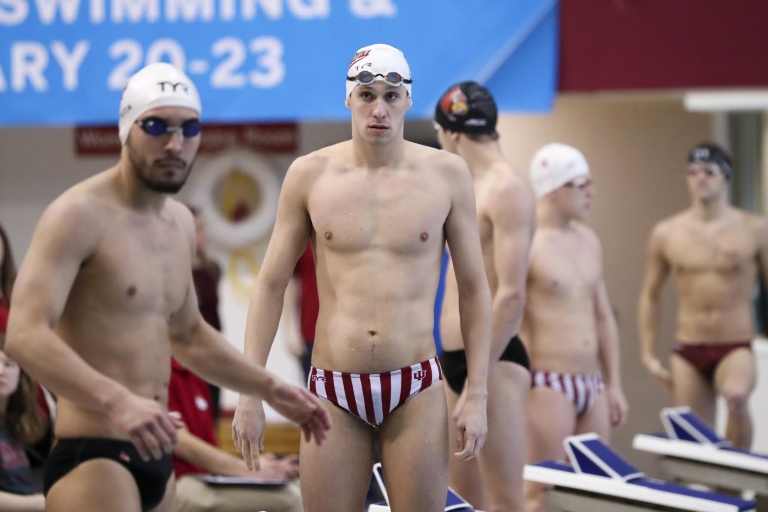 "When I was deciding where I wanted to study after California, I knew I wanted to come home," she said. "It was fun to come back to this campus, a place I always envisioned to be my home."
And she quickly made herself right at home. She was a member of the 1981 Big Ten Championship team and held many student records. She placed sixth in the 200-meter freestyle and was part of the gold-medal-winning 400-meter freestyle team in preliminary heats at the 1976 Olympics. She also held two American and U.S. Open records and was a two-time national champion.
When it came time for her son to take the next step in his swimming career and education, Jennifer said, he went into the process with an open mind. But he was drawn to the university where he'd grown up attending soccer and basketball games. The proximity to his family made IU an even more perfect fit.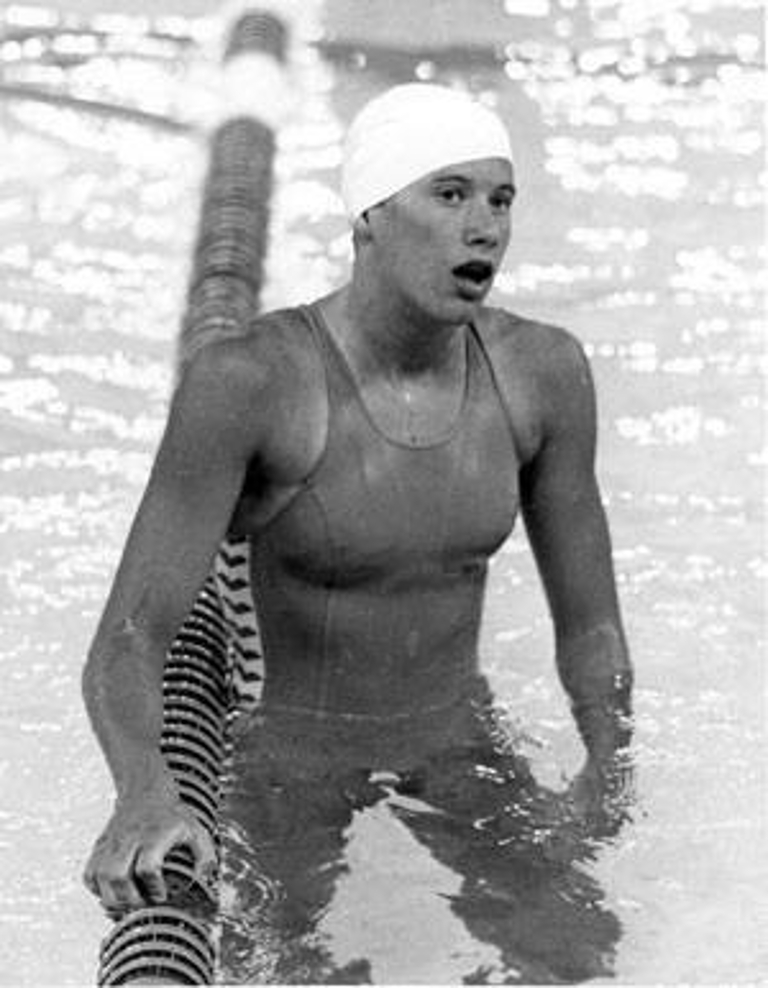 "I enjoy having my parents close to me," Michael said. "It's nice knowing that I have them near me if I am ever struggling with anything."
As his season is in full swing, Michael is excited to compete in his events, the 1,650-yard and 500-yard freestyle. Some of his accomplishments include winning silver in the 1,650-yard freestyle and placing fifth in the 500-yard freestyle at the Big Ten Championship.
"Training with the other distance swimmers has been awesome," Michael said. "We are a tight-knit group. It's a great environment to train in."
Jennifer – who now works for IU Athletics, helping student-athletes who have committed and applied to IU complete the enrollment process – said she's happy for Michael and the college choice he made.
"Head coach Ray Looze has put together a phenomenal set of coaches for the team," she said. "The student-athlete services that are available to Michael are so strong. This university is such a great fit."