A jersey worn by former basketball player Kirk Haston, a souvenir Old Oaken Bucket and game programs from every decade of Indiana University's sports history: These artifacts are only a few of the items two IU alumni have spent years collecting.
Meet Chris Williams and Brett White, whose love for IU has turned a hobby into a passion that's filled both of their homes with memorabilia dating back to the turn of the last century. Friends and former college roommates, Williams and White routinely meet up to chat – or brag about – new finds, swap stories, and share their love of IU athletics.
Williams, a 2006 alum and now a middle school social studies teacher, says that he's only been a dedicated collector since he graduated from college but has been an IU fan his whole life. After collecting for several years, Chris decided to start a Twitter handle, @IUArtifacts, to pair his love of history and IU.
"One of my favorite memories as a child is from when I was about 8 years old, and I got to meet and eat pizza with my favorite IU basketball player, Eric Anderson. He was nice enough to have a conversation with an 8-year-old who probably asked him too many questions." Williams remembered.
On how he started his collection, Williams said, "Through the years, I've found multiple items online, but I have also been able to network with other collectors. It's fun to hear how others started their collections."
Williams' focus is on IU basketball memorabilia, but he has some from football, baseball, wrestling, track and field, and swimming as well. Some of his favorite pieces include envelopes that are signed by the entire 1940-41 basketball team, basketball season schedules from 1950 to present and various historic jerseys.
"I have game-used jerseys from several eras in IU basketball history. I have the jersey worn by Kirk Haston when he hit a three-pointer at the buzzer to defeat No. 1-ranked Michigan State in 2001," Williams said. "I also have the jersey worn by Steve Downing when he recorded IU's first triple-double in 1971."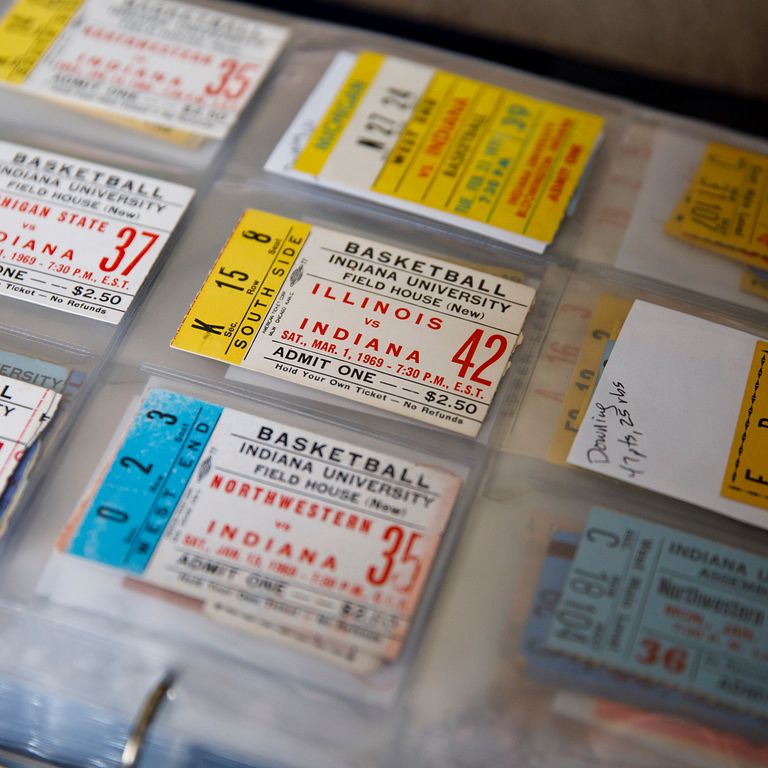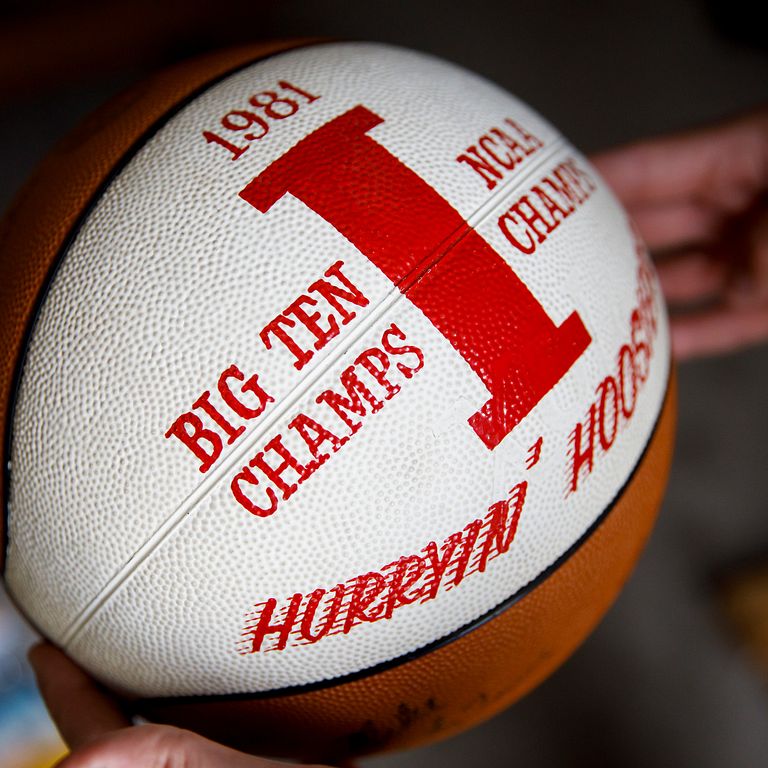 Williams is one of many in his family to attend IU. His grandparents were season ticket holders for basketball and football for over 40 years. They have generously donated to his collection of artifacts from IU's Rose Bowl appearance and the NCAA basketball championships of 1976, 1981 and 1987.
"The @IUArtifacts account and the friends I've made as a collector have really allowed me to learn and share stories that might have otherwise been forgotten," Williams said. "I have been able to return or give items to former players and their family members who might not have had anything from their time at IU. It's not just about collecting. It's also about sharing IU history."
Collectors of college sports memorabilia are passionate about their collections. They are also willing to help each other – no matter the sport or school of focus. It's not unusual for Williams and White to help each other or another collector.
Bloomington native Brett White graduated from IU in 2007. The accountant now spends his free time adding to his man cave – or "fan cave" – in the basement of his house, full of various IU sports items.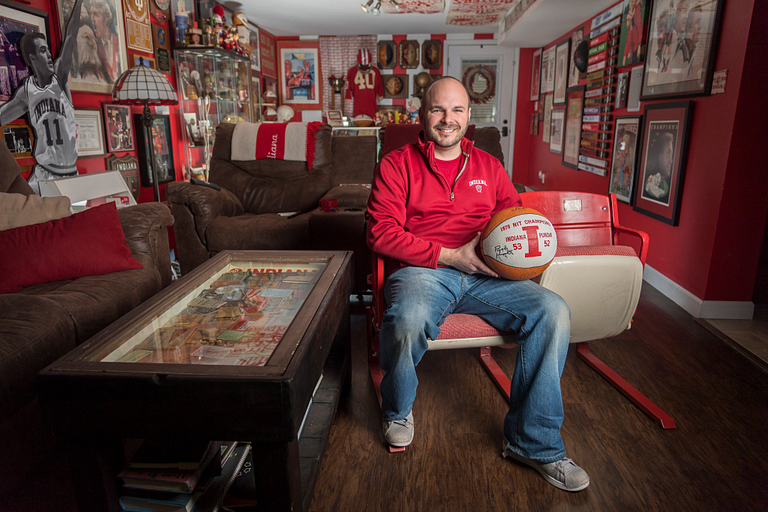 "There was no starting point of my collection," White said. "I just started to appreciate rare items that I came across. These items told a story of a certain time."
White's father and grandfather both played IU football. In fact, White's father was on the 1968 Rose Bowl team. The items passed down by his family hold a special place in his heart. He has his grandfather's football jacket in the front of his fan cave, along with other items connected to his family's involvement with the football program.
He finds most of his collectibles online and from other collectors. He explained that Big Ten universities have a lot of collectors who will help one another, trading and selling to each other. Since he started collecting, he has made a network of friends and has been able to visit other collectors and see their own fan caves.
From media guides that line his bookshelf to football tickets dating back to 1925 kept safely in a binder, everything is logged and tracked. Every piece has a story.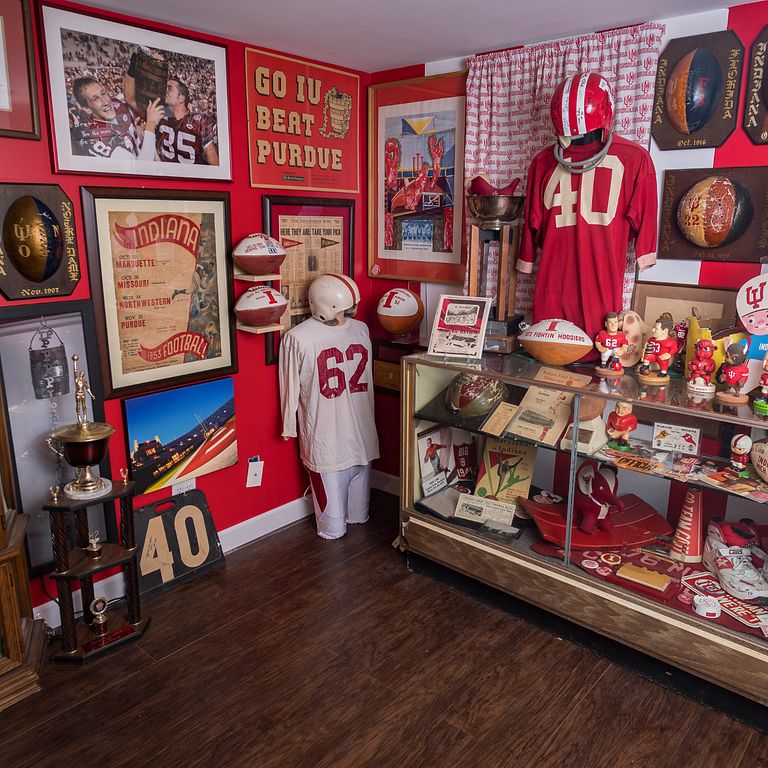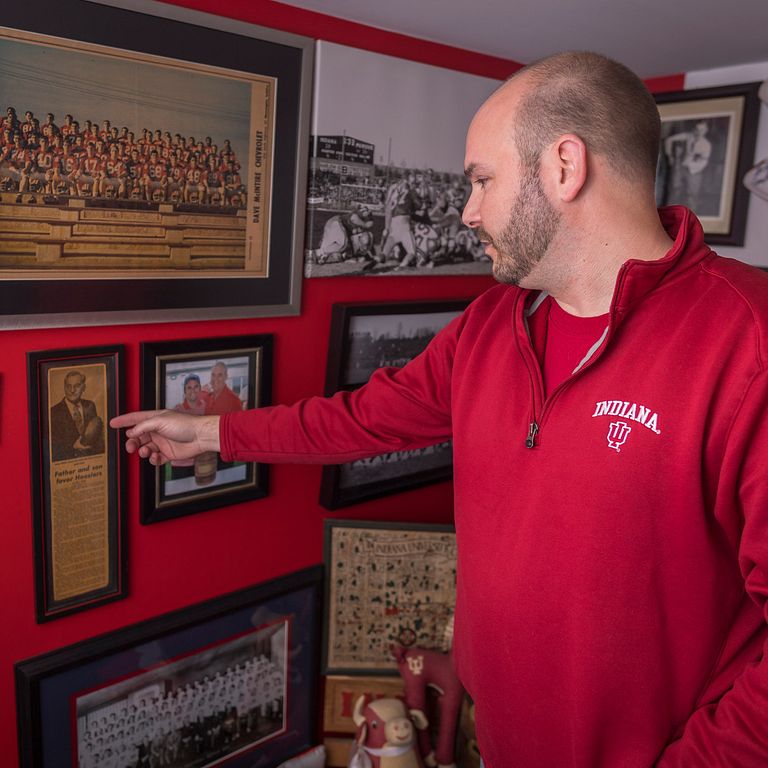 "It's like detective work when I find an item and then track down the history behind it. Some pieces come with a story, or the previous owner knows how it was obtained, but a lot of the time I have to do the digging," White said. "It's one of my favorite things to do."
White utilizes IU Archives to help validate some of his items and photos. He says he enjoys seeing his collection grow and learning the history along the way.