Former Sen. Richard G. Lugar served in the U.S. Congress for 36 years, longer than any other senator in Indiana history. Now an Indiana University Libraries exhibition, "Indiana's Visionary Statesman," highlights Lugar's vision and initiative and illustrates the unique intersection of his Indiana roots and global perspective.
Offered in the main gallery of the Lilly Library through July 26 and in an extended online exhibition, selected pieces from the Richard G. Lugar Senatorial Papers are used to examine the local, national and international impact of a remarkable five-decade career in public service.
On Friday, Lugar, members of his family and dignitaries from the state of Indiana attended an opening reception hosted by IU President Michael A. McRobbie and first lady Laurie Burns McRobbie.
During his remarks, McRobbie pointed out the inspirational and educational value of showcasing the extensive archival collection donated by Lugar and held at IU Libraries.
"This exhibition will give all who view it a sense of the enormous scope of Sen. Lugar's accomplishments, as well as his sense of decency, his integrity, his global sensibility, the discipline of study that made him the Senate's leading expert on nuclear weapons issues, his commitment to bipartisanship, and his faith in the good will of others – all qualities and attitudes Indiana University hopes to impart to all of its students," McRobbie said.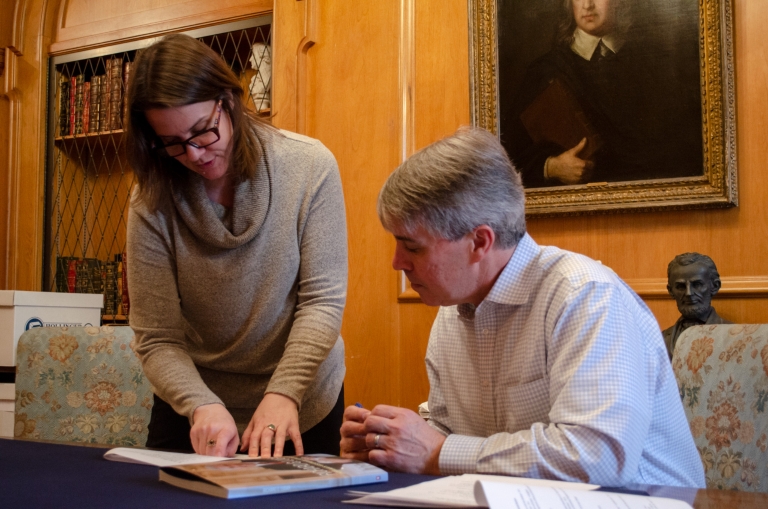 The prodigious collection includes letters to and from constituents, home movies, vintage campaign literature and buttons, documents related to the Senate committees he served on and the legislation he proposed, and nearly 30,000 photographs.
The reception was held in coordination with IU's Hamilton Lugar School of Global and International Studies' America's Role in the World Conference. Last year, the school was named to honor Lugar and former U.S. Rep. Lee H. Hamilton, who both serve as professors of practice at IU. The two have contributed to the education and research program of the school through seminars, lectures and other academic activities. They also co-chair the International Advisory Committee, which advises IU on the development of the school and on broad issues concerning the university's international engagement strategy.
Sara Stefani, the project archivist for the collection, relished the monumental task of examining copious materials to design a cohesive gallery exhibition. She said she dug into the files, read a lot about Lugar's life and made tons of lists. She used Lugar's international experience and dedication to his home state as guiding themes.
"I have reviewed many messages in this collection in which people have said to him that he has restored their faith in humanity or made them feel like politics can be genuine, not just entertainment and showmanship, and I feel that way," Stefani said. "This was a politician who really cared about what he was doing and cared about his constituents."
As she developed the exhibition, Stefani also consulted with one of the senator's four sons, John Lugar, who is the executive director of The Lugar Center in Washington, D.C. He was hands-on throughout the planning process of the exhibition and visited campus in late February to preview the finished product.
"I remember walking into the Auxiliary Library Facility with Sara and looking at the hundreds of boxes containing my father's senatorial papers, artifacts, awards and photos spanning his entire career in public service and asking her, 'How are you going to organize and archive all of this?'" John Lugar said. "Everything Sara has done has been 100 percent spot on. She is a remarkable, consummate professional and has created an extraordinary exhibit that captures the essence of my father's 50 years of public service for the city of Indianapolis, the state of Indiana and the nation."
Sen. Lugar's lifelong commitment to Indiana is evident in both the collection and the exhibition, said Ruth Lilly Dean of University Libraries Carolyn Walters.
"This exhibition chronicles a distinguished record of service and leadership, and the remarkable depth and breadth of Sen. Lugar's career," she said. "We are honored to be entrusted with the senator's papers. By preserving them for future scholars, students and citizens of Indiana, we fulfill our educational mission to IU as well as our cultural responsibilities to our state."
"Typically, members of Congress don't always have access to the world-class archival facilities, resources and staff that IU Libraries can deploy to make their congressional papers more accessible to researchers, historians and future generations to examine," John Lugar said.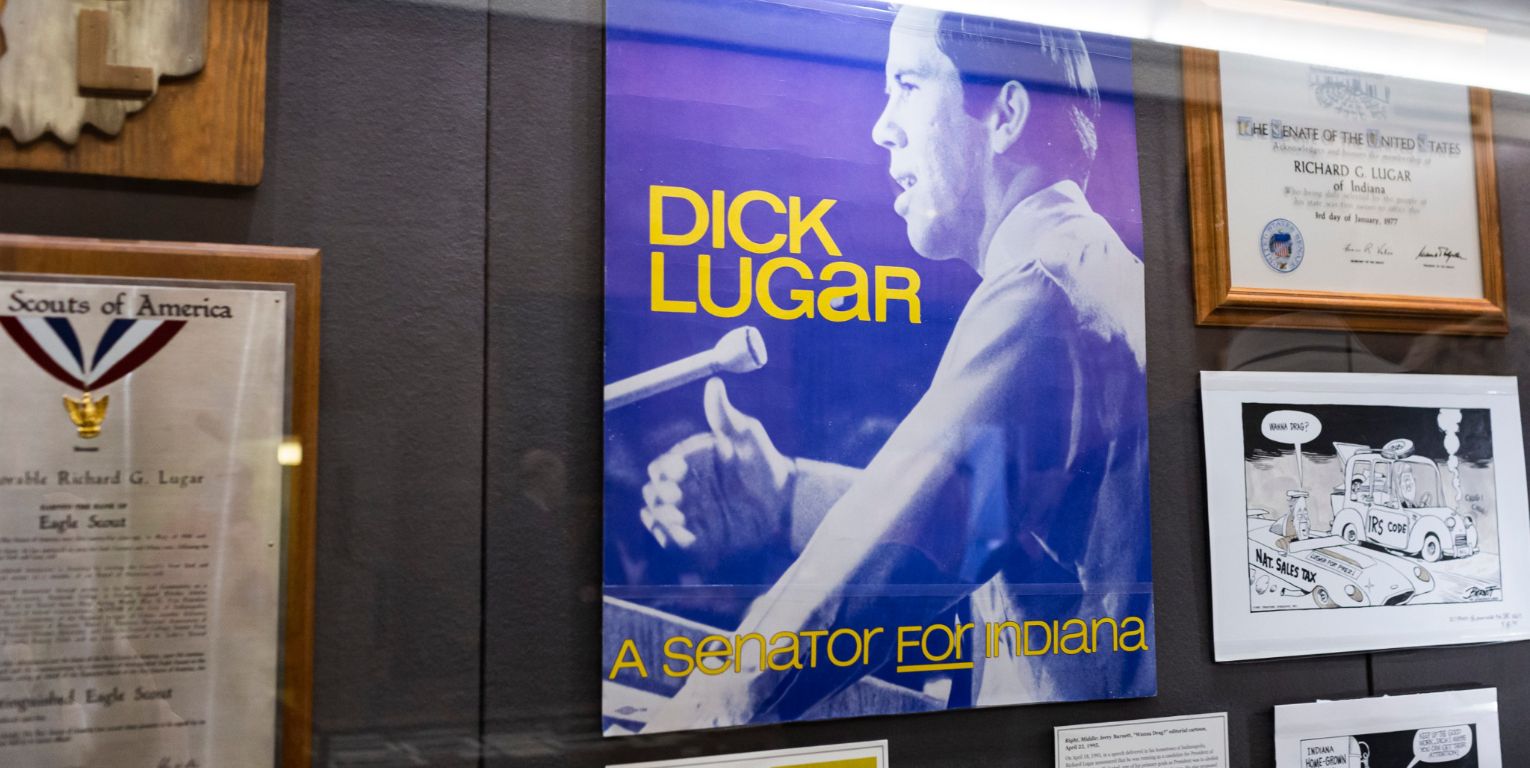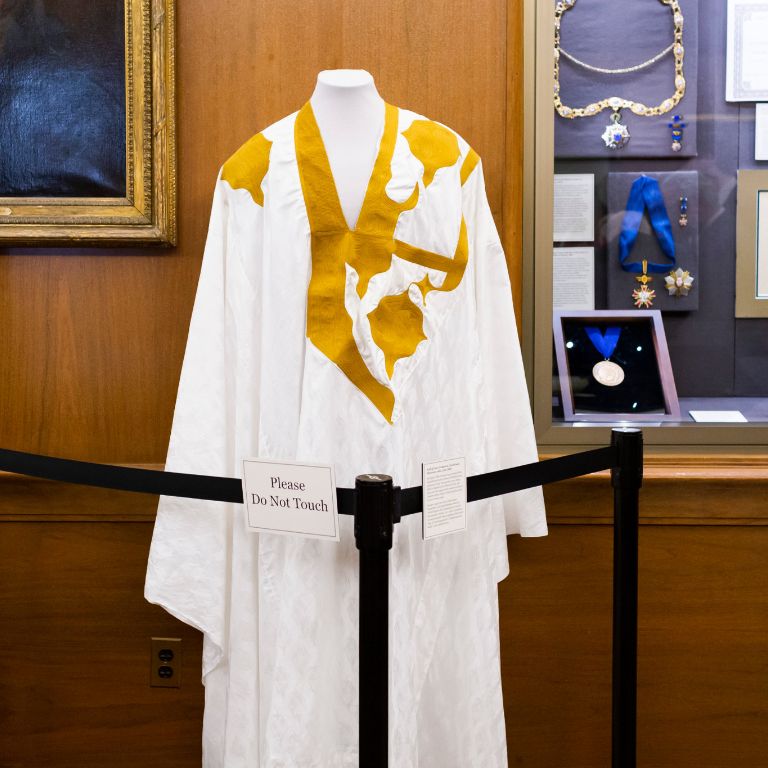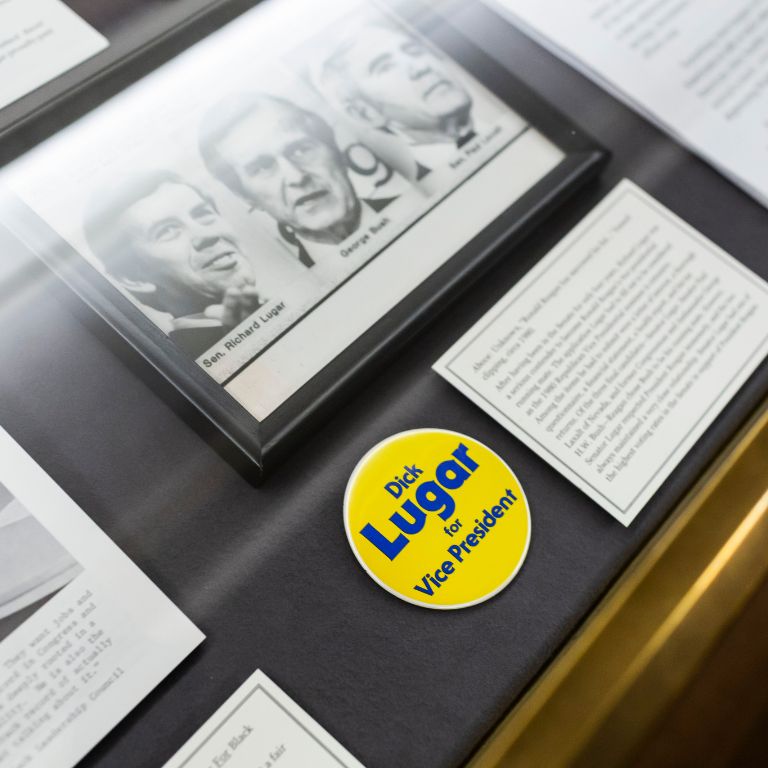 Photos by Chaz Mottinger, Indiana University
Even after the physical exhibition closes, a digital version will continue to evolve and expand. This highly curated experience will follow the organization of the physical exhibition but offer much deeper insight. For example, pamphlets can only be displayed with one open page in the physical exhibition but can be leafed through and analyzed in a digitized form. Like the Lilly Library exhibition, this resource is open to all regardless of academic status.
Stefani is especially excited about the online presentation of Lugar's home movies. IU's Media Digitization and Preservation Initiative and IU Libraries Moving Image Archives helped inventory and digitize the films. Visitors to the digital exhibition will be able to see scenes from Lugar's campaign speeches, addresses on the Senate floor and even his 11th birthday party.
In February, IU Press published "Richard G. Lugar: Indiana's Visionary Statesman," an additional print companion to the legacy exhibition. Stefani and author Dan Diller, Lugar's former legislative director, worked together to create a publication featuring insightful commentary and memorable photographs spanning the entirety of Lugar's career.
IU Libraries houses the collections of more than 50 other Indiana politicians, including Lee Hamilton; U.S. Sen. Birch Bayh; Claude Gernade Bowers, U.S. ambassador to Spain during the Spanish Civil War; and Wendell Willkie, Republican nominee for U.S. president in 1940.
At 2 p.m. Fridays, the Lilly Library provides a drop-in tour of current exhibitions and public areas. Starting in April, Stefani will be on hand each week to provide special curator-led tours of the Lugar exhibition. The Lilly Library exhibition gallery is open 9 a.m. to 6 p.m. Monday through Thursday, 9 a.m. to 5 p.m. Fridays and 9 a.m. to 1 p.m. Saturdays.