BLOOMINGTON, Ind. – Bob Zaltsberg, who recently retired after more than 30 years as editor of the Herald-Times newspaper in Bloomington, has been awarded Indiana University's Thomas Hart Benton Mural Medallion.
IU President Michael A. McRobbie presented the medal Tuesday during a dinner at Bryan House that he hosted with first lady Laurie Burns McRobbie.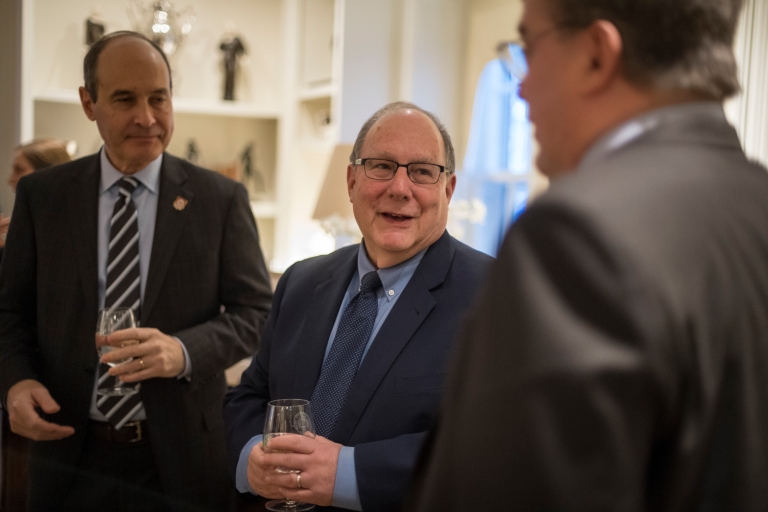 "We have been very fortunate in our community to have an individual like Bob, a man of integrity, high ethical standards, unfailing curiosity and the courage to ask tough questions, as the editor of our daily newspaper for the last 33 years," McRobbie said. "Under his dedicated leadership, the Herald-Times successfully navigated dramatic changes across the media landscape without losing sight of its vital mission to objectively and fairly report news, keep the public informed and occasionally challenge the values of our community and its leaders. We are pleased to recognize his outstanding service to the Bloomington community, the state and the journalism profession with one of Indiana University's highest honors."
Before retiring in January, Zaltsberg worked at the Herald-Times since 1975 as reporter, city editor and managing editor. He became editor in 1985. Under his leadership, the Herald-Times has won the Blue Ribbon Daily Award as the best daily newspaper in Indiana multiple times.
During his four decades of service at the Herald-Times, Zaltsberg saw dramatic changes in journalism, starting out his career using a manual typewriter to submit his stories for publication. While he was editor, the newspaper evolved to deliver the news using new platforms including multiple computer systems and ultimately publishing online and mobile versions of content.
Zaltsberg has also co-hosted WFIU's "Noon Edition," a weekly public affairs program, for 20 years. He has served on a number of state and regional newspaper boards, including the American Society of Newspaper Editors and the Hoosier State Press Association. He is currently an adjunct instructor at The Media School at IU Bloomington.
The Thomas Hart Benton Mural Medallion is awarded by an IU president for meritorious national or international service to IU, or for exceptional achievements in any field or area, in any part of the world, that reflects the most central values and principles of IU and contributes to the betterment of humanity.