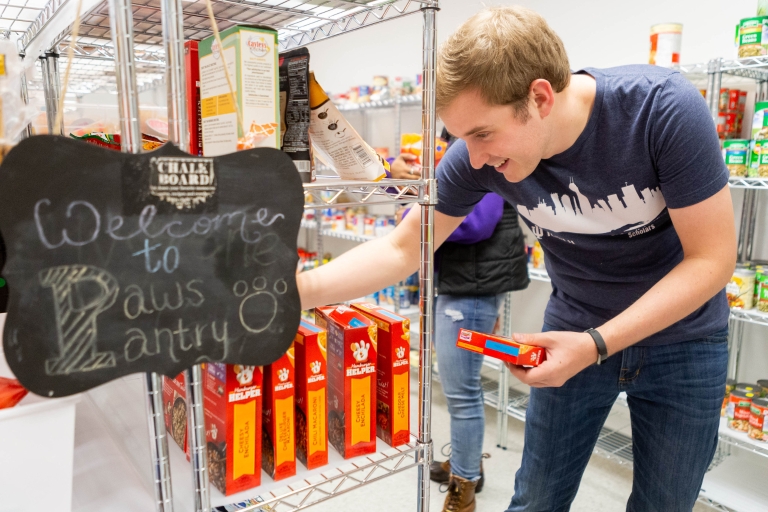 Paw's Pantry seeks donations before IU Day
Starting March 27, Paws' Pantry will be organizing a crowdfunding drive as part of the festivities leading up to IU Day. The pantry will be collecting food at the Campus Center several times between March 27 and April 10, as well as raising funds for the pantry, which is exclusively run on donations. IU Day organizers have agreed to award Paw's Pantry an extra $1,000 if it meets the drive's $2,500 goal.
Nominate the next 'Last Lecture'
All IUPUI faculty and staff, retired faculty and staff, and students are invited to submit nominations for the Last Lecture speaker series. Nominators should complete the online nomination form providing justification for why the nominee deserves consideration, as well as the nominee's CV or resume. Nominations are due by March 19.
Last Lecture offers the university community an opportunity to hear reflections on life's lessons and meaning from a retired or current senior IUPUI colleague of exceptional merit. The lecturer will be asked to share with students, staff, faculty and the general public the wisdom she or he has gained through academic pursuits and life experiences, distilling a life of inquiry, reflection and service into advice for successive generations.
The lecture is scheduled for 2 p.m. Nov. 1 in the Campus Center Theater. The event is sponsored IUPUI Senior Academy, Office of Academic Affairs and the Indiana University Foundation.
Sexual assault climate survey launched on IU campuses
Now through April, students on all Indiana University campuses will receive email messages inviting them to participate in an anonymous survey about sexual misconduct.
The campus climate survey, Community Attitudes and Experiences with Sexual Assault and Misconduct, is designed to broaden understanding of students' perceptions about their campus environment, as well as student experiences with sexual assault and other sexual misconduct. The survey will also gather important information about student awareness of campus resources and their confidence in intervening as bystanders in situations involving sexual assault or sexual misconduct.
"Ensuring the safety of IU students and developing effective measures for preventing and responding to issues of sexual assault and misconduct depend heavily on insight and perspective from students," said Emily Springston, IU's Title IX coordinator and director of the IU Office of Institutional Equity. "Information collected from climate surveys is used to help us learn more about our students' experiences, identify ways to better connect students with resources, and guide sexual assault prevention and response efforts on all of our IU campuses."
'Digging' the next Liberal Arts Talk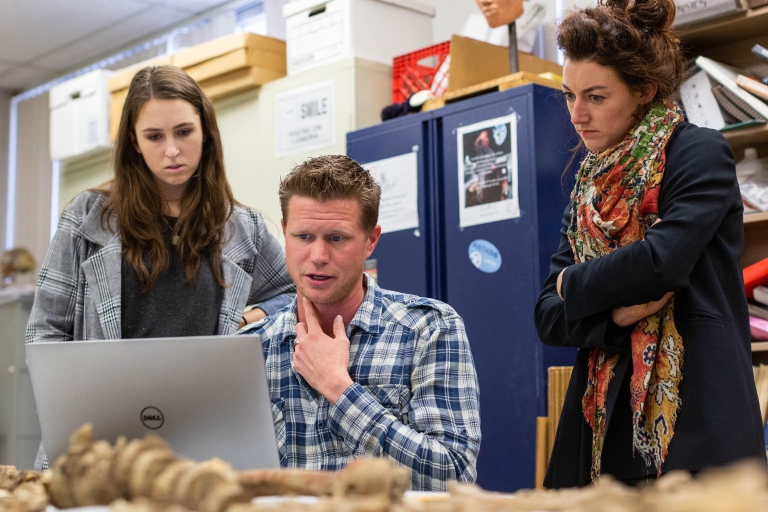 In 2018, the Department of Anthropology partnered with industry leaders to undertake one of the largest applied anthropological research projects ever in Indiana. This work, involving the detection, exhumation and analysis of over 500 individuals from Bethel Cemetery, provided a unique opportunity to identify and reconstruct the lives and lifeways of early Hoosier pioneers, as well as later inhabitants who experienced industrialization, urbanization and key moments in the state's and nation's history.
Associate professor of anthropology Jeremy Wilson will share details of the project in the upcoming Liberal Arts Talk, "Digging Deeper into 19th-Century Central Indiana: A Bioarchaeological Analysis of the Bethel Cemetery." The lecture is set for 4 p.m. March 21 in the Campus Center, Room 307. Register online to attend.
Nonprofit Expo slated for March 26
More than 80 nonprofit, government and community employers will fill the Campus Center for the annual IUPUI Nonprofit Expo. The event is set for 1 to 4 p.m. March 26.
At the expo, employers offer job, internship and volunteer opportunities to graduate and undergraduate students across campus, as well as to alumni.