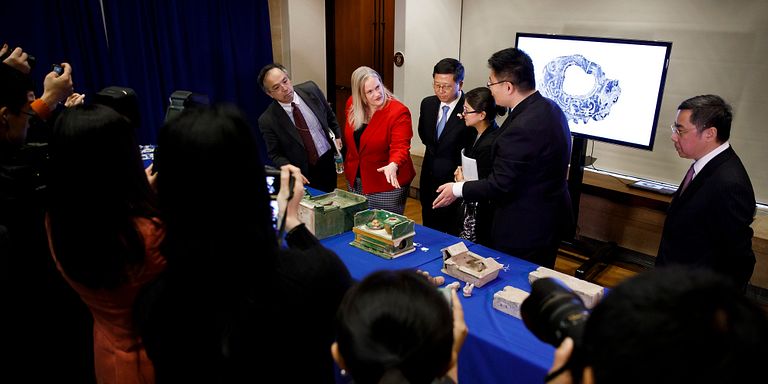 A most unusual ceremony played out Feb. 28 at the Eiteljorg Museum of American Indians and Western Art in downtown Indianapolis, as members of China's national cultural heritage administration and U.S. embassy gathered alongside FBI agents and officials from the U.S. Department of Homeland Security and U.S. Department of State.
On the side of the meeting room sat a few of the 361 artifacts – some thousands of years old – that were once in an Indiana man's residence but were soon to return home to China after this repatriation ceremony of unparalleled magnitude in the history of the FBI's Art Crime Team, a rapid-deployment team of 16 special agents from around the country who have specialized training and expertise in fine arts, antiquities and cultural property.
The ceremony drew worldwide attention, with a number of Chinese news crews on hand to document the handoff.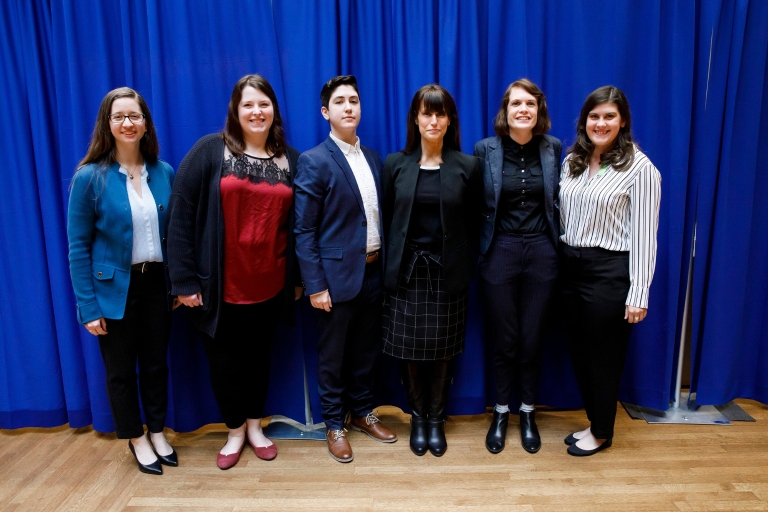 And sprinkled among the crowd were students and faculty from the Indiana University School of Liberal Arts at IUPUI, seeing the fruits of their labor – with more work still to be done.
"It was such immediate gratification to see the look on the delegates' faces as they opened those objects that we've been delicately preparing for years," said Liz Ale, a second-year museum studies graduate student.
In the fall of 2013, when FBI agents had just begun to uncover the bizarre story of Donald Miller's home artifact collection, one of their first calls was to IUPUI associate professor of anthropology and museum studies Holly Cusack-McVeigh.
Could she help shed light on the magnitude of the collection? And could she mobilize a group that could move these delicate pieces with dignity and safety?
"On April 1, 2014, we had over two dozen current or former students from anthropology and museum studies on-site helping FBI agents," Cusack-McVeigh recalled. "It was absolutely astounding to see a collection of this global scale."
In conjunction with the authorities, Cusack-McVeigh and her IUPUI contingent began the process of moving items and then cleaning and identifying them off-site. The collection was museum-like in its size (42,000 pieces) and scope, but questions about where the items came from and their legality – headlines in the United States centered around the human remains of over 500 individuals, mostly Native Americans – weren't easily answered.
But with the help of IUPUI's team, hundreds of pieces are returning to their rightful homes. Two years ago, some 70 items were repatriated to the Peruvian government at a ceremony in Washington, D.C. Now, Chinese officials are taking home priceless pieces.
"This repatriation ceremony is important because of our current political climate and because our Chinese counterparts care deeply about their cultural heritage," Cusack-McVeigh said. "The members of both delegations are working together because we care about these issues and recognize the value to the country of origin."
And the work isn't even close to complete. The IUPUI students are helping to package the Chinese artifacts for shipping across the globe, and then they'll continue examining, cleaning, identifying and packaging thousands more for delivery to other countries and to Native American tribes in the U.S. in what amounts to amazing on-the-job training in anthropology and museum studies.
"This has been a one-of-a-kind opportunity for my students to take what they're learning in the classroom and apply it to the real world, but also to apply it to something that is very relevant, very current and incredibly meaningful," Cusack-McVeigh said. "This is as much a human rights issue as anything, and that is what my students are learning both in the classroom and here, as they work countless hours to help get all of these objects back where they belong."