In just 10 days, the luck of the Irish will be celebrated enthusiastically during St. Patrick's Day.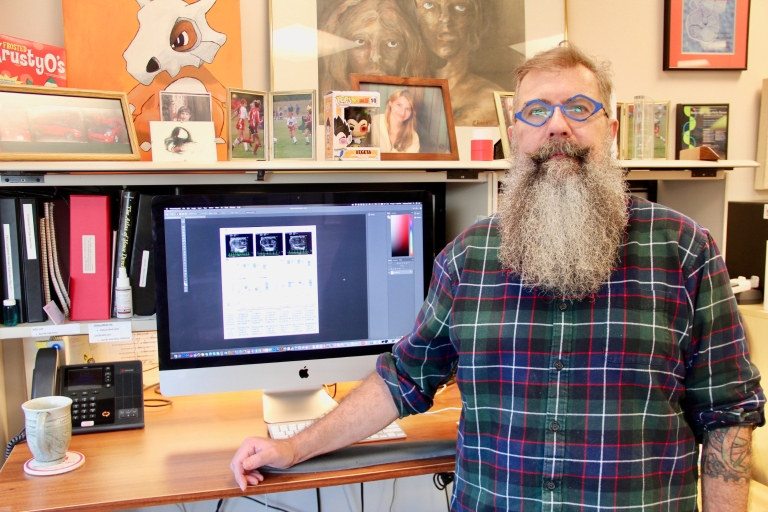 For more than 10 years, the Wells Center for Pediatric Research in the Indiana University School of Medicine has been lucky to host dozens of young researchers from Northern Ireland's Ulster University. The graduate students work in Wells Center labs, gaining research experience and technical prowess while networking with their Indiana counterparts.
Anthony Firulli, the Carleton Buehl McCulloch Professor of Pediatrics, initiated the program at IU after working with Ulster students during the late 1990s and early 2000s when he was an assistant professor at the University of Texas Health Science Center in San Antonio.
"They're primarily working in cardiac development, but we have had students working in the Glick Eye Institute and labs associated with the IU Simon Cancer Center," Firulli said. "Ulster's director of the program, Dr. Christopher Mitchell, takes significant time with potential candidates identifying smart, adventurous, risk-taking, positive students and setting them up with interviews with faculty here."
Since 2008, IU has hosted more than 40 students from Ulster. They log one year of lab work, arriving in late August and finishing at the end of the following August. In that time, the Irish students work on different projects with opportunities to publish their work.
Firulli has kept in touch with Ulster students who have finished the program, finding that the experience in Indianapolis boosts them to a variety of new opportunities. Some students find jobs back in the United Kingdom, others pursue Ph.D.s at other American universities and still others find more opportunities at IU.
"They get immersed in the laboratory experience here," Firulli explained. "They have some online classes and some academic things throughout the year. They then present their work. They get rewarded for their experience through the process of scientific discovery."
'Uh-loom-uh-nee-yum'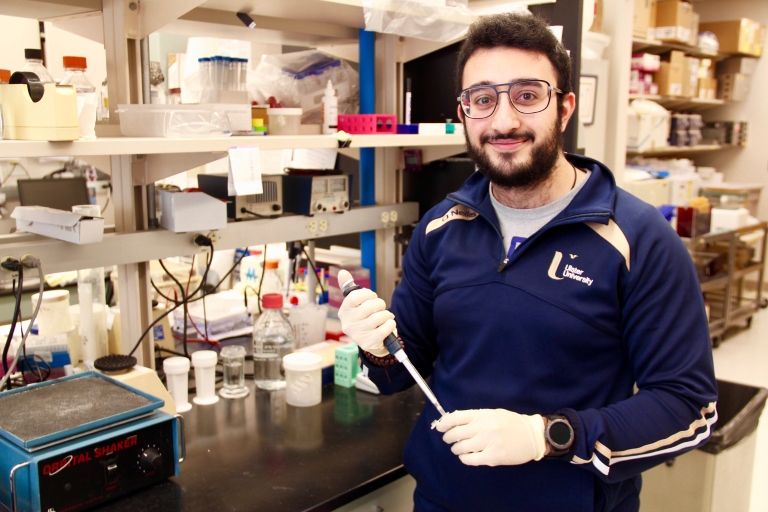 Arash Eghbali, a biomedical sciences graduate student from Ulster working on cardiomyocyte projects, had been abroad to the United States before. His transition to working, living and playing in Indianapolis was a smooth one, despite his pronunciation of "aluminum."
What has stood out most were the opportunities he has received through the IU/Ulster program.
"I've been able to work in a top-end facility with people who are very well-versed and knowledgeable in this area," said Eghbali, a native of Belfast, Ireland. "I've learned protocols while being able to independently think and work for myself and really see what research is like."
So far, Eghbali has measured DNA synthesis of cardiomyocytes and has compared DNA synthesis of cells in baselined hearts and infarcted hearts.
"The application of this could be used to really determine the proliferative duration of these cardiomyocytes," Eghbali said. "That could be applied to drugs or therapeutic systems."
The pride of Douglas Bridge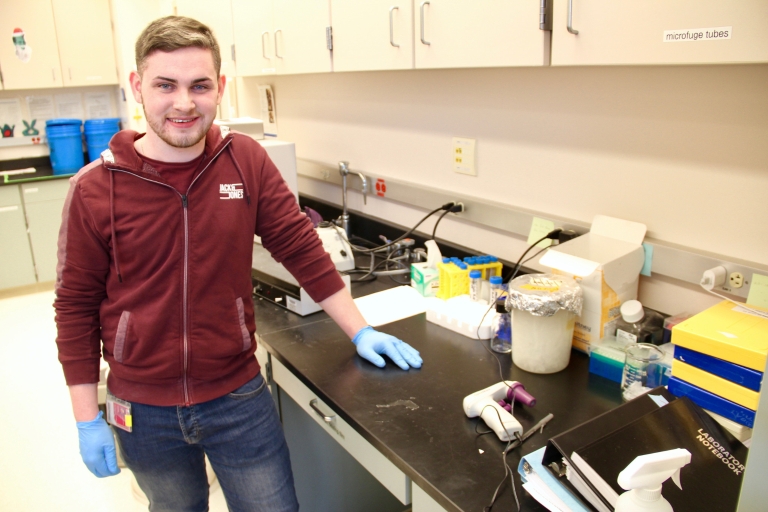 Jamesy O'Kane discovered the IU opportunity during his first year as a biomedical sciences student. He had to log a few years at Ulster before getting his acceptance letter to IU in 2017. He successfully completed his year in Firulli's lab, but colleague and fellow Ulster student Kevin Toolan suggested he stay at IU as a research associate.
"This has been a great time to make contacts," said O'Kane, whose hometown is Douglas Bridge, Ireland, population 200. "I always wanted to come to the United States. It's always been on my bucket list."
O'Kane joined the lab of Dr. Matthew D. Durbin, assistant professor of clinical pediatrics. Since last fall, the 23-year-old researcher has been examining the cell lineage of congenital heart defects. He hopes to continue in the lab to gain more experience and eventually lead his own research projects in pediatrics.
"The opportunity to work with very gifted individuals and doing something meaningful and also being in close connection with hospitals – it helps you put your mark in the sand," O'Kane said. "This is definitely a life-changing opportunity."
Like Eghbali, O'Kane has assimilated well to Indianapolis. In his free time, he is known to share a pint and follow football (soccer to his American colleagues) matches – although he does have to field numerous comments on his thick Irish brogue during his social time.
"People say to me, 'You have an accent,'" O'Kane said with a laugh. "Well, everybody has an accent. That's what makes you where you're from."