This week, speed limits for the entire IUPUI campus were reduced from 35 mph to 25 mph.
Workers with the city of Indianapolis' Department of Public Works began putting new signage into place March 4. The lowered speed limit is now in effect for all streets located between 11th, New York and West streets and White River Parkway.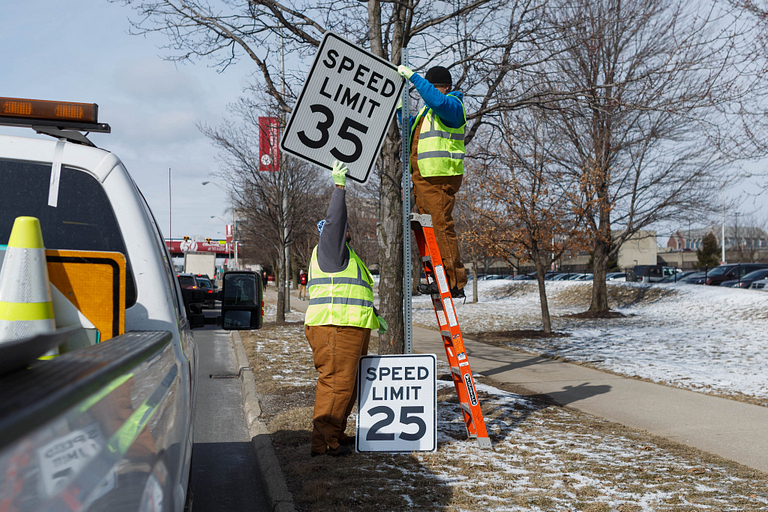 "The Indiana University Police Department fully supports IUPUI's Busy Campus, Busy Streets campaign," IUPD-IUPUI Chief Doug Johnson said. "Our priority is to make the IUPUI campus as safe a place as possible for people to study, work and visit."
In January, the Indianapolis City-County Council approved lowering the speed limit for a square mile of downtown Indianapolis – including the entirety of the IUPUI campus – after campus administrators brought their concerns to the city's Department of Public Works.
Johnson said the reduction in speed is an important goal of IUPUI's pedestrian safety and driver education campaign, Busy Campus, Busy Streets, a comprehensive pedestrian/cyclist safety and driver education campaign with the primary goal of encouraging drivers, pedestrians and cyclists to be more aware of each other and learn how to responsibly share the road.
More than 28,000 vehicles per day travel along each of IUPUI's main corridors of Michigan and New York streets, and the campus is home to nearly 30,000 students and more than 8,000 faculty.
IUPD-IUPUI officers will take the opportunity to distribute safety information to motorists caught exceeding the speed limit within the area.