After growing up amid intensifying hardship in his native country of Venezuela, Daniel Di Martino is living a life in stark contrast to the one he left behind nearly three years ago.
"What I've enjoyed at IUPUI is opportunities – there's never been a lack of them," said Di Martino, a junior economics major who was recently named one of IUPUI's Top 100 students. "It's been an awesome experience, both professionally and personally."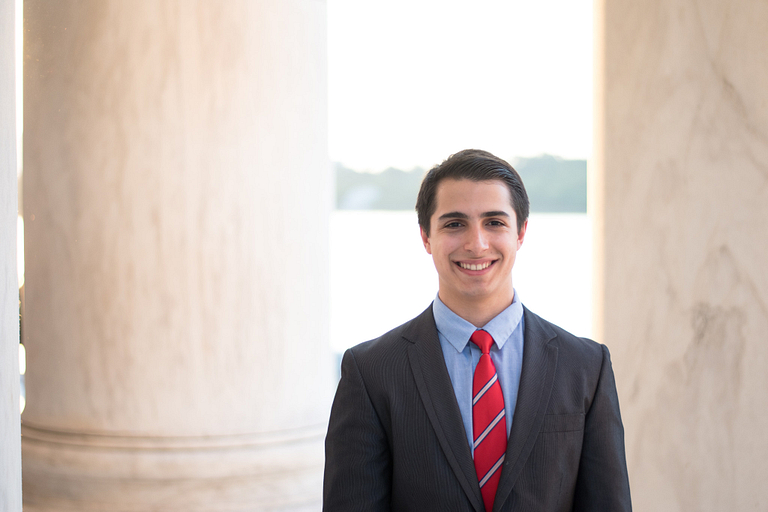 The sharp decline in opportunities and deteriorating living conditions in Venezuela had made study abroad a necessity for the teenager from Caracas. Determined to improve his chances for a better life, Di Martino started looking at colleges in the United States, particularly those with good economics programs, honors colleges and merit-based scholarships. He applied for and received IUPUI's prestigious Plater International Scholarship and, choosing IUPUI over several contenders, came to Indianapolis in fall 2016.
Since then, Di Martino has taken full advantage of IUPUI's offerings. He is enrolled in some graduate-level courses and, with a track record of 17 to 18 credit hours per semester, is minoring in political science, mathematics and honors leadership.
He is also giving back. During his freshman year, Di Martino co-founded IUPUI Model United Nations and served as the club's president for the first two years. Organized at both the high school and college levels, Model United Nations is a program in which students interested in global relations compete in national and international conferences that simulate United Nations proceedings. Involved with Model UN since fifth grade in Venezuela, Di Martino has been instrumental in growing IUPUI Model United Nations in membership and stature, with the club set to host its first conference in 2020.
"Daniel sets goals and achieves them," said Emily Clossin, assistant director of the IUPUI Honors College. "He told us in his interview for the Plater scholarship that he was interested in getting Model UN up and running at IUPUI, and he did exactly that."
As front desk assistant in the IUPUI Office of International Affairs, Di Martino helps fellow international students with everything from questions about immigration and student visas to the procedures that enable parents to attend graduation. While the job helps him financially, he also finds the work rewarding.
"I do it primarily because I enjoy it," he said. "I find helping other international students who are facing some of the same issues I've faced to be very meaningful."
Brandalynn White, the office's frontline services manager, said Di Martino is a perfect fit for the position.
"Daniel uses his personal experiences, whether related to campus employment, internships or how to get involved on campus, to really connect with our students, helping them make the most of their time at IUPUI, just as he has," she said.
While Di Martino is happy to be at IUPUI and in the U.S., Venezuela is still very much a part of who he is. His parents, once owners of a successful gas station, were forced to abandon their home and move to Spain a little more than a year after Di Martino arrived in Indiana. Watching the national crisis unfold during his childhood, he said, is what first motivated him to study economics and eventually sparked an interest in politics.
"I wanted to have the tools to analyze why this was happening, to know how to fix it and to avoid it everywhere else," he said.
The economics scholar has expanded this understanding since coming to IUPUI. As a recipient of IUPUI's RISE scholarship, Di Martino has spent the past year researching the impact of Venezuelan economic policies on inflation, employment and consumer welfare.
He is also committed to sharing his country's story with others. Recently, as a contributor for Young Voices, an advocacy program for students and young professionals, he has shared his perspective on Venezuela with several national media outlets, including USA Today, CNN, Fox News and Fox Business.
"There's never been a greater honor for me than to be able to speak out for the people in my country," he said.
Set to graduate from IUPUI in December and with plans to apply to graduate school, Di Martino is busy preparing for his future. He is finishing a semesterlong internship in the Indianapolis office of U.S. Sen. Todd Young and will be interning at the Tax Foundation in Washington, D.C., this summer. He found out about both positions, he said, just by getting out and meeting people.
"I've come to find that a lot of things are about connections; you just have to show up for things that you're interested in," Di Martino said. "For me, the problem is that there are only 24 hours in a day."