Just as our colleagues in the Office of the Vice President for International Affairs have established Global Gateway offices in strategic locations around the world, we are establishing Innovation Gateway spaces around the state of Indiana.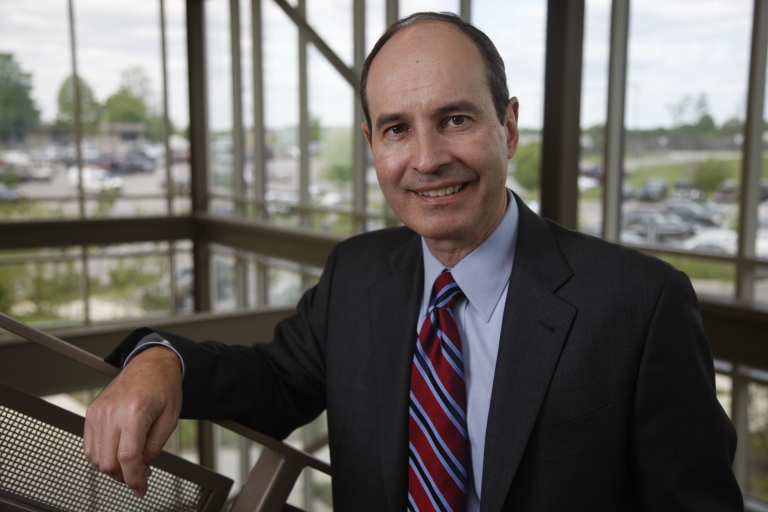 These Innovation Gateway spaces are chartered for the benefit of our faculty, students, staff and alumni and are typically aligned with broader community efforts to promote innovation and entrepreneurship at discrete locations – typically, a re-purposed building or facility that accommodates and supports a broad range of entrepreneurial interests.
In Bloomington, for example, IU is a founding partner in Dimension Mill – 19,000 square feet of co-working and business incubator space in the downtown Trades District. The Mill provides the connectivity and infrastructure that technology-based entrepreneurs – including IU-affiliated startups – need to be successful.
The IU Research and Technology Corp. maintains an active physical presence in Dimension Mill, and IURTC President and CEO Tony Armstrong serves as Dimension Mill's board chair.
We have also established an office in downtown Indianapolis at The Union 525 – the city's premier tech venue offering flexible space for startup and growth companies in the historic former home of Manual High School, directly between Rolls Royce and Lilly's main campus.
Dozens of small and medium-sized tech-based companies are based at The Union 525. Our space at the facility provides a platform for university initiatives and events and regular engagement with many of the region's leading innovators from the tech sector.
We are also heavily engaged in planning for space in 16 Tech – Indianapolis' newly emerging urban innovation district directly northwest from the IUPUI campus. This major economic development initiative is envisioned to accelerate applied research and innovation in tech, life sciences and advanced engineering in an environment that fosters connectivity and collaboration among principals and tenants.
The IU School of Medicine will station significant operations associated with regenerative medicine research in the first building currently under construction, and the IU Research and Technology Corp. is considering establishing a presence in a building that will be renovated to house co-working and maker space.
Given the degree to which our partnering efforts and research collaborations continue to grow with Naval Surface Warfare Center, Crane Division, we have created an Innovation Gateway space in the Westgate@Crane facility just outside the installation's main gate. This office has enabled us to facilitate a growing number of off-base meetings and events between IU researchers and staff alongside our Crane colleagues.
A little over a year ago, the city of Fishers and partners established the Indiana Internet of Things Lab. The Internet of Things can be described as an extension of the internet that connects smart devices embedded with sensors (or "things") – such as thermostats and appliances – to create a network that enables greater analytical capabilities and efficiencies.
As a founding partner, IU enjoys a major presence in the IoT Lab. IU School of Informatics, Computing and Engineering faculty member Lou Lenzi has taken the lead in using the space and resources in the facility for the benefit of our students and staff. In addition, IU first lady Laurie Burns McRobbie has led several events and forums at the facility to encourage and promote young women to pursue careers in technology.
Along with our colleagues at IU Kokomo, we have long supported The Shared Drive in the Inventrek Technology Park, Howard County's first public co-working space designed to provide entrepreneurs access to collaborative work space and shared business amenities.
And just recently, the IU Research and Technology Corp. announced plans to locate our newest Innovation Gateway in Fort Wayne at Electric Works. This major economic development initiative is transforming the city's former General Electric campus into a mixed-use innovation district that will foster a broad range of research and entrepreneurial initiatives across multiple sectors.
While our presence in these Innovation Gateways is relatively modest, each provides unique opportunities for our faculty, staff, students and alumni to directly engage with our state's most dynamic innovators and entrepreneurs. Moreover, our engagement further reinforces IU's ongoing commitment to contribute to the economic vitality and well-being of our state.
Bill Stephan is vice president for engagement.