Alumni across the globe celebrate IU Day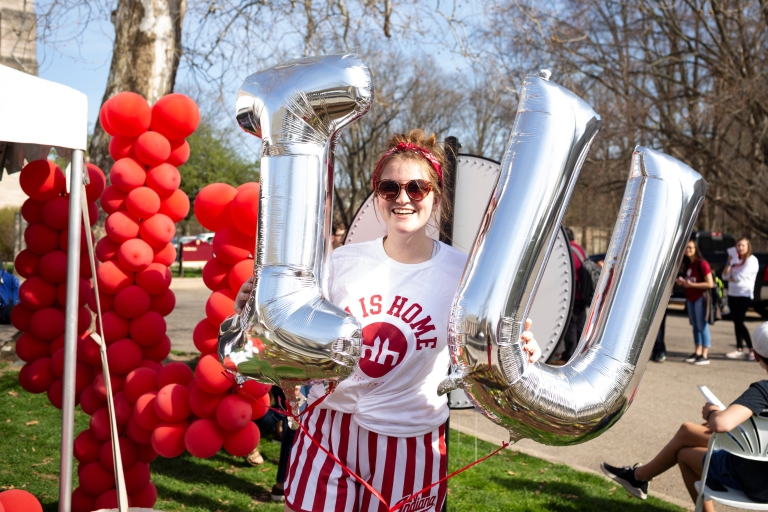 On April 10, more than 8 million people shared in the IU Day experience. The fourth annual IU Day – a 24-hour, binge-watching, social-sharing, IU-wearing celebration of all things IU – featured on-campus celebrations, official meetups and engaging online content, including a mascot bake-off.
Forty-nine official alumni gatherings took place across six continents, radiating IU Day spirit from Bloomington to Bangkok. The event's official hashtag, #IUday, again trended nationally, with more than 9,000 mentions originating from 85 countries. And notable alumni such as Olympic diver Jessica Parratto, NFL running back Jordan Howard and internationally recognized recording artists Straight No Chaser shared their affection for their alma mater via social media.
IU Day also inspired more than 3,800 gifts and counting in support of Indiana University. Throughout the day, in excess of $93,000 in online challenge funds were unlocked with nearly $18,000 supporting student scholarships.
Coming soon: IU Login
IU's authentication services, including Central Authentication Service, are getting a refresh this summer.
A lot will be happening to improve the infrastructure behind the scenes, but for IU students, faculty and staff, the main thing to know is that CAS branding is being retired. It will be replaced by IU Login, which will do all the same things CAS did. Your username and passphrase will not change. The switch will be fairly seamless to the user, but expect a new look.
Indiana University commencement ceremonies start May 3
Indiana University will award more than 21,000 degrees to 20,942 graduates during commencement ceremonies at its seven campuses May 3 to 11. IU President Michael A. McRobbie will preside over the ceremonies honoring graduates who have earned one or more IU degrees.
Graduates come from all 92 counties in Indiana; all 50 U.S. states, plus the District of Columbia and Puerto Rico; and 138 countries. Almost 70 percent of graduates are Indiana residents, 56.1 percent are women, and 21.5 percent are first-generation college students. Underrepresented minorities constitute 16.1 percent of graduates, and 9.4 percent are international students.
The graduate and undergraduate ceremonies at IU Bloomington and the ceremony at IUPUI will have featured commencement speakers, and several campuses will present honorary degrees.
IUPUC will open a mental health clinic in 2020
The Division of Science at IUPUC will open a mental health counseling clinic in spring 2020 named in honor of Columbus philanthropists Tom and Barbara Schoellkopf.
The clinic will primarily operate as a training center for graduate students in IUPUC's master's degree program in mental health counseling. The clinic will further deliver educational and preventive mental health services to the IUPUC, Ivy Tech Community College Columbus and Purdue Polytechnic Columbus campuses, as well as residents of Bartholomew County.
The clinic will be on the IUPUC campus in a renovated space to provide maximum flexibility for counseling services. When completed, the clinic will enable up to four individual, group or family counseling sessions simultaneously. In addition to the physical renovations, technology will play a key role in the new facility by enabling both synchronous and asynchronous feedback to the graduate students who will be providing services.
Launched in 2012, the Master of Arts in Mental Health Counseling program has graduated 35 students, the majority of whom have earned or are seeking licensure as mental health counselors and remained in the region to work.
Consortium bringing state-of-the-art microscope to state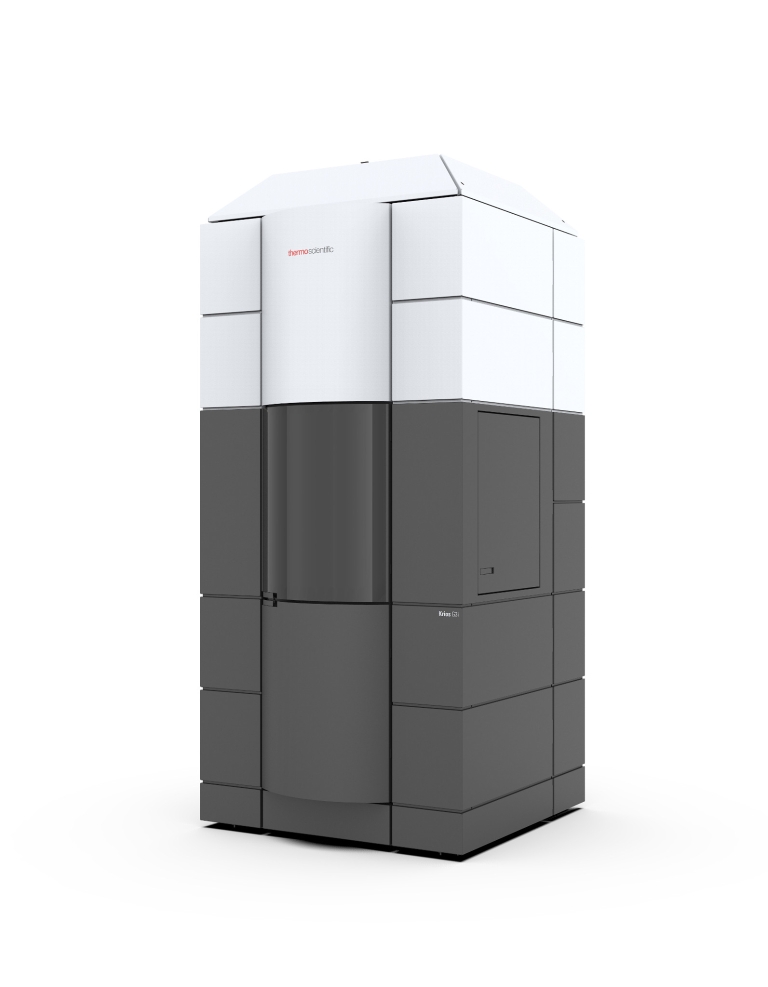 A six-member research consortium, including the Indiana University School of Medicine and IU Bloomington, is bringing a new state-of-the-art cryo-electron microscopy platform to the state of Indiana.
The Titan Krios lets scientists look at how proteins and viruses are built atom by atom. It also produces 3D images of those structures and can even identify new proteins that are currently unrecognizable. The microscope works through a new technology known as micro-electron diffraction.
Most medicines are designed to target proteins in the body that are part of the disease process – for example, tumor cells in cancer or brain proteins in Alzheimer's disease – and this new cryo-EM allows researchers to actually see these protein structures.
A recent scientific breakthrough by IU School of Medicine researchers uncovered that the tau protein structure involved in chronic traumatic encephalopathy is actually different from the tau protein structure involved in Alzheimer's disease, but only after using cryo-EM capabilities based in Cambridge, England.
Learn more about earning an IU Emergency Preparedness Certificate
Ten Indiana University employees earned their IU Emergency Preparedness Certificates this spring, joining a growing number of employees who learn preparedness skills that can help their colleagues and families.
Beginning this semester, the free certificate program is open to IU students, too.
The certificate opens the door to more opportunities, such as becoming more engaged with like-minded people or going into the field of emergency management.
The program requires six one- to two-hour trainings that are available online or in person.
Participants also choose four elective trainings involving a range of public safety partners, including IU Emergency Management and Continuity, the Indiana University Police Department, IU Environmental Health and Safety, and Insurance, Loss Control and Claims.
Learn more and register on the Protect IU website.
IU Northwest parking permit pay structure to change
The IU Northwest campus will move to a tiered rate structure for parking permits based on employee salary levels beginning this summer.
Under the university's current permit structure, rates are determined by what type of permit is purchased. However, the new structure will also use employee salary ranges to determine permit prices.
Salary tiers will be the same as those currently in use by IU's health care plans, aligning parking rates with the university's health and dental care plan practices. The four tiers are:
Below $35,000
$35,000 to $59,999
$60,000 to $99,999
$100,000 and above
The IU Bloomington and IUPUI campuses will also move to the tiered salary structure, meaning all IU campuses will use the same structure to determine individual campus parking permit prices moving forward.
Read about changes at IU Bloomington in this week's edition of Inside IU Bloomington, and the changes at IUPUI in the April 25 edition of Inside IUPUI.