BLOOMINGTON, Ind. – In celebration of Earth Week, the Environmental Resilience Institute, founded as part of Indiana University's Prepared for Environmental Change Grand Challenge initiative, is recognizing 10 Indiana residents as Hoosier Resilience Heroes.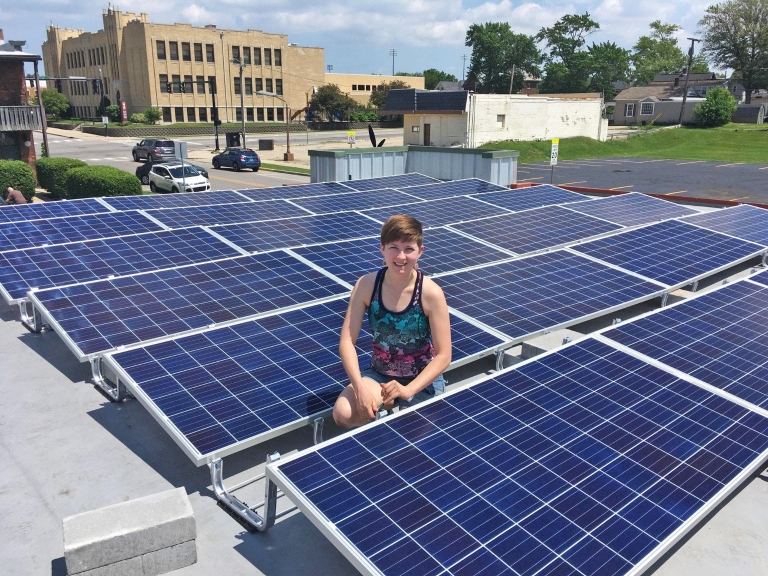 While traveling the state as the Environmental Resilience Institute's assistant director of policy and implementation, Janet McCabe has met many Hoosiers dedicated to preparing Indiana for environmental change. The Hoosier Resilience Heroes recognition honors the important contributions of just a few of these residents.
"Indiana is full of individuals – in every corner of the state and from every age and walk of life, including government, academia, business and nonprofits – who are working to make Indiana more resilient in the face of environmental change, and who are making Indiana residents safer and healthier now and for generations to come," said McCabe, former acting assistant administrator for air quality with the U.S. Environmental Protection Agency. "We are thrilled to recognize these Hoosier Resilience Heroes and lift up their work to inspire us all."
These 10 individuals are:
Shikha Bhattacharyya, director and founder of ReTHink Inc.
Jessica Davis, director of the IUPUI Office of Sustainability.
John Gibson, board of directors of Earth Charter Indiana.
Julia McKenna, senior at John Adams High School.
Iris O'Donnell Bellisario, junior at Purdue University.
Reed Rouch, senior at Brebeuf Jesuit Preparatory School.
Aaron Sawatsky-Kingsley, city forester for the city of Goshen.
Jennifer Tank, professor of biological sciences at University of Notre Dame.
Leah Thill, senior environmental planner for the Michiana Area Council of Governments.
Sister Claire Whalen, chair of the Oldenburg Renewable Energy Commission.
Thill works with local governments in Elkhart, Marshall and St. Joseph counties to implement clean energy, clean transportation and clean air initiatives. She promotes sustainable practices like solar energy among all sectors, and she has helped local governments and school districts seek funding and navigate implementation of solar energy and other green programs.
Gibson has spent decades working on climate change. He not only was the inspiration for the founding of Earth Charter Indiana, but he has played an integral role there for many years. He also set in motion and oversaw the organization's compilation of green stories from each Indiana county in preparation of Indiana's bicentennial.
"He has poured his heart, soul, time and treasure into this cause," McCabe said. "Now in his 90s, he continues to work at it, particularly with an intensive effort in Indianapolis' Pike Township, where he lives."
Whalen, a Franciscan nun of the Convent of the Sisters of St. Francis in Oldenburg, has committed a large part of her life to environmental causes. She advocated for and leads the Oldenburg Renewable Energy Commission and is finding ways for the community to move even more quickly to reduce its carbon footprint in the coming decade. She also led her area's Solarize initiative and keeps local officials informed of climate reports affecting the state.
"These individuals are making an important difference every day in Indiana," said Ellen Ketterson, director of the Environmental Resilience Institute. "In my view, they are true heroes."
About the Prepared for Environmental Change initiative
The Indiana University Prepared for Environmental Change Grand Challenge initiative brings together a broad, bipartisan coalition of government, business, nonprofit and community leaders to help Indiana better prepare for the challenges that environmental changes bring to our economy, health and livelihood. Announced in May 2017, Prepared for Environmental Change is working to deliver tailored and actionable solutions to communities across the state of Indiana.