BLOOMINGTON, Ind. – On April 10, more than 8 million people shared in the IU Day experience. The fourth annual IU Day – a 24-hour, binge-watching, social-sharing, IU-wearing celebration of all things IU – featured on-campus celebrations, official meetups and engaging online content, including a mascot bake-off.
Forty-nine official alumni gatherings took place across six continents, radiating IU Day spirit from Bloomington to Bangkok. The event's official hashtag, #IUday, again trended nationally, with more than 9,000 mentions originating from 85 countries. And notable alumni such as Olympic diver Jessica Parratto, NFL running back Jordan Howard and internationally recognized recording artists Straight No Chaser shared their affection for their alma mater via social media.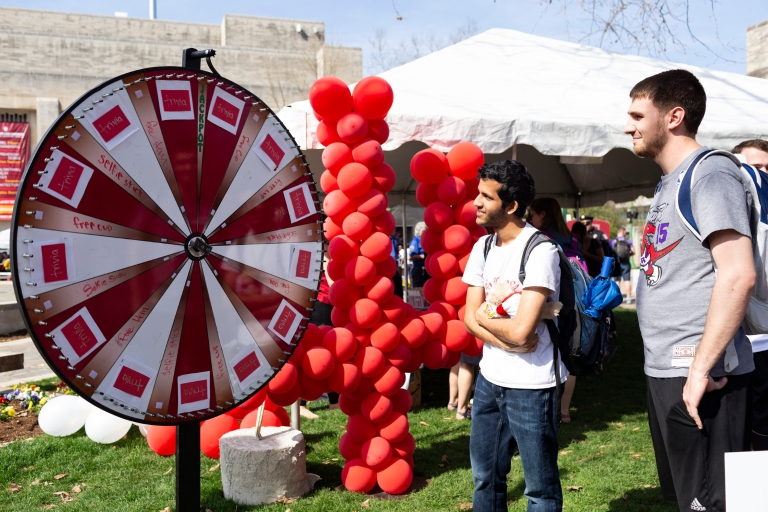 IU Day also inspired more than 3,800 gifts and counting in support of Indiana University. Throughout the day, in excess of $93,000 in online challenge funds were unlocked with nearly $18,000 supporting student scholarships. Students united in support of their fellow students as well, with more than 1,326 pounds of food donated to IU food pantries, accounting for about 1,105 meals.
Overall, funds raised on IU Day supported a wide array of projects, programs and scholarships across various areas of study, including:
Emergency scholarship funds.
Veteran and military support services.
Music, theater and the arts, including IU's Marching Hundred.
Mental health counseling for IU students.
Study-abroad opportunities.
Environmental sustainability.
Medical research.
Initiatives to increase diversity and improve the accessibility of higher education.
Thanks to the generosity of students, faculty, alumni and friends, the impact of IU Day continues to grow each year, leaving a lasting legacy on all seven Indiana University campuses.
Gifts received on IU Day count toward the $3 billion For All: The Indiana University Bicentennial Campaign, stewarded by the Indiana University Foundation. For All: The Indiana University Bicentennial Campaign is taking place on all IU-administered campuses including IU Bloomington, IUPUI, IU East, IU Kokomo, IU Northwest, IU South Bend and IU Southeast. The campaign will conclude in June 2020 to coincide with IU's bicentennial year celebration. To learn more about the campaign, its impact and how to participate, visit forall.iu.edu.
Founded in 1936, the Indiana University Foundation maximizes private support for Indiana University by fostering lifelong relationships with key stakeholders and providing advancement leadership and fundraising services for campuses and units across the university. Today, the IU Foundation oversees one of the largest public university endowments in the country, with a market value in excess of $2 billion. IU is consistently ranked among the top four of Big Ten universities in annual voluntary support.