BLOOMINGTON, Ind. – A new statewide survey commissioned as part of the Indiana University Prepared for Environmental Change Grand Challenge initiative reveals that four out of five Indiana residents believe climate change is happening, and three out of four support efforts to address the impact of climate change.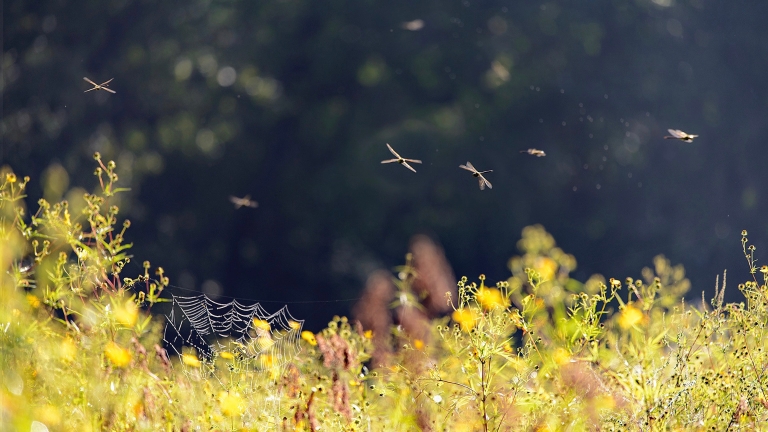 The survey released today offers state-specific insights on public attitudes toward climate change as Indiana considers how it will respond to the environmental changes already being felt here and across the Midwest.
Clear majorities of survey respondents report more frequent observations of flooding, agricultural damage, unpredictable weather patterns and infrastructure deterioration in the form of potholes, which are exacerbated/worsened by erratic freeze-thaw temperatures. Three out of four Hoosiers believe that climate change will have a negative impact on Indiana's economy. Also, a significant majority supports measures to lessen the impact of these environmental events.
The survey results provide further evidence that comprehensive, community-based strategies are needed if Indiana is to effectively respond to, mitigate and adapt to the threats posed by climate change, said researchers at the IU Environmental Resilience Institute, which was founded as part of IU's Prepared for Environmental Change Grand Challenge initiative.
"These survey results suggest that Hoosiers know we must act now to protect the environment we have, while we have it," said Janet McCabe, assistant director of policy and implementation for IU's Environmental Resilience Institute and a former assistant administrator at the U.S. Environmental Protection Agency. "As we continue to experience the consequences of a changing climate – historic flooding, record-setting cold – the challenge is hitting close to home. That's especially true for a pillar of our state's economy: our farmers and all of us who depend on them for our food."
A team of more than 120 researchers funded by IU's Prepared for Environmental Change Grand Challenge initiative – including 11 Environmental Resilience Institute fellows – are working to predict the short- and long-term impact of climate change, identifying best practices for adaptation, and equipping policymakers and civic leaders with the information they need to make smart, effective decisions. Tools such as the Environmental Resilience Institute Toolkit provide community-tailored resources, while the Hoosier Resilience Index – to be released this fall – will help Indiana communities evaluate their level of preparedness.
While the survey indicated some differences by political affiliation (41 percent of Republicans think there is scientific uncertainty about climate change versus 17 percent of Democrats), both Republicans and Democrats offer majority support for measures to improve the state's resilience in the face of climate change.
Other key findings include:
Sixty-five percent of Indiana residents believe more strongly than they did five years ago that climate change is happening.
Three out of five Hoosiers believe climate change is already harming people in the U.S.
Two out of three Indiana residents agree that increased flooding poses a threat to Indiana communities. Clear majorities of Hoosiers agree that increased drought (59 percent) and hotter summers (64 percent) pose a threat to Indiana agriculture.
Indiana residents also greatly underestimate the level of their fellow Hoosiers' beliefs in climate change. While four out of five Hoosiers believe climate change is happening to some extent, those surveyed said they believe on average that about 56 percent of other Indiana residents believe climate change is happening, whether caused by human activity or not.
The Environmental Resilience Institute commissioned the survey of just over 1,000 Indiana residents to gauge public opinion on climate change and environmental resiliency as it works with local community leaders to build tools to solve and address real-world climate changes such as flooding, crop failure and invasive species.
The margin of error fell within plus or minus 3 percentage points, with a confidence interval of 95 percent. Atomik Research, an independent creative market research agency, conducted the fieldwork from April 3 to 10, 2019.