BLOOMINGTON, Ind. – Indiana University President Michael A. McRobbie has issued a statement about former Indiana senator and IU faculty member Richard Lugar, who died Sunday, April 28, at age 87.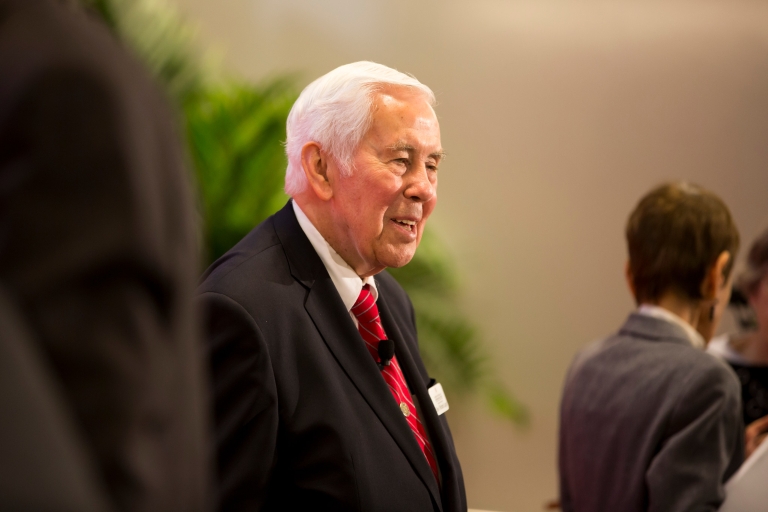 Lugar was the longest-tenured senator in Indiana's history, serving in this capacity for 36 years, from 1977 to 2013. Since 2013, he had been a Distinguished Scholar and Professor of Practice in IU's Hamilton Lugar School of Global and International Studies, which was renamed in his and former Indiana Rep. Lee Hamilton's honor last year.
Learn more about Lugar's distinguished career at the Lugar Center website.
"Former Indiana Senator Richard Lugar was one of Indiana's and our nation's most illustrious and visionary statesmen, a dedicated public servant and a true titan of U.S. politics," McRobbie said. "Over the course of his years in the U.S. Senate, he had enormous influence in shaping American foreign policy, and he was a leader in addressing the most critical challenges facing our state, nation and world, in areas including agriculture, education, domestic policy, arms control and global food security. He was renowned for his sense of decency, his integrity, his global sensibility and his discipline of study that made him the Senate's leading expert on nuclear weapons issues. He was equally renowned for his commitment to bipartisanship, for putting principle above party and for his faith in the good will of others – all qualities and attitudes that IU hopes to impart to all of its students.
"To this end, we were honored and extremely grateful that Senator Lugar chose to continue his longstanding service to Indiana as a distinguished member of the faculty of the IU school that now bears his name and will forever reflect the impact of his service to our students, our state and our nation. We are also honored that IU's Modern Political Papers Collection is the permanent repository of his senatorial papers, which will be an invaluable resource for future scholars seeking to learn more about this great man.
"Senator Lugar's life and career will continue to be an inspiration for people around the world who devote themselves to public service and helping others. On behalf of all of us at IU, we send our most heartfelt condolences to the senator's wife, Charlene, his family, friends and former colleagues, and all of those individuals whose lives he positively impacted through his extraordinary service to our state and nation."