BLOOMINGTON, Ind. – The National Academy of Medicine has enlisted Indiana University to join a powerhouse collaborative focused on reversing national trends in opioid misuse and overdose. IU's Responding to the Addictions Crisis Grand Challenge initiative, launched in 2017, is the largest, most comprehensive response to the addictions crisis in the nation led by a university.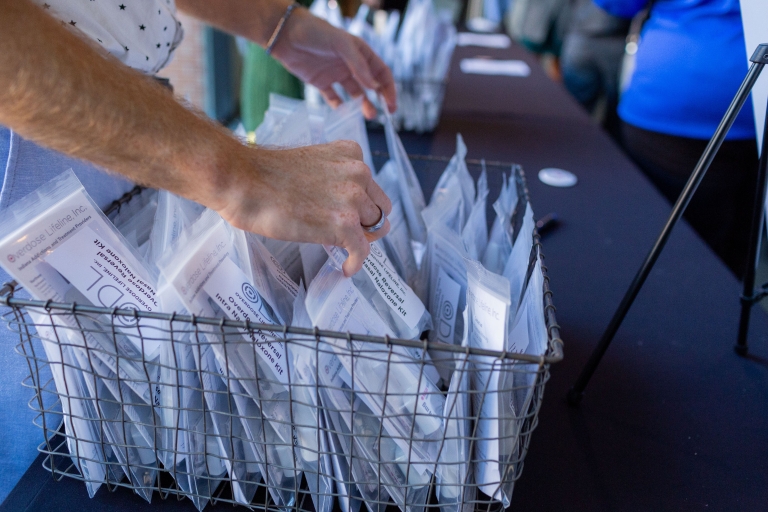 Other collaborators the National Academy of Medicine announced today include the Mayo Clinic, the Center on Addiction and the Yale School of Medicine. The announcement of more than 100 organizations was made at a meeting of the academy's Action Collaborative on Countering the U.S. Opioid Epidemic.
"Indiana University is privileged to join with the National Academy of Medicine in this important national collaboration to combat the opioid epidemic," IU President Michael A. McRobbie said. "Opioid addiction is a major public health crisis that is taking an increasingly severe toll on the health of far too many Indiana residents and devastating communities throughout our state and our nation. Through this effort – and our continued work on IU's Responding to the Addictions Crisis Grand Challenge initiative – we will bring to bear our extensive clinical, research and educational expertise, along with the knowledge and resources of our partners across Indiana, to address and mitigate this destructive and deadly public health crisis."
With its collaborative partners, Indiana University has been working to harness the resources of the university and the state to reduce deaths associated with substance use disorder, ease the burden of drug addiction on local communities, and improve health and economic outcomes.
The National Academy of Medicine recently collected statements describing current work and future goals to counter the opioid epidemic in the areas of health professional education and training; opioid prescribing guidelines and evidence standards; prevention, treatment and recovery; and research, data and metrics.
Indiana University answered the call with a statement of commitment to join the academy as a network organization, highlighting and expanding the university's commitment to combating the opioid crisis.
"The opioid epidemic is one of the most devastating public health crises of the modern era, impacting individuals, families and communities across the nation," National Academy of Medicine President Victor J. Dzau said. "The complexity of this crisis requires sustained commitment from all stakeholders: health systems, federal and state governments, community organizations, provider groups, payers, industry, nonprofits and academia.
"Reversing the opioid epidemic requires a multisectoral response – no organization, agency or sector can solve this problem on their own. NAM is privileged to lead this action collaborative, which will work to develop collective solutions and advance those with the most potential to reverse or stem the crisis. We are thrilled to see such a robust commitment from organizations across the country in joining with us to be part of the solution."
According to a survey conducted by the Responding to the Addictions Crisis initiative, nearly two-thirds of Hoosiers know someone who struggles with substance addiction.
The number of opioid-related deaths – from both prescription opioids and illegal drugs including heroin, fentanyl and carfentanil – has quadrupled in the past 20 years. At present, the opioid epidemic claims 130 lives every day.
Addiction and overdose not only destroy individual lives but also erode the health and prosperity of families and communities. The economic toll is significant; according to the nonprofit research organization Altarum, the cost of the opioid crisis is estimated to have exceeded $1 trillion from 2001 to 2017 and is projected to cost an additional $500 billion by 2020.
More than 30 research projects are already underway as part of the Responding to the Addictions Crisis initiative. Project leaders are working with partners to test school interventions, support addiction counselors in rural communities, search for more effective treatments, reduce stigma, help people fighting addiction stay in the workplace, examine policy obstacles, and better understand the long-term consequences of addiction.
In addition, as part of its Grand Challenge efforts, IU has partnered with the Indiana Supreme Court and state agencies to help train almost 1,000 court and law enforcement officials on medically assisted treatment for addictions. IU has also led a coalition of nonprofit groups and government agencies to distribute naloxone kits and provide training in their use across Indianapolis. Additional trainings will take place this year in communities around the state, including May 13 at the IU Rural Conference in French Lick.
IU Grand Challenges Program
Indiana University's Grand Challenges Program initiatives, according to IU President Michael A. McRobbie, are "few, large, focused and measured by their impact" – impact on individuals, communities, the economy, or quality of life in Indiana and beyond. This bold effort is the culmination of committed, multisector partnerships and dedicated research teams working together to solve some of the largest and most pressing problems of our time: bringing precision medicine to Hoosiers, combating the addictions crisis, and better preparing our businesses and communities for environmental change.