Indiana University Distinguished Professor of Psychological and Brain Sciences Linda B. Smith has been awarded the 2019 Norman Anderson Lifetime Achievement Award from the Society of Experimental Psychologists, the oldest and most distinguished honor society for psychology.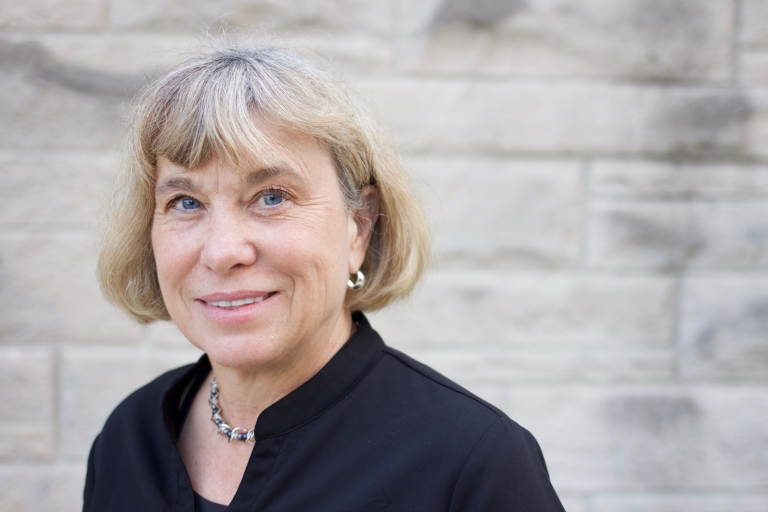 The award, presented during a formal ceremony at Rutgers University on March 22, recognizes Smith for "groundbreaking theoretical and empirical work on human cognitive development" and an ongoing career that has shaped the essential framework of her field.
"Linda Smith is one of the world's preeminent cognitive psychologists, and has been for decades," said Lynn Nadel, the 2016 winner and a leader at the Society of Experimental Psychologists. "Her work on cognitive development challenged the field and brought welcome attention to its dynamic nature. Her current work on the statistics of infants' visual experience has the potential to completely transform our understanding of early concept learning, including word learning."
At the ceremony, Smith delivered a talk titled "Learning from the infants' perspective: Let the babies teach the machines," a topic related to her current research as the recipient and principal investigator on IU's first Emerging Areas of Research grant. Smith's work under the grant explores the common ground between machine learning and cognitive development, and the way the interests of each field can enhance the other.
"It was truly an honor to receive this award, to give a talk before some of the most renowned names in psychology and to hear their thoughtful questions," Smith said.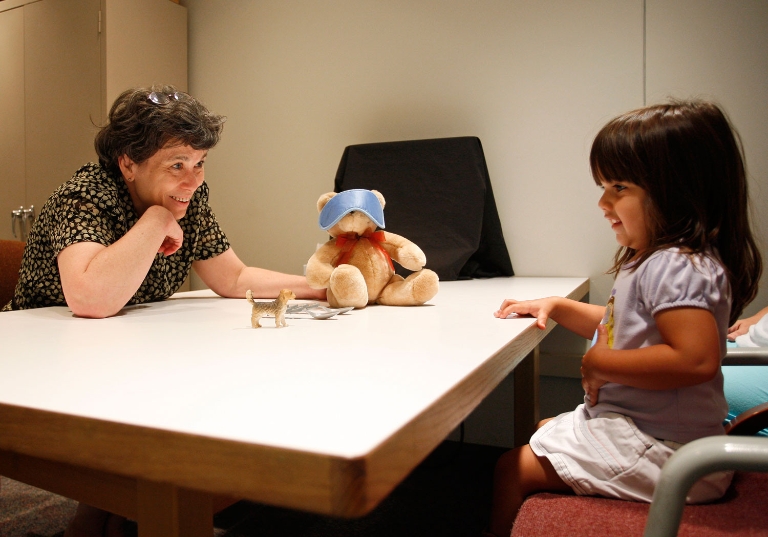 Smith began her career studying attention in 4- to 7-year-old children, a topic that earned an Early Career Award from the American Psychological Association in 1985, and where she has remained influential. Her subsequent work has centered on children from birth to age 3: early motor developments, including holding objects, in infants; visual shape processing in 18-month-olds; and "joint attention" between parents and 1-year-olds. She is particularly well known for the breakthrough notion of "shape bias," a concept that highlighted the global shape of objects as a critical underpinning for early word learning.
In their pioneering work at IU Bloomington, Smith and Esther Thelen articulated a theory of child development that argued cognition and its development are grounded in dynamical and embodied systems. So, for example, the milestones in a child's motor development – such as stabilizing the head, sitting, manipulating objects, crawling and walking – open up new opportunities for perceptual, cognitive and social development. They are among the major forces in social, emotional, perceptual, and cognitive abilities and functions.
Smith's most current work aims to characterize the statistical dimensions of infant visual experience, an approach that promises to create effective new treatments for childhood developmental disorders such as autism and sensory and motor delays, as well as language-learning difficulties.
Among her other honors and awards, Smith was named recipient of the David E. Rumelhart Prize in Cognitive Science from the Cognitive Science Society in 2013; the Award for Distinguished Scientific Career Contributions from the American Psychological Association in 2013; and IU's Tracy M. Sonneborn Award in 1997. She was named a fellow of the American Academy of Arts and Sciences in 2007.