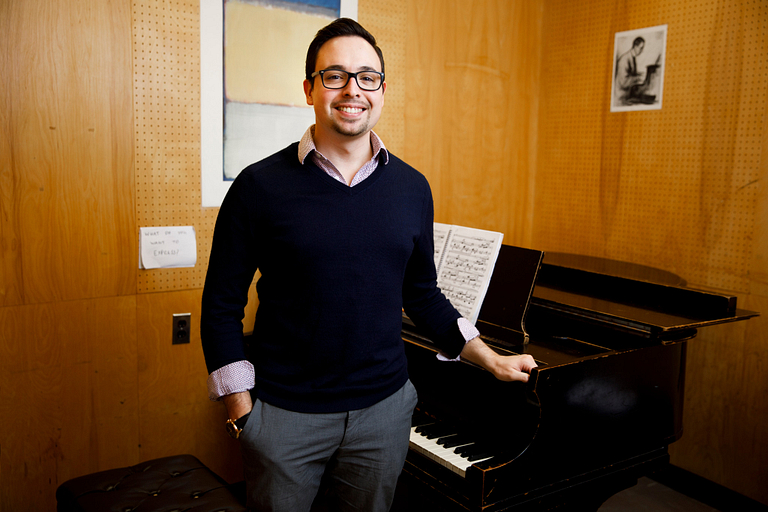 He's been studying piano since age 4, but that doesn't mean that success has come easy to Dominic Muzzi, a first-year doctoral piano student in the Indiana University Jacobs School of Music.
"My high school teacher encouraged me to apply to Jacobs when I was auditioning for undergraduate programs," Muzzi said. "I was rejected in the video round. But much can change in a few years. When I reapplied for my master's degree, I was admitted with a full scholarship."
Although Muzzi received his bachelor's degree at Florida State University, there was something about the Jacobs School that made him try again.
"I reapplied because my respect for the institution had not changed," Muzzi said. "I had heard great things about the programs therein from my teachers and colleagues I interacted with during my undergrad."
But regardless of his path to get to IU, Muzzi has always exhibited raw talent. He could easily reproduce a melody on his family's electric keyboard after only hearing it once. And at age 11, he gave his first solo performance in a local music store, recalling 50 minutes of music by memory.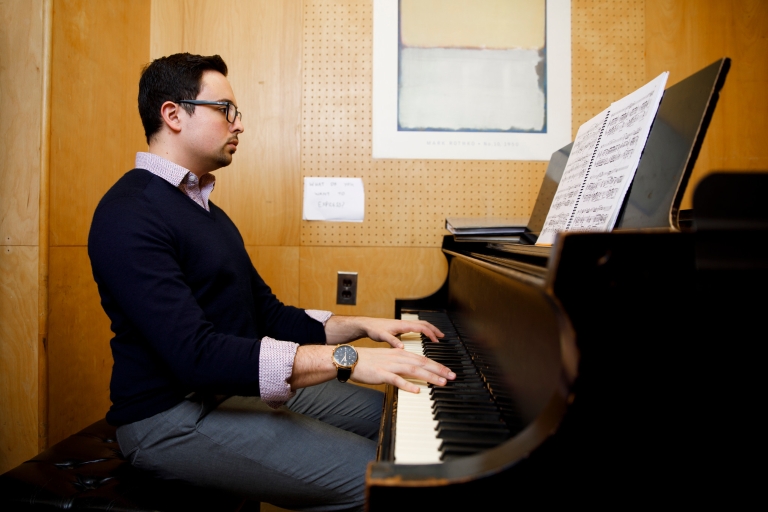 Muzzi's innate skill, pure passion and drive for achievement have paid off. He won gold medals in both the Wideman International Piano Competition in 2018 and the MTNA Young Artist Performance Competition, one of the most prestigious in the U.S., in 2019.
"Success can be a powerful motivator, so I feel like I've been able to perform at an even higher level through the valuable experiences I've gained competing," Muzzi said. "I'm fortunate to have come out on top as frequently as I have this year, as this much concentrated success is a new experience for me."
Although Muzzi's hard work has earned him gold medals and international recognition, he still battles with nerves, sometimes feeling uncertain on how he will perform. But he believes there is power in positive thinking.
"I try to reinterpret the nervous energy I get as excitement instead of fear," Muzzi said. "Reframing the thought 'I am afraid to not do a good job' with 'I am excited to share this music with this audience' can be very powerful."
Teaching up to four private lessons and practicing three to six hours a day, Muzzi stays focused due to his unwavering discipline and the encouragement he receives from IU faculty member Roberto Plano and IU alumnus Read Gainsford.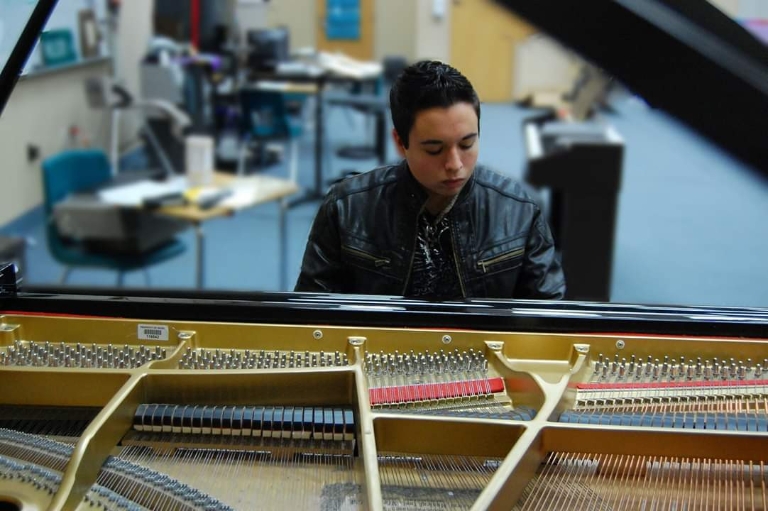 "I owe an incalculable debt to my primary professor, Roberto Plano," Muzzi said. "He has a way of being encouraging while retaining uncompromising standards, which has taught me so much about being a teacher myself. My undergraduate teacher, Dr. Read Gainsford, built the foundation on which I've been able to shape my career. He was the first to show me what world-class really means in piano playing."
This consistent support keeps Muzzi motivated and busy, traveling across the country for solo recitals and, next season, performing with professional orchestras.
"Music has always been a special part of my life, retaining a unique presence in my day-to-day," Muzzi said. "I am inspired by my mentors and idols to keep rising to an even more refined level of playing, so that I may communicate as simply as possible the most complex and difficult pieces."
A natural performer, Muzzi enjoys the challenge of connecting with an audience, uniting them regardless of their preferences and experiences.
"My favorite part of piano playing is the many ways in which it can powerfully affect the emotions of anybody listening," he said. "The way I interpret the piece is not necessarily the same as any audience member, and audience members can have vastly different perspectives on a given work, which never ceases to fascinate me."