Wearing a vibrant, floor-length skirt and dancing barefoot to "feel closer to the ground," Érica Giesbrecht uses footwork and spinning in her demonstration, part of the Afro-Brazilian Jongo workshops she's been teaching at Indiana University Bloomington.
A Fulbright Visiting Chair in Brazilian Music, Giesbrecht has been instructing these workshops at Collins Living-Learning Center since February.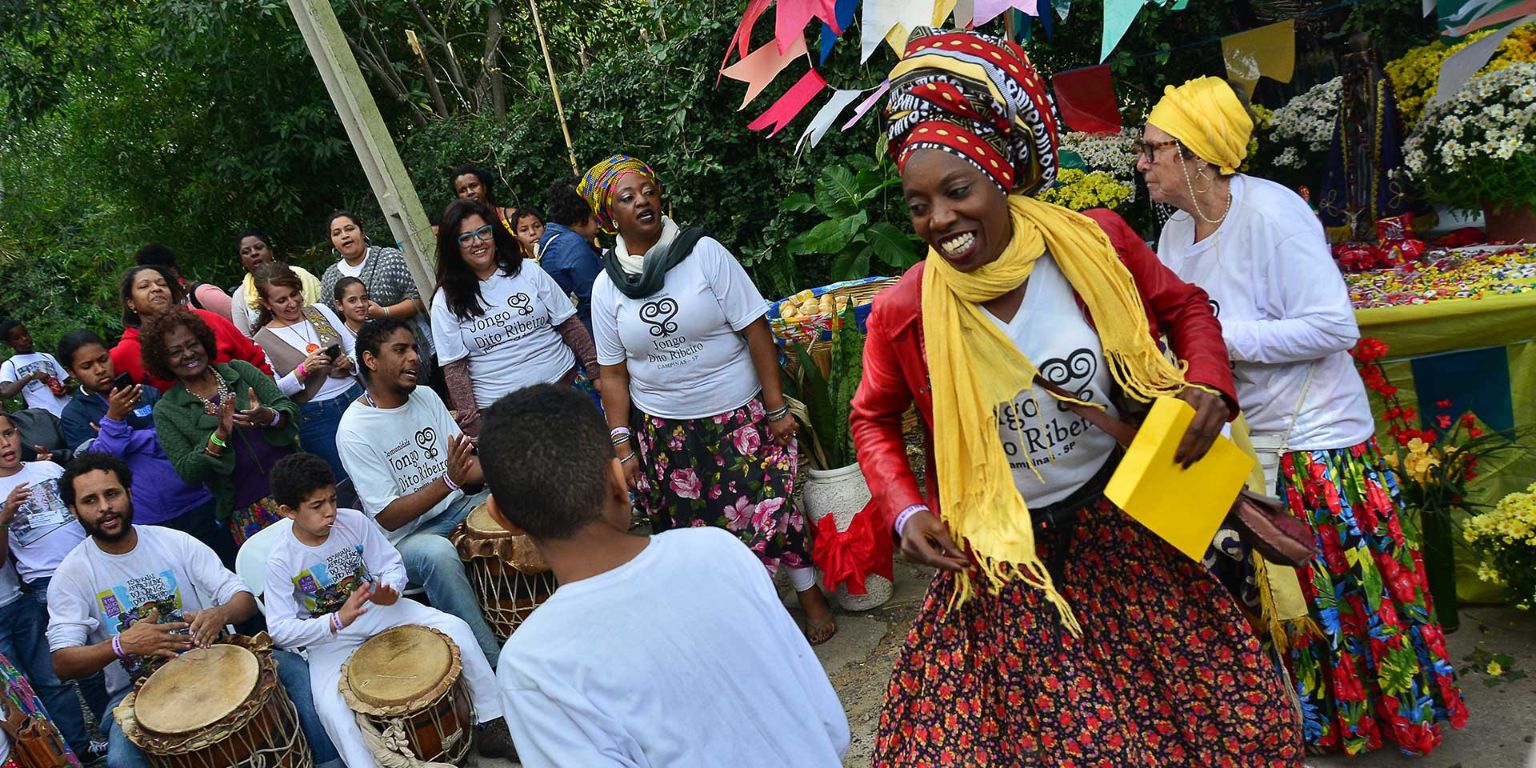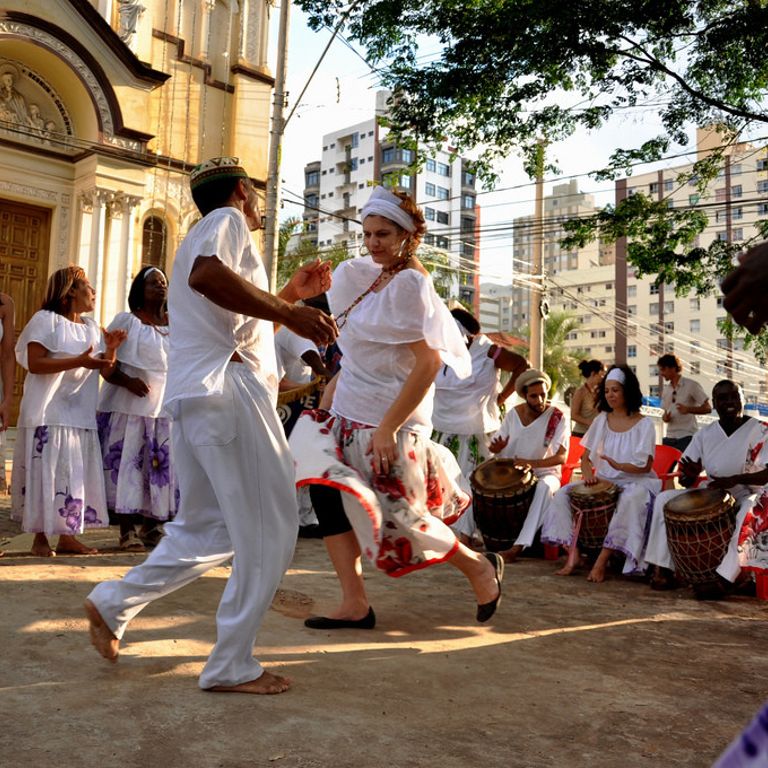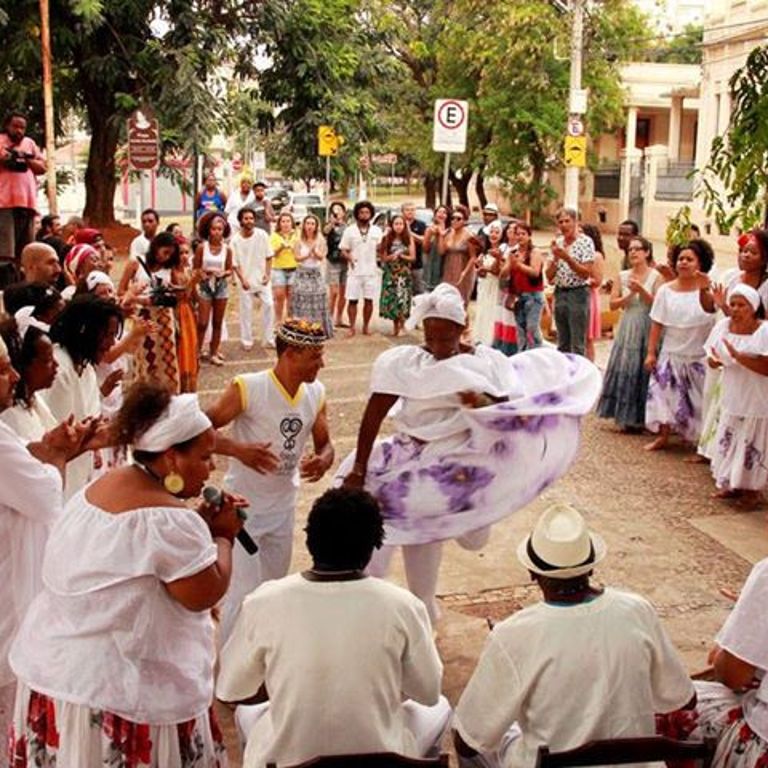 Photos courtesy of Érica Giesbrecht
Jongo, a form of expression using singing, dancing and drumming, was created by enslaved African men and women. Forced to work on coffee farms in southeastern Brazil, these slaves offered up their injustices to Catholic saints and African deities in hopes of being granted divine protection.
Giesbrecht's goal is to teach IU students and staff the repertoire of Jongo. But before she could do that, she had to learn herself.
Learn the dance
"I was one of those people who didn't know about the repertoire," Giesbrecht said. "Then I saw a presentation. At a certain point, it becomes open to the audience, and you can join in. Suddenly, you are dancing and singing with them. All my senses were caught up in that moment."
After her first encounter with Jongo in Brazil, Giesbrecht was hooked, but not just because of its rhythmic qualities. Over time, Jongo has become a staple of resistance, a way for communities to peacefully gather and support causes they believe in.
This is particularly apparent with the traditional Jongo song, "Pisa na tradição," meaning "step on tradition." This song and others are chanted while dancing and drumming within the circle.
Description of the following video:
[MUSIC]
[Video: People dance in a circle while others sing and play the drums. They are performing the Jongo repertoire.]
[Words appear: Can dance build resilience?]
[Video: People play the drums while singing.]
[Words appear: Can singing convey secret messages?]
[Video: A child and adult dance in the circle together while singing.]
[Words appear: Can bodies carry the memory of a people?]
[Video: Hands bang on the drums to keep the beat of the Jongo repertoire.]
[Words appear: Can drums connect us with the spiritual world?]
[Video: A man and a woman dance in the circle.]
[Words appear: Come and find out!]
"Resilience is what makes Brazilian Jongo special," Giesbrecht said. "It was resilience in the past, and people are borrowing that resilience for what they need nowadays – segregation, racism, all of that. People, when they first join Jongo, may come in with a perception of the world that is very different from what they may end up having. Jongo makes you feel like something really belongs to you."
Giesbrecht has dedicated her academic work to studying this form of expression. In 2007, she started working on her Ph.D., focusing on the movement. And in 2019, she was awarded a chair position, the most prestigious Fulbright appointment, at Indiana University for the spring semester.
A professor of ethnomusicology in the post-graduate program in music at the Federal University of the State of Rio de Janeiro, Giesbrecht focuses specifically on film as it directs attention to the body and captures the movement of dance. At IU, she is teaching an Ethnomusicology and Ethnographic Filmmaking seminar.
"I realized that not just performing, and not just writing, but filming can express dance in the way that a text cannot," she said. "The most rewarding part is that I'm teaching undergraduates. I have students from all over, and they are all so interested."
Excited by the amount of resources IU offers, Giesbrecht enjoys teaching students across disciplines about Jongo, showing them how you can use technology, such as a cell phone, for ethnomusicology research.
But ultimately, Giesbrecht appreciates the receptivity she's encountered at IU.
"Everything I propose, people receive it and get engaged. Imagine teaching something that people didn't want to learn or share. I found out that there is a lot of knowledge from students that can be shared."
Giesbrecht also stresses learning outside of the classroom: not just reading and watching it, but instead, participating.
"The repertoire is beautiful, and the kind of connection it creates, you get engaged," she said. "It teaches engagement to people from all over. It's sort of a family. People care about you, getting rewarded by it all the time."