I am honored to be back at Indiana University Bloomington in the Division of Student Affairs as the new associate vice provost for student affairs and executive associate dean of students. Over the past 22 years at the University of Arizona, I built a solid foundation of skills and expertise working in residence life, fraternity and sorority programs, parent and family programs, and student accountability, and with the campus First Amendment policy interpretation and events.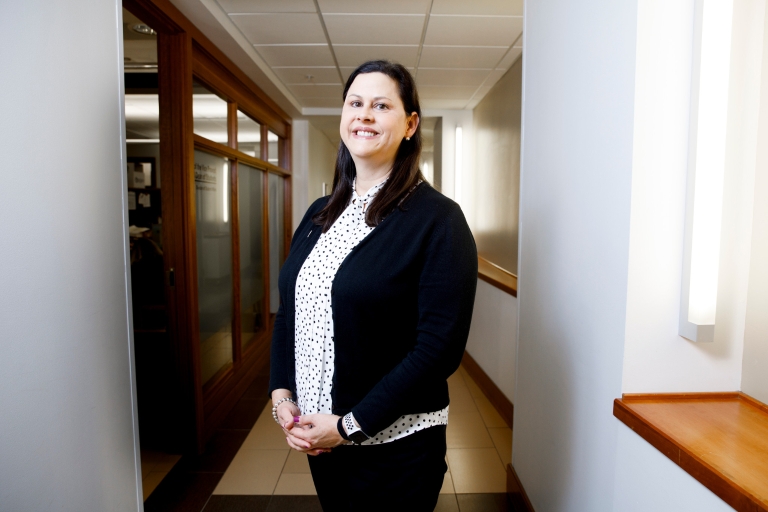 I am an alumna of the Higher Education and Student Affairs program, so IU has a special place in my heart. I look forward to working with Vice Provost for Student Affairs and Dean of Students Dave O'Guinn to achieve our goal to become the best Division of Student Affairs in the country. To do so, we have outlined the following priorities:
Student safety
Academic achievement
Student care and concern
Student health and well-being
Student leadership development
Diversity and inclusion
To get there, I am sure you have noticed a lot of change in our division over the 2018-19 academic year. Many of these changes are in our direct student services, which are the areas I will be overseeing.
Caring for our students is a top priority of the Division of Student Affairs. To create a culture of care, we help students navigate the resources and services offered not only in our division but across campus.
Our Student Care Team, led by assistant deans Sara Ivey Lucas and DeeDee Dayhoff, ensures that students on campus have access to resources, helps students decide whether this is the right time or place for them to be a student, and encourages students to find and follow an educational path that works for them. If you know of a student experiencing an issue – including academic, administrative, behavioral, bias, personal or wellness concerns – please submit a CARE Report to ensure that student success, safety and well-being are prioritized.
In addition, the department formally known as Student Life and Learning has been divided into two new departments:
Office of Sorority and Fraternity Life provides support, training and oversight for sororities and fraternities to promote student safety, academic achievement, good citizenship, diversity and inclusion.
The Student Involvement and Leadership Center fosters growth and learning among all students by designing and supporting inclusive experiences and engaging opportunities that connect those we serve with the campus, the community, each other and themselves. With the new center, we will be developing leadership and community through flourishing student organizations.
The services provided by highly qualified attorneys and 22 interns from IU's Maurer School of Law are an incredible resource for students at Student Legal Services. Funded by the student fee, Student Legal Services is your one-stop shop for complete, confidential legal advice. Visit them at their new location in Poplars Building, Room 712.
Whether you need a cup of coffee or assistance with your math homework, resume or benefits paperwork, the Center for Veteran and Military Students is a place of support for our military-connected students at their new, larger space at 823 E. 11th St. Not only do students find assistance in navigating the veteran affairs process, but they also find a community of military-connected friends.
I also oversee these other vital resources that support student success:
The Bias Response Network, which ensures respect for the diversity of all students, faculty and staff and provides the tools to cultivate a safe and welcoming campus community.
The Code of Student Rights, Responsibilities and Conduct, which affords students respect and civility. The Office of Student Conduct supports student learning, personal growth and accountability, and its diligent work helps ensure that all students meet their responsibilities to the campus community.
The diverse array of resources offered to Hoosier students is incredible. The Division of Student Affairs hopes you will join us in promoting a successful student experience and continue to engage with our student service departments and programs.
Thank you for the warm welcome back to campus, and I wish you the best of luck as we wind down to the end of the 2018-19 year.
Kathy Adams Riester is associate vice provost for student affairs and executive associate dean of students.