Brandon Spahn has been invested in art since he was 13, when he created a website banner for the forum of his favorite online computer game.
But the Indiana University Athletics graphic designer said that winning a T-shirt design contest on his favorite online art forum in high school was the point when he really fell in love with creating art. That online success has continued with the designs he now creates and sells around the world.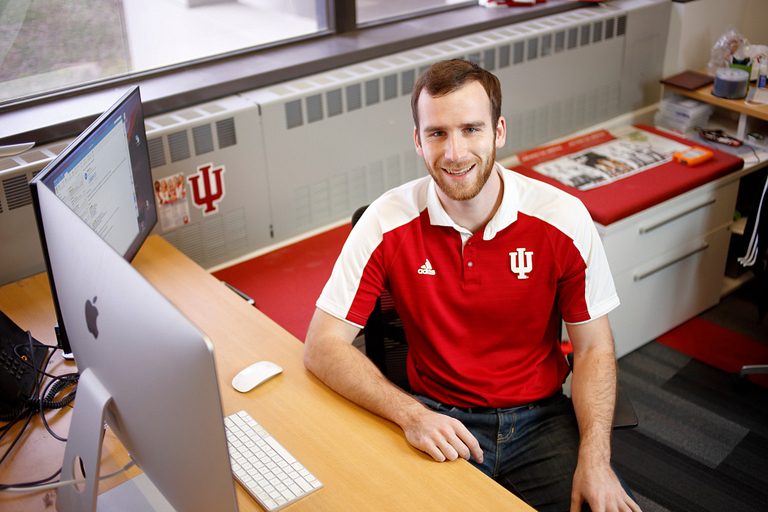 He attended IU to study informatics, practicing his graphic design skills through various internships and clubs on campus. He taught graphic design courses through the university and interned for IU Athletics his senior year at IU.
"I had a lot of responsibility when I was a student intern working for IU Athletics," Spahn said. "I was able to put my skills to good use."
After he graduated in 2015, he moved to Austin, Texas, to pursue a career in web development but quickly realized how much he missed producing art. When he got the offer to come back and work for IU Athletics again, he couldn't say no.
Spahn works on digital art, photo manipulation and matte painting for the IU Athletics teams, including basketball, swimming and diving, softball, and volleyball. He creates season posters, recruitment visuals and content for athletic social media, and he said he enjoys meeting all of the different coaches and athletes.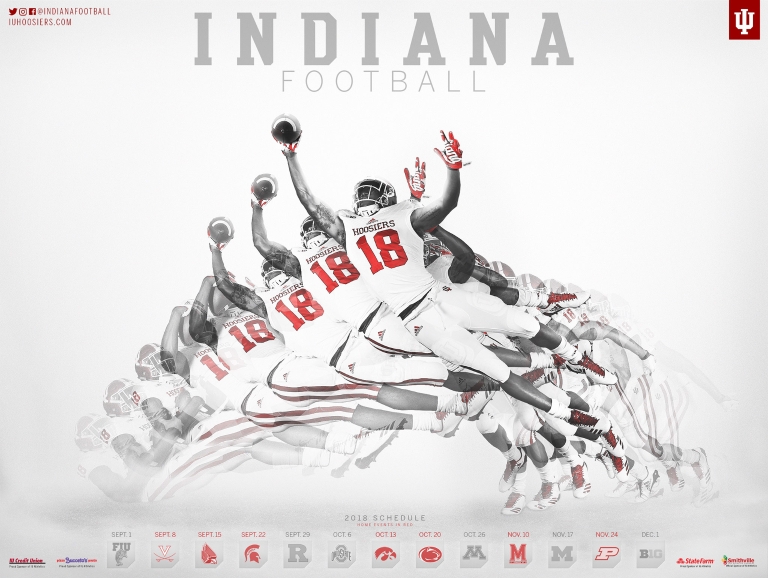 "My passion is digital art, and it's something I will always enjoy doing. Making something that I'm proud of that fits under the IU brand makes me love coming to work," Spahn said. "Working with these athletes makes my job fun, and I have become close to the teams through working with them. I am able to have a creative mindset here working for IU."
Spahn works out of the Mark Cuban Center for Sports Media and Technology, a first-of-its-kind, cutting-edge, student-focused video, broadcasting and technology center. The creative work space helps Spahn produce his best work.
"Working with my co-workers in the Cuban Center is one of my favorite things about working for IU," he said. "This in-house creative department is full of videographers, photographers and a social media team that all collaborate with each other. We all create content to highlight the 24 sport teams here on campus."
He spends hours creating his own designs, and he said music is a big inspiration. The first time he intertwined his love for music and art was when he chose a hip-hop theme for a deck of cards he had to create for a design class at IU.
Some of his artwork includes portraits of famous artists such as Frank Ocean, Mac Miller and Kanye West. He debuts his work on his personal Instagram account and has created a following for himself. He has created new editions of his decks of cards along with art prints.
"Social media has made it easier to market and showcase my work. I have a much wider audience than I did when I was in high school," Spahn said. "It's crazy to think that someone 2,000 miles away is using my deck of cards for a game."