Delicious food pairs well with service learning. That's what Indiana University Bloomington lecturer Brandon Howell's students learned this semester as they worked alongside experts in IU Dining and IU Catering to prepare for a three-course Italian meal that anyone can attend.
Students in Howell's Management of Food and Beverage Operations class in the School of Public Health-Bloomington worked with IU executive chef David Tallent to craft a full menu with wine pairings. The "Taste of Italy" dinner will be served from 5 to 8 p.m. April 17 in the Indiana Memorial Union's Tudor Room. Tickets are $35 per person, or $55 with wine pairings, and must be purchased by April 10.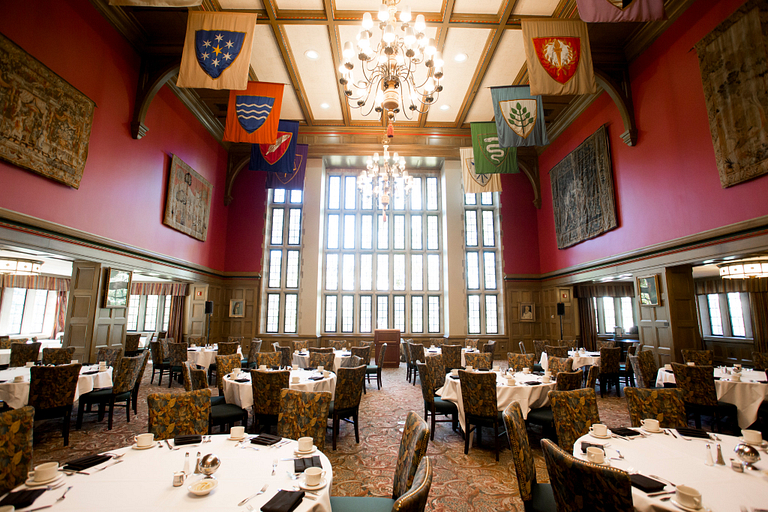 The dinner is a project for the course, which is new this year. Howell had the idea of making the course more hands on. The Center for Innovative Teaching and Learning paired Howell's class with IU Dining and IU Catering.
The students have been working together in class to prepare for the night's event, attending two lectures and one lab a week. The night of the dinner, students will seat guests, help with production in the kitchen and serve meals.
"They get to learn in the classroom but then practice it out in the real world using this event as a tool," Howell said. "My students are learning how food and beverage is vitally important to the promotion of tourism, hospitality and event management."
His students are also learning what goes on behind the scenes in a restaurant. Students are focusing on both public health and business operational concerns, including food safety and sanitation, dietary restrictions, proper storage and receipt of food, wine pairings, finance, and marketing.
"Chef David Tallent has always been a big advocate for giving students the opportunity to learn outside of the classroom," Howell said. "This event is a test to see if we could possibly create a 400-level class that could be housed in the Tudor Room."
The class split into four teams, working on wine pairing, dietary restrictions, marketing and finances. Each group has a team leader, and they meet every Monday morning to update each other.
Finance team leader Anna Delph is a sophomore studying tourism, hospitality and event management in the School of Public Health-Bloomington. Delph said one of her favorite things that the class got to do was take part of a wine pairing class with Emmie O'Connor, a wine pairing expert.
"Since we're the first students to go through this project, we have a little bit of freedom. I feel a sense of empowerment for my major," Delph said. "The classroom is great for learning, but this project makes what we are learning applicable to the real world. We get to meet with experts on topics we are learning."