"One person can make a difference, and everyone should try."
This quote from John F. Kennedy encompasses why Indiana University senior Krishna Pathak has felt drawn to public service for the majority of his life.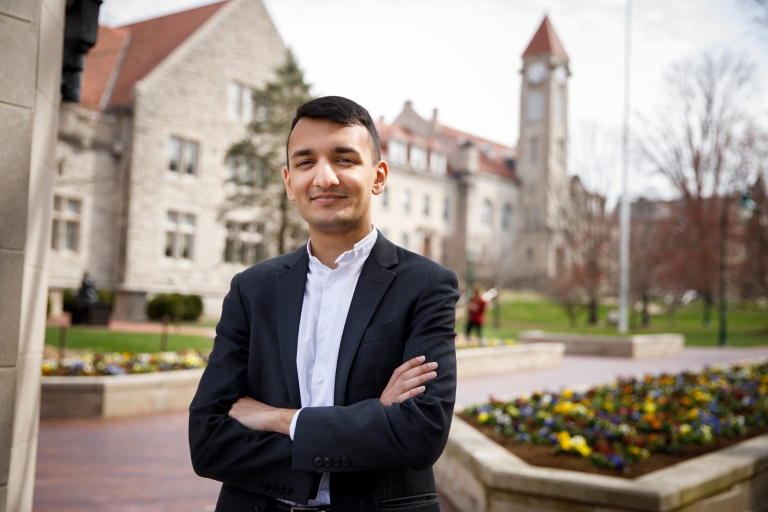 The law and public policy major in IU's O'Neill School of Public and Environmental Affairs served as senior class president at Carmel High School and started a nonpartisan political discussion club, too. Since then, Pathak has interned for Bloomington Mayor John Hamilton, for U.S. Sen. Kirsten Gillibrand, at the U.S. Department of Defense and at the U.S. Department of Homeland Security. He was elected at 18 as the youngest delegate to the 2016 Democratic National Convention from Indiana, and this year, he will be presenting the student address at IU Bloomington's spring commencement ceremony.
The diversity of students and activities at a big school like Carmel steered Pathak toward a large university like IU. Though many of his Carmel classmates jokingly referred to IU as "Carmel South" thanks to the high number of alumni enrolled here, Pathak visited his older sister when she was a student and realized IU was the place for him by the end of his visit.
The 21st Century Scholar came to Bloomington as a direct admit to the School of Education, but he soon became interested in business and public affairs. The support and guidance he received from his professors – such as his introductory religion professor Patrick Michelson and O'Neill School faculty member Paul Helmke, who is still a mentor to Pathak – led him to major in law and public policy.
While Pathak found his academic home in the O'Neill School, he found his place outside the classroom with TEDx Indiana University. He helped grow the organization from its infancy, eventually making his way to its helm as president. Pathak said the experience taught him more about leadership than he could ever learn in the classroom; he also learned the importance of making others feel respected, appreciated and motivated.
Pathak chose to spend the spring semester of his sophomore year in Washington, D.C., as part of the O'Neill School's Washington Leadership Program, even though most students do so their junior year; he wanted to be in D.C. during the transition from the Obama administration to the Trump administration. He was pleasantly surprised, though, to find in the politics a great deal of bipartisanship.
His work with political appointees and civil servants at the Department of Defense gave him the opportunity to explore the importance of diversity in public service. At Homeland Security, he had the opportunity to brief former Secretary Kirstjen Nielsen, Deputy Secretary Claire Grady and other senior department officials.
He said the diversity of the people he has interacted with at IU has been a valuable tool for his many internships as well as his career and lifestyle. Discussing topics as specific as health care and as broad as free speech with people from a wide range of places – whether it's Dyer, Indiana, San Francisco or other countries – taught him that people and policies are more complex than they seem.
"People really like to discuss policy views and positions in such black-and-white terms, but people themselves are not so simple," Pathak said. "IU helped show me that the world, particularly America, is a tapestry of interwoven threads that make a complicated but beautiful picture."
As Pathak reflects on his experiences in the classroom, he encourages incoming freshmen and underclassmen to pursue any opportunity they have even the slightest interest in, even if they don't know anyone else doing the same thing. He said IU students should embrace faculty members as mentors and be patient when it comes to feeling at home on campus. It doesn't happen quickly, and that's completely OK.
After graduation, Pathak is headed back to Homeland Security as an analyst. Through his internships, he's learned that national security is not the responsibility of one government agency; it's a coordinated collaboration between several agencies like the FBI, National Security Agency and Homeland Security. He hopes to spend time across a number of these organizations and eventually work toward a leadership role that is either politically appointed or in the civil service of national security. He hopes to mentor young people pursuing the same profession and be engaged in the local community wherever he lives.
"Being a public servant to me means working in the biggest, most diverse teams tackling the most complicated problems on behalf of the largest audiences," Pathak said. "Anyone can be a public servant, and many should. In fact, our country doesn't work when not many people are or are unable to be invested."