IU to hold celebration of life in honor of football legend George Taliaferro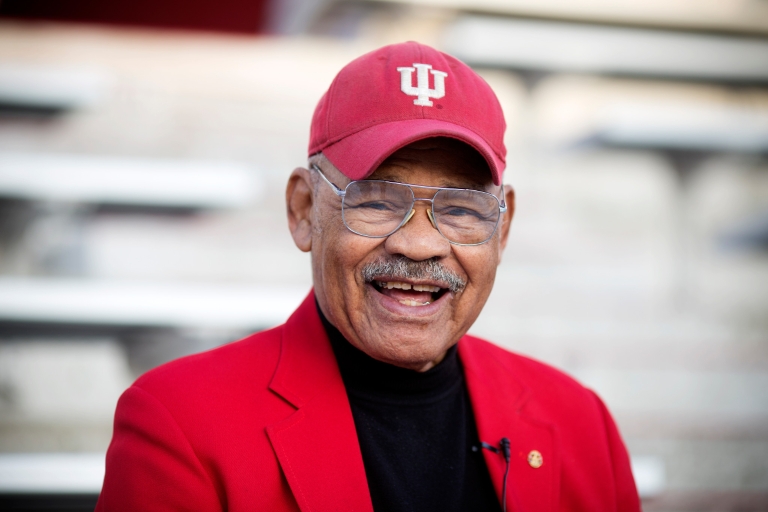 Indiana University will pay tribute to IU football legend George Taliaferro, who passed away in October.
A 1981 inductee into the College Football Hall of Fame, Taliaferro was a three-time All-American at IU who was the leading rusher on IU's 1945 Big Ten Championship team that went 9-0-1, the only undefeated football team in school history. During his four years in Bloomington, he led IU in rushing twice and passing once. He was selected in the 13th round of the 1949 NFL draft by the Chicago Bears, making him the first African-American drafted by an NFL team.
While that was a landmark national event for professional football, Taliaferro also had a significant impact locally, both as an undergraduate student in an era when the campus and the city of Bloomington were segregated, and later as a longtime university staff member.
After his playing days ended, Taliaferro earned a master's degree at Howard University. He taught at the University of Maryland and served as dean of students at Morgan State University before he and his wife, Viola, returned to Bloomington. Taliaferro then spent two decades serving his alma mater in a number of capacities, including as a special assistant to the president, the IUPUI chancellor and the dean of the School of Social Work.
The celebration of life ceremony for George Taliaferro will take place from 1 to 3 p.m. Saturday, April 27, at Ruth N. Halls Theatre, 275 N. Jordan Ave. The event is free and open to the public. If you plan to attend, RSVP with University Events.
Learn additional details about mumps outbreak
IU Bloomington staff and students may have questions about mumps in light of the outbreak that began March 12.
IU public health officials encourage you to educate yourself about mumps to keep yourself healthy and to help prevent the spread of the disease. Faculty and staff should contact their medical provider if they have any symptoms of mumps, or if they were born after 1957 and have not received a second MMR vaccination for measles, mumps and rubella.
Visit Protect IU's mumps page for general information about mumps, to see the number of confirmed cases and to read an FAQ specific to the outbreak.
IU Bloomington raises more than $800,000 for 2018 United Way campaign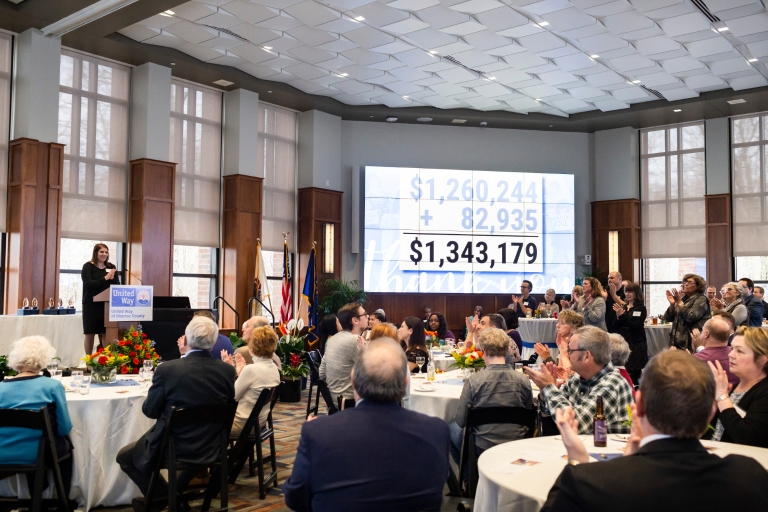 IU faculty and staff raised $808,680 for the 2018 United Way campaign – 60 percent of the overall total of $1.2 million. Volunteers mingled with nonprofit and community leaders alongside IU Bloomington faculty, administrators and staff at the campaign wrap-up, which took place March 28 at Hoosier Energy Headquarters.
In 2018, 1,477 IU Bloomington employees donated to the campaign, including 268 Vanguards who donate at least $1,000. The number of Young Leaders, individuals or couples under 40 who give $500 or more increased from 20 to 26 IU employees. IU received one of five Community Builder Awards for being the largest campaign contributor this year.
By donating to United Way of Monroe County, IU employees support education and mentoring programs for nearly 4,500 children, provide nearly 1.8 million meals for low-income families, allow access to affordable health care for over 6,000 struggling individuals, and create countless other opportunities for community members in need.
Plan to attend Sustain IU tree planting
Sustain IU is collaborating with the IU Bloomington campus to plant trees in honor of Arbor Day. Plan to join Landscape Services, the Integrated Program in the Environment and Sustain IU at a planting from 9 a.m. to noon April 25 in the Old Crescent near Owen Hall.
Volunteers are encouraged to wear closed-toe shoes and full-length pants and bring a water bottle.
IU Maurer School of Law inducts four into Academy of Law Alumni Fellows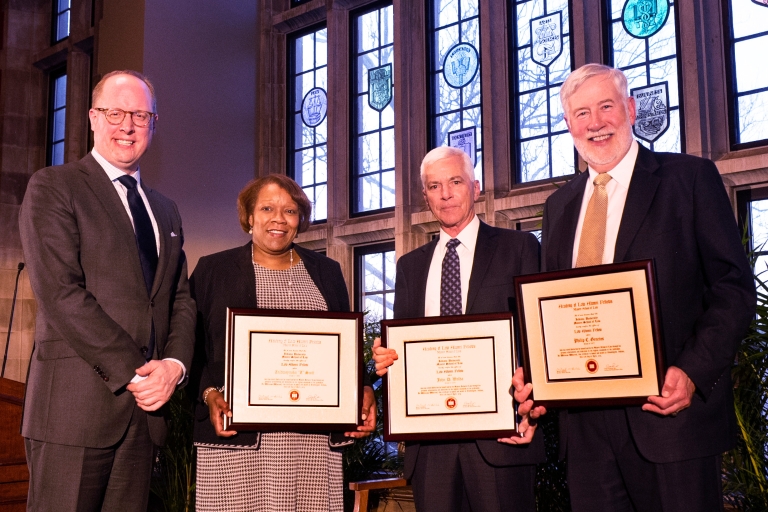 The IU Maurer School of Law has inducted four new members into its Academy of Law Alumni Fellows, the highest honor the school can bestow on an alumnus. The fellows were inducted at a dinner and ceremony April 12 on the IU Bloomington campus.
The 2019 inductees are:
Philip C. Genetos, '77, partner at Ice Miller in Indianapolis. Genetos is one of the country's leading public-finance lawyers, having served as bond counsel on housing, airports, industrial, municipal utilities, ports and cultural facilities.
Zaldwaynaka L. "Z" Scott, '83, president of Chicago State University. Before her appointment last year, she spent more than 16 years as an assistant U.S. attorney for the Northern District of Illinois, served as the state's first inspector general for the agencies of the governor and public universities, and was in private practice with the firm of Foley & Lardner.
John D. Walda, '75, former partner at Barrett & McNagny in Fort Wayne and previous president of the IU Board of Trustees. Walda has also served as IU's executive director of federal relations and corporate partnerships, partner at Bose McKinney & Evans, senior vice president for federal relations for Bose Treacy Associates, LLC, and president and CEO of the National Association of College and University Business Officers.
Jose Cleofas Bocobo (1886-1965), class of 1907, a Philippine legal scholar and jurist. He was university president for the College of Law at the University of the Philippines from 1934 to 1939 and was a justice of the Philippine Supreme Court during the Japanese occupation. He received an honorary doctorate from IU in 1951.
IU School of Public Health-Bloomington awarded Sloan Foundation Grant
The IU School of Public Health-Bloomington has received a grant from the Alfred P. Sloan Foundation for a workshop and yearlong process titled "Rigor, Reproducibility and Transparency at the Interdisciplinary Interface."
The application was prepared by Dean David Allison, Justin Otten and Andrew Brown from within the School of Public Health-Bloomington and includes multiple IU Bloomington collaborators from beyond the school.
The workshop will initiate a one-year process to identify priorities and infrastructure needs for a coordinated, interdisciplinary set of research and research training activities on promoting rigor, reproducibility and transparency in science. The goal is that the workshop and process will improve the understanding and implementation of the process and position IU to pursue the most informative and needed work in this area.
IU Jacobs School of Music faculty member elected to the American Academy of Arts and Sciences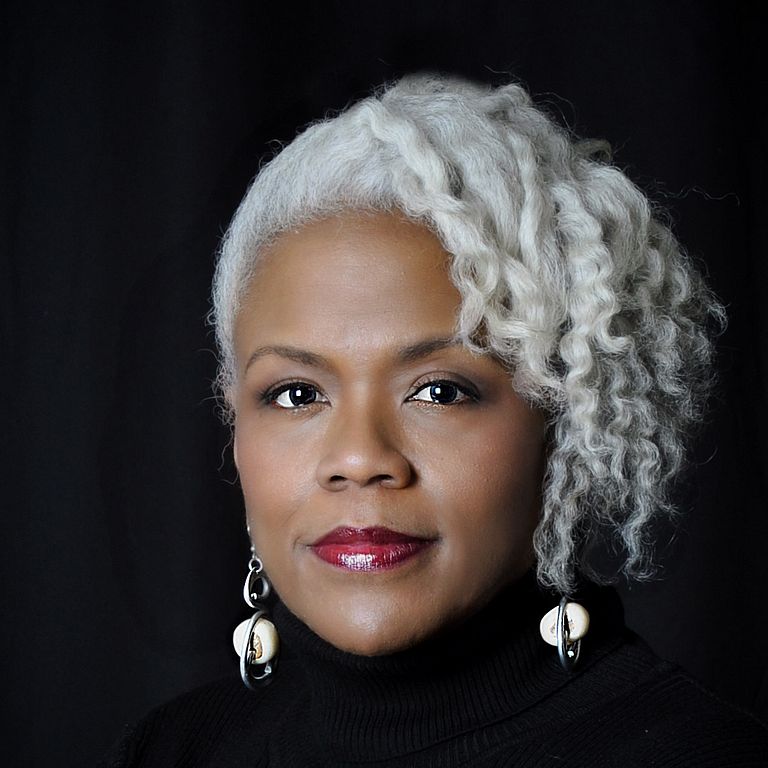 Marietta Simpson, a voice professor in the IU Jacobs School of Music, has been elected as a fellow of the American Academy of Arts and Sciences, one of the nation's oldest and most prestigious honorary societies.
In electing its new class of more than 200 members, the American Academy of Arts and Sciences recognizes the outstanding achievements of individuals in academia, the arts, business, government and public affairs.
Simpson, an internationally acclaimed mezzo-soprano, has been an IU faculty member since 2005.
IU alumnus Clark Glymour, who earned a doctorate in history and philosophy of science from IU in 1969, was also elected as a fellow of the academy this year.
IU Bloomington names Sonneborn Award recipient, Provost Professors
Leandra Lederman, professor in the IU Maurer School of Law, will receive the 2019 Tracy M. Sonneborn Award, which honors an IU faculty member for outstanding research/creative activity and teaching.
Also, three IU Bloomington faculty members have been named as Provost Professor: Kathleen Bardovi-Harlig, Peter Guardino and Winnifred Sullivan, all from the College of Arts and Sciences.
Lederman will present the annual Sonneborn Lecture during the fall 2019 semester at a time and location to be announced. Provost Professors will also be honored at this reception.
Full details are available from the IU Newsroom.