Indiana University professor Carol Hostetter got involved with social work intending to help others and create a better environment for social workers through her teaching and research.
After shifting her focus to higher education, she's been a professor in the IU School of Social Work in Bloomington since 2001. In January, she stepped into a new role as director of the Bachelor of Social Work Program.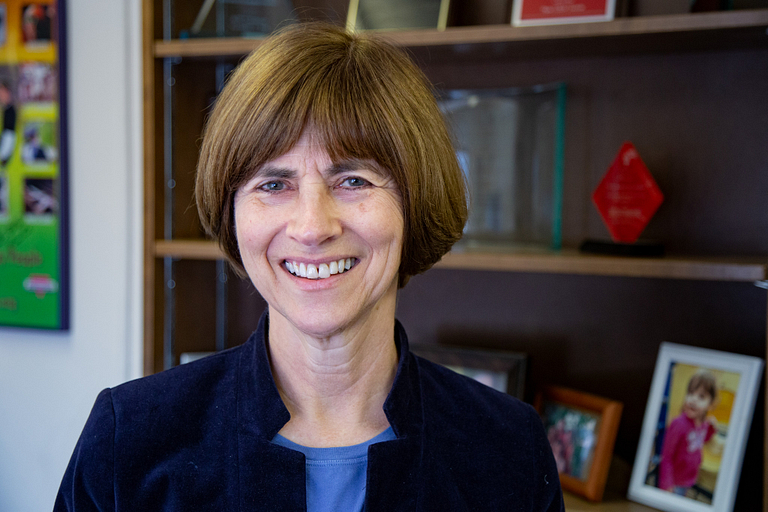 The Bloomington campus has a bachelor's program in social work since the 1960s. When a master's degree in social work was added in 2016, additional leadership was necessary. Karen Allen, who oversaw both programs previously, now oversees the master's program while Hostetter oversees the bachelor's program.
"To have a master's program, there must be enough social workers to supervise the students during their internships. When I first came to IU, there were only four social workers in the community," Hostetter said. "We are now able to hold a master's program because of how social work has grown in Bloomington."
A typical day for Hostetter includes helping students find internships and study abroad programs, supporting the development of students, faculty and staff with community relations, and working with any students who find themselves in a crisis.
"I enjoy being a part of policy decisions being made that will affect students and the health of the university," Hostetter said. "I have been able to spend more time meeting with students about their careers, help navigate difficulties that life presents and giving them the message that we want them to succeed and we believe that they will be good social workers some day."
She also works closely with the Child Welfare Scholars Program, which resulted from research Hostetter was directly involved in. In 2001, she worked with a fellow professor on a four-year state-funded project to learn what child welfare workers need to know about their job. After presenting their report and articles, the state changed its hiring and training practices, and created the Child Welfare Scholars Program. The scholarship program offers at least 50 social work students in Indiana free tuition while they intern with the Indiana Department of Child Services, with the guaranteed offer of a job with a competitive salary within two months of graduation.
"This scholarship has been great for Indiana in getting more social workers to work for the Department of Child Services. The majority of child welfare workers do not have a social work license," Hostetter said. "Because of our research and policy work, we are building up the number of social workers in the child welfare system."
In addition, you'll still find Hostetter in the classroom. A second-generation alumna, Hostetter said she feels a deep attachment to the university.
"I learn a lot from students, and it's a great way for me to keep in touch," she said. "I love Indiana, and I think we have a great bond between the community and what the university has to offer."
Hostetter is also proud to be a part of the anti-oppressive education committee at IU. The group of undergraduate students, faculty and staff talk over problems resulting from racism, genderism, heterosexism and so on. The committee seeks to promote social justice and anti-oppressive practices in the social work program. The committee is looking forward to hosting workshops, community events and a film series in the future.
"Social workers and social work students really want to see education progress to look at issues of race and power, and help students and faculty deal with micro-aggressions and structural supports for student success," Hostetter said. "I am really lucky to be a part of these meetings. It's wonderful to hear people's voices and learn about how we as social workers can strive to create changes in our community."