Diagnosing a child with dyslexia can be a long and expensive process that often occurs too late. Indiana University Bloomington senior Katie Spoon has been researching a way to speed up this process using artificial intelligence to analyze children's handwriting.
The work, which recently earned a Provost's Award for Undergraduate Research and Creative Activity in the category of Natural and Mathematical Sciences, has the potential to reduce the number undiagnosed cases of dyslexia, as well as help children access the accommodations they need as early as possible.
"An estimated 20 percent of kids have dyslexia or some other language-based learning disability," said Spoon, who is enrolled in the accelerated master's degree program at the IU School of Informatics, Computing and Engineering. "Those students need to be detected by second grade because, if you struggle to read in third grade, you're more than four times more likely to drop out before finishing high school, and only 2 percent are detected by second grade."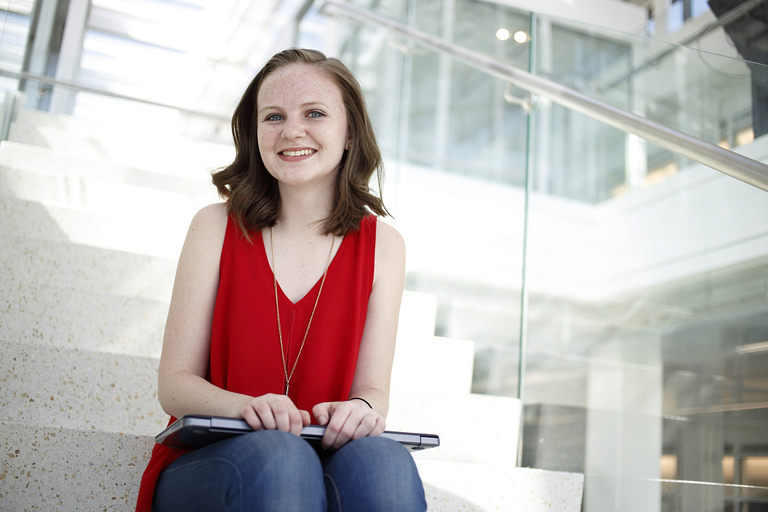 Spoon earned the award for designing a system, using neural networks, that analyzes handwriting samples to detect signs that correlate to a higher risk for dyslexia. The technology has been shown to detect the condition with greater accuracy than parents and teachers.
"Katie's research has the potential to improve our education system in terms of identifying children sooner who should be assessed for learning disabilities," said Katie Siek, an associate professor at the IU School of Informatics, Computing and Engineering; Spoon's work on dyslexia began under her guidance. "This takes some of the burden of documenting handwriting off of teachers and caregivers."
The research has also impressed David Crandall, an associate professor at the IU School of Informatics, Computing and Engineering. Spoon used her work with Siek as her final research project in his introductory computer vision course.
"In a class of 80 Ph.D. and M.S. students, Katie – a B.S. and M.S. student – conducted one of the most innovative projects," Crandall said. "While most others worked in groups, she did all of this alone," said Crandall, who nominated Spoon for the award along with Siek.
Siek's academic interest in dyslexia began after her own daughter's diagnosis, which took years. Spoon was drawn to the topic because of her mother's background in special education.
"It's up to parents most of the time to push the schools to diagnose their kids," Spoon said. "A lot of times they need some type of evidence, and this project could provide that evidence so they can be detected sooner."
Spoon's main focus this semester has been data collection. Three to four times a week, she travels to elementary schools and other Bloomington-area organizations such as Boys and Girls Club and Girl Scouts to examine students' handwriting.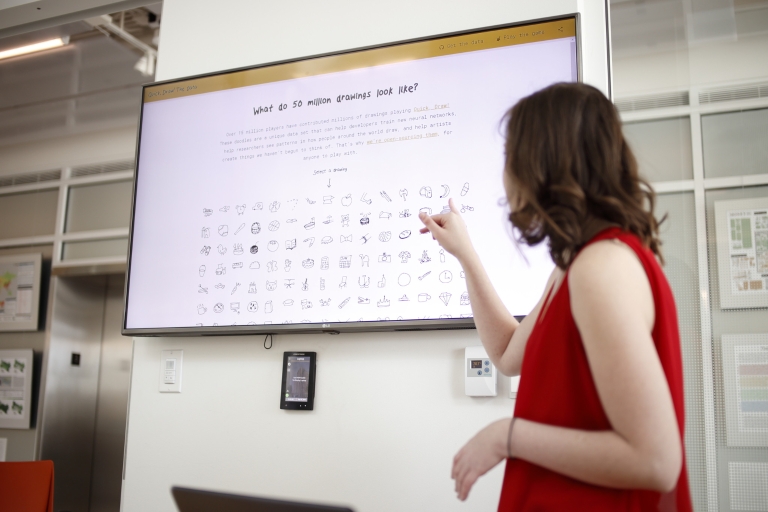 "I come in and teach a lesson about machine learning and data security," Spoon said. "I tell them what research is and what data is because a lot of them don't know that. And then we talk about how you can teach a computer to learn something."
As part of Spoon's classroom visits, she uses Google Quick Draw software, which tries to guess what a person is drawing, to demonstrate how technology can use artificial intelligence to recognize shapes.
After she explains her project and her goals, Spoon offers the students the opportunity to participate in the study.
"We ask them to write some words, write a paragraph and then write a short story," she said. "Some of them are creative and some aren't, but it's really fun to see the differences."
Once all of the data is collected, Spoon hopes the end result will be a manageable program that parents can use to upload their child's handwriting for analysis.
"It would basically compare a student's sample to everyone else in our data set," Spoon said. "It would run the model and then it would give you a result."
She said there is no prior research like this for kids' handwriting. Spoon and Siek hope to make data collected under the project available as an open source resource so other researchers to use it in the future.
Spoon added the data collection process is currently in progress and encourages interested parents to work with their children to participate online.
In addition to the Provost's Award, Spoon's research on dyslexia has earned her the 2019 NCWIT Collegiate Award.
Meet the other Provost's Award recipients: