BLOOMINGTON, Indiana – James Balog, an internationally acclaimed photographer, filmmaker and environmental educator, will visit Bloomington and the Indiana University campus April 9 and 10 to give public talks, screen two of his documentaries and visit with students, faculty and members of the public.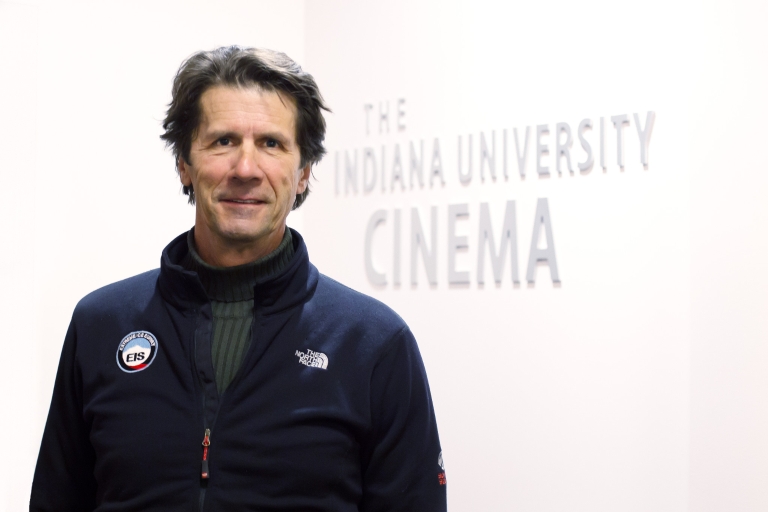 Balog is the founder of the Extreme Ice Survey, a long-term photography project that documents the changing ecosystems on 24 glaciers, and the Earth Vision Institute, which creates visual stories and rich media to educate people about the impact of environmental change.
His 2009 documentary "Chasing Ice," based on the work of the Extreme Ice Survey, won an Emmy Award and was shortlisted for an Oscar. "Chasing Ice" focuses on Balog's quest to capture the devastating impacts of climate change on the beautiful and fragile landscapes of the arctic.
His latest film, "The Human Element," explores how human activity on our planet now acts as a "fifth element," interacting in complex ways with the traditional elements of earth, air, fire and water. The screening of "The Human Element" will be its Indiana premiere.
Balog is the author of eight books of photography, and his work has been published in major magazines and exhibited at museums and galleries around the world. He has spoken at the White House, in the U.S. Congress and at NASA, among several institutions. He is widely known for his popular TED talk "Time-Lapse Proof of Extreme Ice Loss."
During Balog's visit to Bloomington, he will lecture on and then screen "The Human Element" beginning at 5:30 p.m. April 9 at the Buskirk-Chumley Theater. A screening of "Chasing Ice" and a Q&A with IU Cinema director Jon Vickers will take place at 5:30 p.m. the following day, April 10, in the Franklin Hall commons on the IU Bloomington campus.
All events are free and open to the public.
Balog's visit is co-sponsored by the city of Bloomington, the College Arts and Humanities Institute, Concerned Scientists @ IU, the IU Department of Earth and Atmospheric Sciences, the Environmental Resilience Institute, the Department of Geography, the Media School Speaker Series, IU Cinema, the Office of First Year Experience Programs, the Integrated Program in the Environment, the Residence Halls Association, the O'Neill School of Public and Environmental Affairs and Sustain IU.