BLOOMINGTON, Ind. – Indiana University Bloomington has appointed Rick Van Kooten, IU Bloomington's vice provost for research, as executive dean of the College of Arts and Sciences starting July 1, subject to approval by the IU Board of Trustees at its meeting this afternoon.
Van Kooten is expected to replace Larry Singell, an economist and professor of economics who was named executive dean of the College in 2011. Singell recently accepted a position as senior vice provost for resource management at the University of Texas at Austin. Van Kooten is a physicist and served as chair of the Department of Physics before becoming vice provost.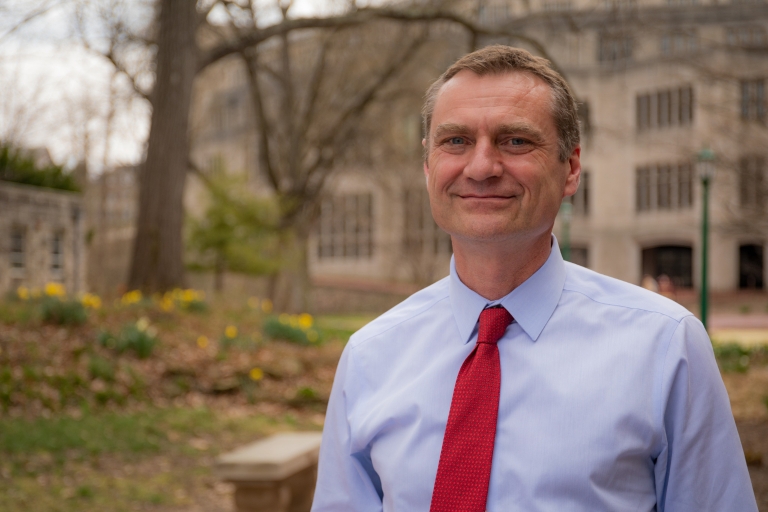 As vice provost for research, Van Kooten has strengthened the office's culture and effectiveness, establishing productive working relationships with deans and faculty in an array of disciplines. He has also fostered research progress in science, leading the Grand Challenges and Emerging Areas of Research at IU Bloomington. The Emerging Areas of Research program has led to new centers of excellence in machine learning, quantum information and food science.
Under his leadership, the campus has also seen an explosion in funded research in the humanities, attracting its highest grant total in years – $30 million since 2016 – and garnering major humanities grants from the Luce Foundation, Mellon Foundation, National Endowment for the Humanities and American Council of Learned Societies.
"Rick Van Kooten will bring a wealth of academic and administrative experience to the position of executive dean of the College," IU President Michael A. McRobbie said. "As a senior administrator, he has overseen a number of major strategic initiatives that have advanced the quality and impact of the university's research enterprise. He is also an outstanding physicist who has developed a reputation among his colleagues here at IU and around the world as a highly knowledgeable, respected and effective collaborator.
"Rick has a great appreciation for the breadth and depth of innovative scholarship, research projects and creative activities taking place all across our campuses, and he understands the extraordinary value of a liberal arts education in preparing today's students for the challenges they will face in an increasingly interconnected, ever-evolving marketplace. We look forward to him continuing to serve IU with great distinction and furthering the traditions of excellence at the College and the university.
"We also want to express our deep gratitude to Dean Singell for his many years of service to IU and his stewardship of one of the most comprehensive liberal arts colleges in the country, and we wish him the very best as he prepares for his new role at the University of Texas at Austin."
Van Kooten has devoted his academic career to IU and the College. After receiving his Ph.D. in physics from Stanford University, he worked as a scientific associate in the European Laboratory for Particle Physics for two years, followed by a year as a research scientist at the University of Hamburg. He joined the IU Bloomington faculty in 1993 as an assistant professor in the Department of Physics and served as department chair from 2007 to 2012.
He is author or co-author of more than 750 publications in physics, most in the area of particle physics. Experimental particle physics is a large-scale, project-oriented discipline, and during his career, Van Kooten had been appointed as physics coordinator of two large international particle physics collaborations of 350 and 550 researchers, respectively. He has also served as chair of the Fermilab Physics Advisory Committee and on a distinguished committee that laid out the current long-term plan for particle physics in the U.S. 
More news from the IU Board of Trustees meeting
"Rick is internationally respected for his science, which is of the highest order, and he has been a particularly inspiring force on this campus – both in the sphere of research and, more broadly, as a highly valued member on an extremely talented team of vice provosts," IU Bloomington Provost and Executive Vice President Lauren Robel said. "As both chair of physics and as vice provost for research for the Bloomington campus, he has demonstrated collaborative skills and personal qualities of integrity, openness and collegiality. His role as vice provost has enabled him to gain a campus-level perspective of the College and the issues it faces."
In his vice provost role, Van Kooten championed support for research excellence in all disciplines. He managed a complex budget that included oversight of 16 research centers, institutes and museums, including critical research cores providing fee for service to those with unique and evolving missions like the Kinsey Institute and the Ostrom Workshop. His office has also collaborated closely on issues of equity and inclusion, fostering new levels of collaboration between IU Bloomington faculty and minority-serving institutions, as well as close collaboration with colleagues at IUPUI.
"While it has been an honor to serve the campus as the vice provost for research over the past four years, I am looking forward to working with everyone in the College to advance the important and critical work being accomplished in scholarship, academics, research and creative activities," Van Kooten said. "The College – with its many departments and schools and strengths in liberal arts – is a signature resource for IU Bloomington, and I am excited to lead faculty, students and staff as they continue the vision of creating the 'leaders, thinkers, doers and citizens' who will be instrumental in solving this century's challenges."
The 28-person search committee, led by Executive Vice President for University Academic Affairs John Applegate, considered a wide range of applicants and invited four final candidates to campus.
"The search committee was fortunate to be able to select finalists from among an exceptionally talented group of individuals who expressed interest in the executive deanship," Applegate said. "Rick impressed the committee with his academic accomplishments, his knowledge of the College and the Bloomington campus, and his efforts on behalf of research and creative activity as vice provost. I greatly appreciate the seriousness and collegiality displayed by all of the members of the search committee throughout the process."