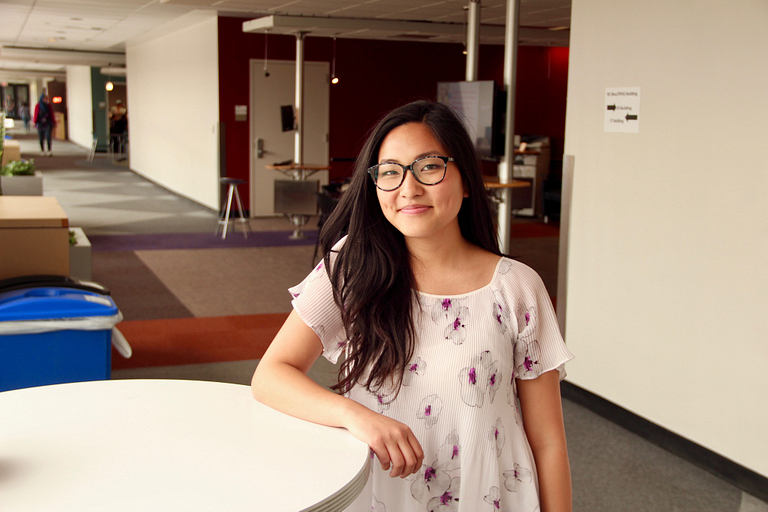 Psychology Today claims it only takes seven seconds for first impressions to be cemented in a person's mind. Judgments are then quickly made.
IUPUI made a positive first impression on Sunnih Flores, a human resources and business management major in line to graduate in May, during her tour as an incoming first-year student.
"I noticed the amount of care that they put with their interactions here right away," Flores said, "and the engagement they had on a micro and macro level. They accommodated me as a scared incoming freshman. And the tunnels helped a lot. I'm always cold, so I really like the tunnels."
In her years in the Kelley School of Business and the Honors College, Flores has made a lasting impression on the IUPUI community. Never an introvert, she found a niche, gravitating to promoting the university through OTEAM, being part of the Jagathon leadership committee and working at the undergraduate admissions call center, where she fields a wide variety of questions from callers interested in the school.
Originally from Kokomo, Flores has a temporary job lined up in human resources and organization development at AgReliant Genetics in Westfield, which she will start after commencement and work through much of the summer. After that position ends, Flores plans on utilizing skills culled from her business studies as well as experience in clubs and service programs like Kelley Indianapolis Cares, Filipino Student Association at IUPUI, Entrepreneurship Club and Asian Student Union.
Flores said her career goal is to pursue an organization development position in the Indianapolis area. After impressing at IUPUI, it's time for Flores to make an impression in the professional business field.
"For me," she said, "college has never been about always having it figured out, but rather developing myself so I'm confident enough when the right opportunity comes along."
Q: What made you want to check out IUPUI in the first place?
Sunnih Flores: I spoke with a lot of different people – people on other IU campuses and people in business in general – who said the best opportunities in Indianapolis would be unparalleled. And I knew I'd have more access to internships and employment afterward. With the pace of the city, you get so much more than just the campus here at IUPUI.
Q: What was your academic experience like at IUPUI?
SF: Our professors have a lot of real-life experience. We have a lot of research opportunities on campus. They explained the resources available to students really well and made me feel comfortable asking for that help if I needed it. I didn't feel like a fish in the ocean.
Q: How has your time in the Honors College shaped you?
SF: I lived in the Honors Residence Learning Community freshman year, and that's still my core group of best friends. We all have the same causes. We all have the same tenacity for education.
Having that community, and this place to come to talk if I have questions or concerns, has been a huge part of my life. When I was going through personal issues, like when my dad passed away a couple of years ago, it was having that foundation they helped me create that helped me through.
Just a group of little nerds trying to do something (laughs).
Q: What are some things you will take with you as you enter the workforce?
SF: I knew I wanted to be part of the Kelley program, but I wanted to do something for the better. So I have my certificate in nonprofit management through the O'Neill School of Public and Environmental Affairs as well.
Kelley had a huge emphasis on doing business better by being better. I just went on a corporate-responsibility study abroad trip in Argentina. I felt that Kelley had this focus of not just being the best but doing your best. I really enjoy that the emphasis is about feeling OK with what I was doing at the end of the day. That was huge for me.
I got that vibe from the very beginning, and it's stayed with me all four years.