Indiana University President Michael A. McRobbie and IUPUI Chancellor Nasser H. Paydar have broken ground on Innovation Hall, IUPUI's newest classroom building that will bring together three IUPUI STEM powerhouses.
Innovation Hall will be built at the southeast corner of Michigan and Blackford streets to meet the evolving teaching and research needs for programs in the Purdue School of Science, Purdue School of Engineering and Technology, and IU School of Informatics and Computing.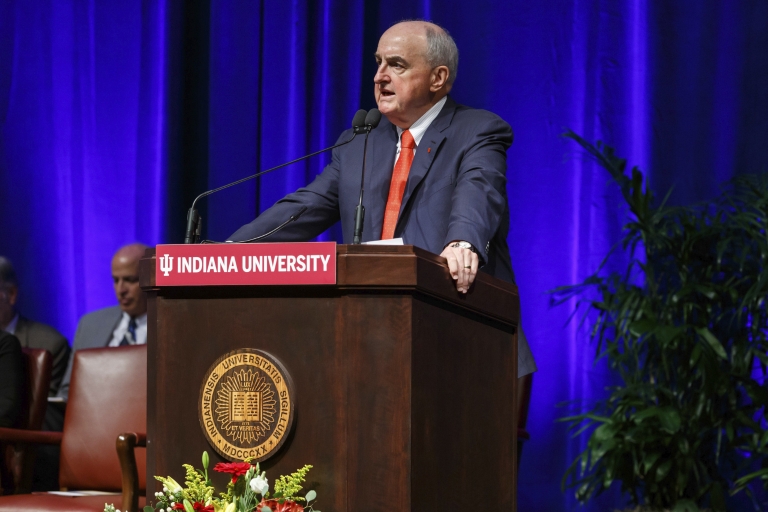 The much-needed research and instruction space will be constructed in a way that promotes interdisciplinary collaboration and interaction and active learning, McRobbie said.
"The new building helps to provide for the future of education in the vitally important STEM disciplines of science, technology, engineering and mathematics – fields that increase the base of highly skilled workers who meet state and national needs in a wide variety of industries," he said.
Innovation Hall is aptly named and located, Paydar said: "The campus is the perfect home for Innovation Hall because here at IUPUI, we are always innovating. I would venture to say that since the moment of our campus's founding 50 years ago, we have been built for innovation."
The co-location of the programs from the three schools creates the ideal environment for collaboration, Paydar added. "The variety of spaces promises to bring together people across disciplines."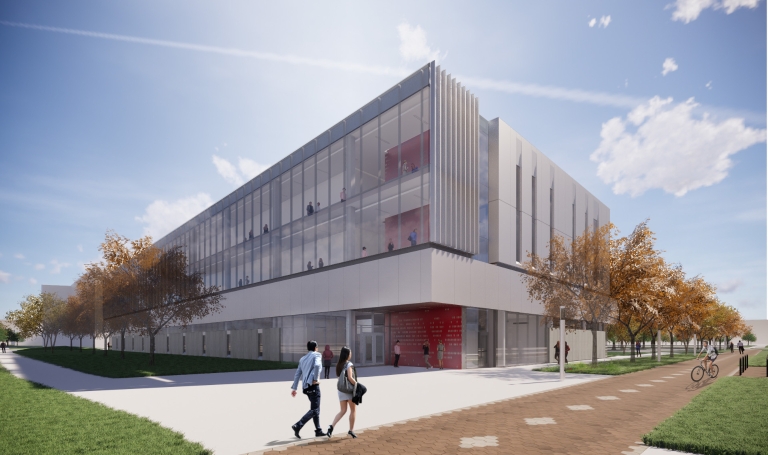 The first floor of the building will be home to three classrooms as well as an informal student lounge and seating area. The classrooms include a 215-seat tiered lecture hall, an 81-seat active learning space with movable chairs and tables, and a 125-seat active learning space where the faculty member is in the middle. Shaped like a football, that space has two tiers of seats that swivel to encourage collaboration. 
The second and third floors will contain engineering and science labs as well as more learning spaces.
The exterior will be clad in precast concrete and metal panel materials similar to the Campus Center and the James J. Fritts, DDS Clinical Care Center. A two-story glass curtain wall on the north side of the facility will create an open student study area facing Michigan Street, and stairwells at the main entries will also bring natural light indoors.
Construction is expected to finish in August 2020.