INDIANAPOLIS – Kristi Palmer has been named the founding Herbert Simon Family Dean of University Library at IUPUI, subject to formal approval by the Indiana University Board of Trustees. Palmer, who has served as interim dean since April 2018, will assume her permanent role July 1.
"Kristi Palmer brings a great deal of expertise to this important role as founding Herbert Simon Family Dean of University Library, having served in multiple roles on our campus over many years," IUPUI Chancellor Nasser H. Paydar said. "Under her leadership, University Library will continue to support outstanding education and research but will also evolve to meet the ever-changing demands of our academic environment and of the community at large."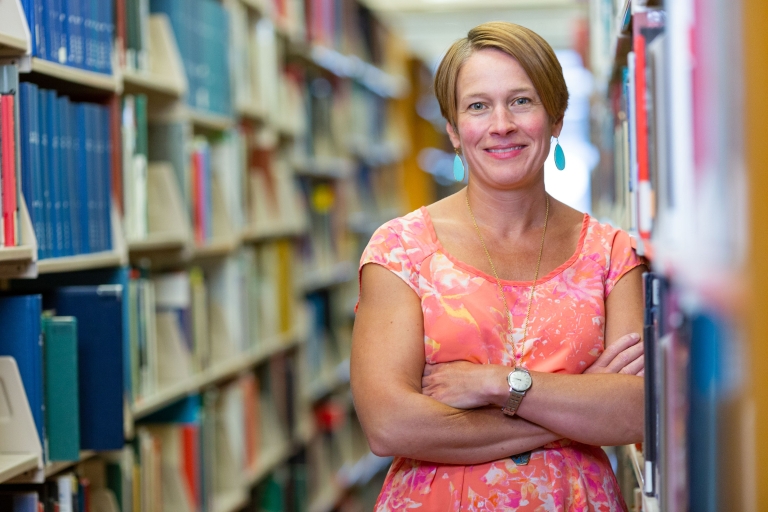 Palmer will continue to guide the strategic direction of the library as dictated in the library's mission of informing the IUPUI campus and the wider community; connecting people with resources and services; and transforming lives by facilitating discovery, creativity, teaching, learning and research. Under her leadership, University Library has enjoyed several successes over the last year, including establishing a student employment program within the library, completing a $1.75 million renovation of the third and fourth floors, and launching a new on-demand book-purchasing process.
Established as a result of a generous gift from the Herbert Simon Family Foundation, the Herbert Simon Family Dean of University Library is an endowed position that will enable library leadership to further improve lives through new programs that will serve the campus and the community.
Each year, University Library welcomes more than 800,000 visitors, including 80,000 Indianapolis community members, connecting them with a vast array of resources and learning opportunities. The library also leverages IUPUI's urban setting to collaborate regularly with local museums, historical societies, archives, public libraries and civic organizations, including the Indiana Historical Society, the Indianapolis Motor Speedway, the Madam Walker Legacy Center and the Children's Museum of Indianapolis, among others.
"As the first Herbert Simon Family Dean of University Library, I welcome the responsibility of refreshing the library's strategic plan with an endowed gift in place," Palmer said. "For me, this gift means enriched opportunities to invest more deeply in student success through classroom and experiential learning, make new strides in our rich community-engaged work through enhancing our already robust digital scholarship and special collections, and improve scholarly communication and library acquisition models."
Prior to serving as interim dean, Palmer served as associate dean for digital scholarship in University Library, where she developed and implemented the library's digital scholarship strategy. She supported the creation, digitization and preservation of scholarly, historical and cultural content as well as managed the campus's institutional repository, IUPUI ScholarWorks, and other open access systems.
Palmer began her career at IUPUI in 2003 as an assistant librarian and has steadily risen to her current rank and position. She teaches as adjunct faculty in the Department of Library and Information Science in the School of Informatics and Computing. She was honored with a 2016 Indianapolis Business Journal "Forty Under 40" award and was named a 2009 Library Journal Mover and Shaker.